If you're one of those people who enjoy the spectacle of flashing LEDs very well at work or home or when killing time online, go for the ASUS FX HDD. It could let your external hard drive join the desktop rave. What's more, it's safer than ever.
ASUS FX HDD – the New Fascinating Arrival
Recently, AsusTek Computer Inc. (ASUS) released its new member - FX external hard drive. The ASUS FX HDD surprises us in many aspects.
The Aura Sync RGB lighting technology is added to synchronize with Aura-enabled components and peripherals.
The 5 Gbps USB 3.1 Gen1 is adopted for achieving high-speed data transmission.
The 256-bit AES encryption and data compression are introduced for higher safety.
It offers bundle software to work out a full backup solution (PC and mobile data, social media, and cloud storage are involved).
It provides futuristic pattern so it's available for any gaming setup
ASUS says the FX external hard drive is the world's first HDD with so many advanced technologies. Now, let's dive into these dazzling features.
Aura Sync RGB LEDs
The exclusive ASUS Aura Sync RGB lighting technology is added to ASUS FX external hard drive, making it a more personalized product. It provides more than 16 million color options for you so that you can choose the most favorite one to suit your style. It was developed to perfectly complement your gaming rig, so you can achieve a true expression of individuality. It also makes it possible to link lighting to in-game action, CPU/GPU temperatures and music.
WHAT'S MORE, your selection can be synchronized with other Aura Sync products, including graphics cards, monitors, motherboards, and peripherals. This is an intelligent setup. After installing the Aura Sync software on your desktop or laptop, you should connect ASUS FX HDD to other peripherals, so as to customize synchronization easily.
USB 3.1 Gen1
USB 3.1 is a generational number which refers to the data transfer speed of the USB connector. This standard is launched officially in July 2013.
USB Generations Overview
USB 3.1 has a maximum transfer rate of 10 gigabits per second (GBps) while the maximum transfer rate of USB 3.0 is 5Gbps. The transfer rate of USB 3.1 is 10 times faster than that of USB 2.0, which reduces file backup time greatly. (The uncommon USB 3.2 has a maximum transfer rate of 20 GBps)
An ASMedia 1153E controller is also contained in ASUS FX hard drive, providing the latest technology for more stable data transmission at maximized transfer speeds.
256-bit AES Encryption & Data Compression
The Advanced Encryption Standard (AES), also known by its original name Rijndael, is a specification for the encryption of electronic data established by the U.S. National Institute of Standards and Technology (NIST) in 2001.

- Wikipedia
The AES provides a block size of 128 bits and three key lengths - 128, 192 and 256 bits. ASUS adopts the 256-bit AES encryption functionality in the FX drive to keep files private and secure. And users can add a personalized password.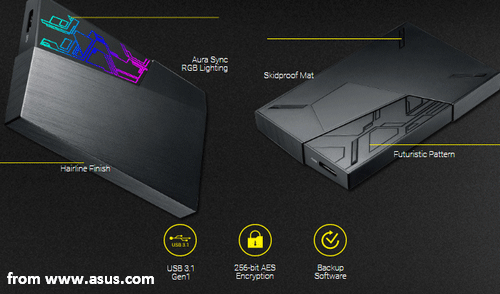 The process of reducing the size of a data file is often referred to as data compression. It is useful because it reduces resources which are required in data storage and transmitting.
Full Backup Solution
Surely, you should make your best effort to protect your data (getting away from viruses and ransomware). But it's a pity that no matter how hard you try, the hard drive data loss disaster still occurs sometimes.
Considering this, ASUS decides to add a complete and easy-to-use backup solution to its FX hard drive. This backup solution includes the automatic scheduling of the following things:
PC data
Social media
Cloud storage
Wireless mobile data
Futuristic Pattern
ASUS FX hard drive is a wonderful choice for gamers and gaming enthusiasts since it has a futuristic pattern and design. This highlights your distinctive individuality. The advanced 5-axis engraving and double injection molding technology have been applied to ASUS FX HDD, resulting in a more delicate and durable surface, which prevents fingerprint smudges and provides a better grip for avoiding accidental drops.