If you find Windows Defender automatic sample submission keeps turning off every time you restart your PC, how can you get rid of this situation? Read this post and here you can find some useful solutions to this issue offered by MiniTool Solution.
Automatic Sample Submission Is off Windows 11
Windows 11, a brand new operating system of Windows, comes to the public for several months. It is not stable currently and always brings many bugs & errors. To know some details, go to this post - Will Windows 11 Bring Us Errors? Here are Some Examples!
If you have installed Windows 11 on your PC, you may also run into some issues regarding Windows Defender, for example, you'll need a new app to open this Windowsdefender link. Besides, you can encounter another issue – automatic sample submission turns off. This is the topic that we focus on in this post.
This issue has been reported by some users on Reddit and the following is one example:
Automatic sample submission turns off automatically after every startup. To protect your PC, you need to re-enable the setting after every boot, which is annoying. Well then, how can fix this issue in Windows 11? Get solutions from the following part now.
Fixes for Automatic Sample Submission Off
Install KB5004300 Update of Microsoft
Microsoft releases an update at the beginning of August 2021 to fix this bug and you should install the Cumulative Update KB5004300 for Windows 11 (10.0.22000.100).
Follow the instructions below:
Step 1: Press Win + I to open Windows 11 Settings. Then, click Windows Update from the left sidebar.
Alternatively, you can click Win + R to get the Run dialog, type ms-settings:windowsupdate and click OK to open Windows Update.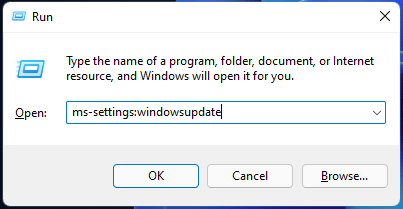 Step 2: Click Check for updates. If Windows finds some available updates including KB5004300, it will download and install them.
Step 3: You will be asked to restart the PC to install this update.
If you don't want to install the Windows 11 update, you can try other ways to fix your issue.
Tweak Registry Keys
You can create a Spynet Registry key if automatic sample submission turns off after every startup. This is to keep the functionality of this component of Windows Defender enabled in between restarts.
Note: This fix is only applied to Windows 11 build older than 10.0.22000.100.
Here is how to do this task:
Step 1: Type regedit into the search box and click the result to open Registry Editor.
Step 2: Go to this path: Computer\HKEY_LOCAL_MACHINE\SOFTWARE\Policies\Microsoft\Windows Defender.
Step 3: Right-click Windows Defender and choose New > Key.
Step 4: Rename the new key to SpyNet.
Step 5: Go to the SpyNet folder, right-click a space and go to New DWORD (32-bit) Value. Name the new key as DisableBlockAtFirstSeen.
Step 6: Double-click it, set Base to Hexadecimal and the value data to 0.
Step 7: Also, create a key called SpynetReporting and SubmitSamplesConsent. Then, set Base to Hexadecimal and the value data to 1 for these two keys.
Step 8: Restart your PC and see if your issue is solved.
Modify Your Group Policy
Group Policy Editor is not available for Windows 11 Home and you can try this tool in Pro or an advanced edition.
Step 1: Press Win + R, type gpedit.msc and click OK.
Step 2: Go to Computer Configuration >Administrative Templates >Windows Components > Microsoft Defender Antivirus >MAPS.
Step 3: Go to the right section and find Send file samples when further analysis is required.
Step 4: Double-click it and select Enabled.
Step 5: Save the change and restart the PC.
These are the ways to fix your issue. If Windows Defender automatic sample submission keeps turning off every startup, try one solution to easily get rid of the trouble.