Backspace, Spacebar and Enter keys are always used but you haven't noticed them. You only realize the value of them when one of them stops working. How annoying it is! In today's post, MiniTool Solution will show you how to fix the issue – Spacebar, Enter, or Backspace not working in Windows 10/8/7.
When one of these keyboard keys including Backspace, Spacebar, and Enter stops working, you could not use the keyboard currently. Perhaps there is something wrong with the keyboard. But sometimes you may face this issue on Windows PCs due to software or driver problems.
According to some users, these three keys are not working in Microsoft Notepad, Word, Internet browser and other programs. This indicates the problem is active in the operating system, for example, Windows 10/8/7. So, how to fix Backspace, Enter or Spacebar not working? Find the solutions from the following part now!
Spacebar, Enter, or Backspace Not Working
Method 1: Turn off Sticky Keys and Filter Keys
In Windows 10, there are two functions – Sticky Keys and Filter Keys. The former one allows you to press one key at a time for keyboard shortcuts and the latter one tells the keyboard to ignore repeated keystrokes.
Sometimes, enabling these two features can stop some keys on the keyboard including Backspace, Spacebar and Enter from working as expected. So, disabling them can be useful, which has been proved by some users
Here is what you should do:
Go to Start > Settings > Ease of Access.
Under the Keyboard tab, go to Sticky Keys and Filter Keys to make sure the toggle is set to Off.
Method 2: Reinstall or Update Keyboard Driver
Sometimes the driver may be corrupted or outdated, and then the connection between the keyboard and your operating system is corrupted, leading to the issue – Backspace, Spacebar or Enter key not working. So, trying to reinstall or update the keyboard driver can be helpful in Windows 10/8/7.
1. Go to the Device Manager main interface.
2. Expand Keyboards and right-click on the keyboard drive:
To reinstall the keyboard driver, here choose Uninstall device from the context menu. Next, click Uninstall and then restart your PC to check if Backspace, Spacebar or Enter key could work.
To update the keyboard driver, choose Update driver and let Windows search for the latest driver automatically.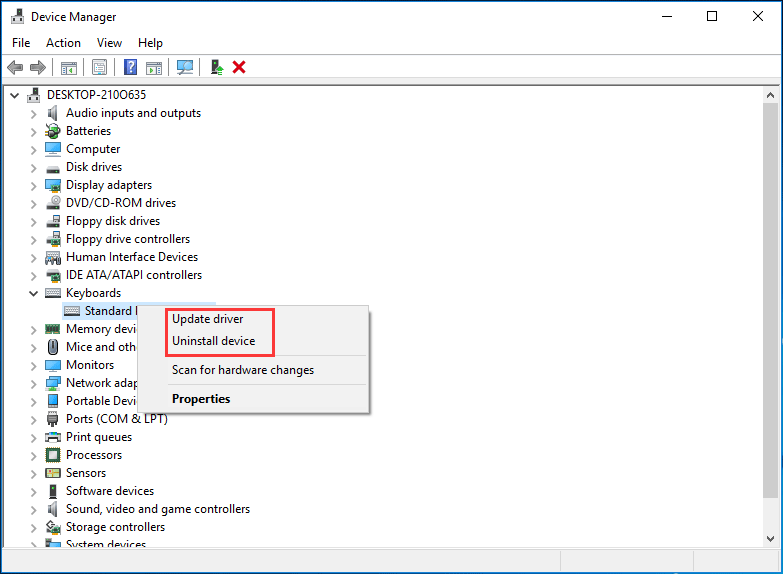 Method 3: Use the Keyboard Troubleshooter
If you are encountering the issue of Spacebar, Enter or Backspace not working in Windows 10/8/7, you can try using the Keyboard Troubleshooter. Here, take Win10 as an example.
Input troubleshoot in the search box and click the result.
Click Keyboard and then choose Run the troubleshooter.
Method 4: Check the Keyboard
It is a good idea to check if a physical blockage is under the keys. If yes, clean the keys and the keyboard. Also, check if the connection mode that you are using for your keyboard can work well. Finally, use the keyboard with the issue of keyboard keys not working on another PC and see if it can work fine, which will help you to know if the problem is with the keyboard or the PC.
If all of these don't work, just use a new keyboard to replace.
Bottom Line
Is your key – Spacebar, Enter or Backspace not working in Windows 10/8/7? This post shows you how to fix it. Just try these methods now based on your operating system.