Backup is very important for computer usage since your business data or personal data may be lost suddenly from a computer. Data loss is a common and eternal topic on the internet. Well, backup is the most direct and effective way to prevent data loss and avoid unnecessary problems caused by it. This page on MiniTool will show you how to backup Mac to external hard drive in 5 ways.
Backup, also called data backup, is actually a copy of computer data. It is saved elsewhere on computer or external device so that it can be used to restore the original data when they are missing or corrupted. Backup is a simple and the most effective way to prevent important data loss.
How to backup Mac to external hard drive is asked frequently when users have valuable data stored on Mac. Why backup to external hard drive, not internal hard drive? There are mainly 3 reasons:
The backup should be made regularly and it will occupy much disk space.
The internal hard drive, especially the old ones, can get full easily.
It's easier to access an external drive: the external drive can be accessed from any devices while you can't access the internal drive if your Mac is crashed/dead.
Please read the following ways carefully to know how to backup Mac yourself (these ways work for how to backup MacBook to external hard drive, how to backup iMac to external hard drive, etc.).
Tip: Please don't waste any time hesitating; just get a powerful data recovery tool for Mac and use it to restore the lost data ASAP!
How to Backup Mac (Using Time Machine)
Microsoft provides different ways to help Windows users backup computer to external hard drive: System Restore and File History. Likewise, Apple also offers a built-in tool to help people backup Mac to external drive: it's called Time Machine.
Back Up your Mac with Time Machine
How to backup a Mac: 4 steps.
Step 1: connect an external hard drive.
Please prepare an external disk with enough capacity and connect it to your Mac through USB, FireWire, or Thunderbolt.
Step 2: open Time Machine and select disk.
Click Apple menu -> select System Preferences -> click Time Machine.
Click on the Select Backup Disk button (it's also named Select Disk in some systems).
Select the external disk you connected as the backup disk from the list.
You can check Encrypt backups to secure your backup.
You can also click on the Options button to decide which data to backup.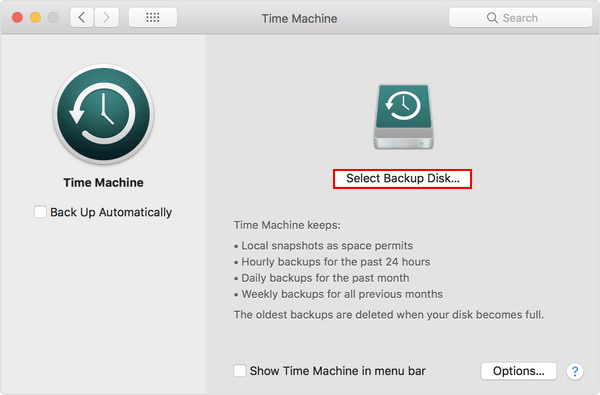 Step 3: erase disk or stop backing up to the previous disk.
If the disk you selected to back up data is not formatted by Time Machine, you should click Erase in the prompt window to confirm.
If you have used another disk for backup before, you'll be asked Do you want to stop backing up to the previous disk and use the new disk, or back up to both. Please make your choice.
Step 4: wait for the backing up process.
The backup process will be started and processed automatically, so you should just wait until it's completed. After that, you can remove the external drive from your Mac.
Time Machine Stuck On Preparing Backup? Problem Solved.
How to Backup Mac to External Hard Drive without Time Machine (4 Ways)
What if you don't want to backup Mac to external hard drive using Time Machine? luckily, you have many other choices.
Backup Mac to External Hard Drive Using Disk Utility
How to backup Mac to external hard drive using Disk Utility:
Connect the external hard drive to Mac.
Open Disk Utilities from Finder -> Applications.
Select the external disk.
Click Erase and confirm your action.
Confirm the Name, Format, and Scheme.
Click Erase and wait.
Click Done.
Open the external hard drive and create a new folder named Backup or anything else.
Navigate to the file/folder you want to backup, copy it manually.
Go to the Backup folder and paste the file/folder.
Backup Mac to iCloud
iCloud is a good choice to keep a backup of your data. It allows you to back up data on many different devices like Mac, iPhone or iPad. Then, you can access the backup data anywhere you want.
How can you backup your Mac to iCloud:
Backup Mac Using Cloud Storage Services
Online backup service is also a good choice for backing up your MacBook. How to back up MacBook? There are many choices for you.
Dropbox
OneDrive
Google Drive
Etc.
You should just follow the on-screen instructions to finish backup.
Backup Mac with Third-party Backup Software
There is a lot of third-party backup software designed for Mac. You should choose a professional one that won't bring any damage to your system and disk.
That's all about how to back up Mac on an external hard drive.