It is always true that computers can go wrong even when you least expect them to. When that really happens to you, you must want to troubleshoot the computer immediately. There are some basic troubleshooting steps provided for users to fix common problems on their PC.
You should turn to MiniTool software for data recovery, disk troubleshooting, or system backup.
5 Basic Troubleshooting Steps to Fix Your PC
Currently, many people are so reliant on their computers for life and work that even a small problem catches their attention. There are troubleshooting techniques to help when you start to find that the computer goes wrong:
A program is shut down expectedly.
An application stops responding.
Error messages appear frequently.
The computer/application is running slow.
The PC screen goes blank or turns into blue/black.
Weird noise or sound is coming out of your machine.
Etc.
When your PC gets weird or you suspect that there's a problem on it, you should follow the troubleshooting steps mentioned below to try to fix it yourself. You can ask a professional to help you when running into complex problems beyond your ability. But before that, please follow the instructions below.
What does troubleshooting mean?
In fact, troubleshooting refers to the action of problem solving on a failed product or malfunctioning system or machine. It will search for the cause of a problem to solve it so as to make the product/system operate normally again. PC troubleshooting means to fix errors and problems detected on a computer.
Step 1: Search Error Online for Solutions
One of the most common scenarios for computer users is getting error prompts while using the PC.
If the system tells you clearly the cause of your problem, please take corresponding measures to fix it.
If you don't know how to fix it or there is only error code (no cause or solution), you should search the keywords of the error online and try to find effective solutions for fixing it.
For instance, if you see You'll need to provide administrator permission to copy this file/copy to this folder, you'll understand that the permission is not proper for copying files. In this case, you need to get administrator permission and then try to copy the file again.
If you don't know what to do exactly or are afraid of making mistakes, you can search the keywords – can't copy files on the internet or read the article below to find useful solutions.
Step 2: Restart Your Device
If you don't receive any error messages or prompts, but you just find problems like icons missing from notification area or computer running slow, you should first try rebooting. Computer restart is magic! It works well in solving a series of problems appeared on your PC suddenly.
Your SSD Runs Slow On Windows 10, How To Speed Up?
How to restart Windows 10/8/7:
Close or minimize applications to show the desktop.
Press Alt + F4 on your keyboard to bring up Shut Down Windows window.
Click on the down arrow to choose Restart from the drop-down list under what do you want the computer to do.
Click on the OK button to confirm your selection and wait.
Tip: You can also choose Shut down to turn off your computer. Then, wait for a few minutes before you turn the PC back on manually.
Step 3: Update the Software
If it's an application, not the system, that is running slow or freezing suddenly, you should try to close it and then open it again.
How to close an application:
Press Ctrl + Alt + Delete simultaneously.
Choose Task Manager from the list you see on the screen.
Click More details if you're brought to a mini mode. (This is optional.)
Look for the application running slow or not responding.
Select it and click End task in the lower right corner.
Wait a few seconds and reopen the application yourself.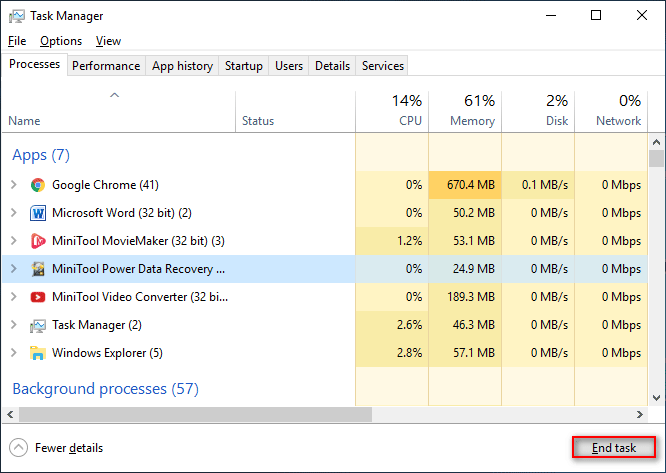 If close-and-reopen didn't work, you should try to troubleshoot by updating the app.
Look for the check for update option under help or other menu.
Click it and install the update detected.
Tip: You should go to update the system to the latest version in order to fix some bugs you can't handle.
Step 4: Scan for Virus
Virus attack is also another popular cause for many computer problems. If you're not sure whether your PC is attacked, you'd run a through virus scan at once.
Press Windows + I to open Settings.
Select Update & Security.
Choose Windows Security.
Click Virus & threat protection.
Click on the Scan now button under Threat history.
Wait for the scan and the system will kill virus for you.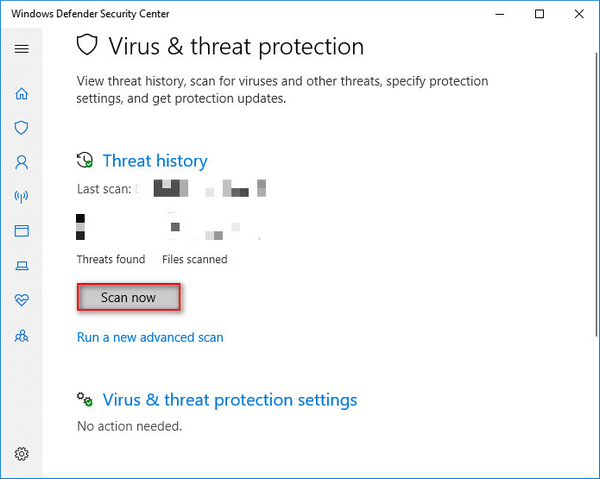 Also, you can turn to third-party antivirus to kill virus.
[SOLVED] How To Recover Files Deleted By Virus Attack | Guide.
Step 5: System Restore/Reinstall
If all above troubleshooting steps failed, you must play your last trump card: restore your system to a previous state or reinstall the OS.
How to make the most of System Restore?
Please share other useful troubleshooting techniques below to help more people!