Battlefield 2042 black screen then crash is an annoying problem when gaming. How to fix it? This guide on MiniTool Website aims at tackling this issue. Look it through carefully and we sincerely hope that our solutions will work fine for you.
Battlefield 2042 Black Screen
Battlefield is a first-person shooter game that gains popularity all over the world. However, there is an evident bug frequently appearing when launching the game or connecting the server. What's wrong with it? How to fix this issue? If you are also a victim of Battlefield 2042 black screen, you can get out of the issue after reading this guide.
How to Fix Battlefield 2042 Black Screen Issue?
Solution1: Check the Integrity of the Games Files
Maybe your game files are corrupted or infected by some bugs thus causing the Battlefield 2042 black screen issue.
Step 1. Open Steam and move to LIBRARY.
Step 2. Scroll down to locate this game and choose PROPERTIES.
Step 3. Next, click LOCAL FILES and hit VERIFY INTEGRITY OF GAME FILES.
Solution 2: Close Source-consuming Background Tasks
Background tasks use memory thus they can cause the system to lag. Here's how to do it to address Battlefield 2042 black screen.
Step 1. Press Ctrl + Shift + Esc to run Task Manager.
Step 2. In the Processes tab, right-click the tasks you want to close and select End task one by one.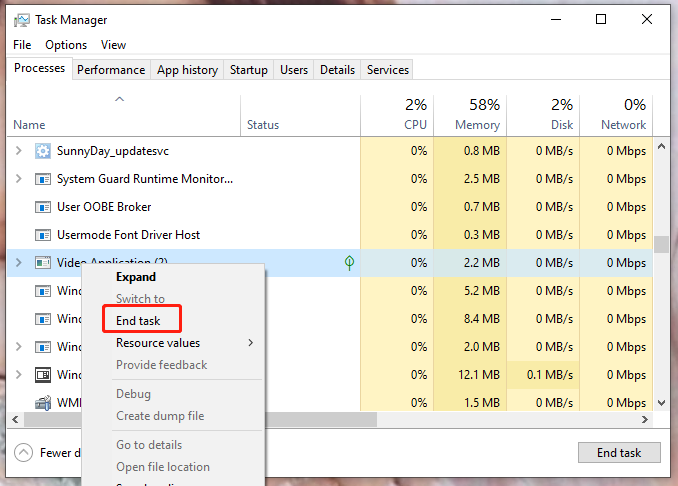 Step 3. Once closing all unnecessary background tasks, restart the game to examine if Battlefield 2042 black screen is fixed.
Solution 3: Update Graphics Drivers
There are some bugs and errors in outdated graphics cards and they can slow down the computer performance. Therefore, keeping the latest version of graphics driver is very important.
Step 1. Type device manager in the magnifier icon and tap on Enter.
Step 2. Click Display adapters to show your graphics driver.
Step 3. Right-click it and select Update driver.
Step 4. Follow the instructions on the screen to finish the update progress.
Solution 4: Perform a Clean Boot
Some conflicts between the background software might also trigger Battlefield 2042 black screen. To do so:
Step 1. Press Win + R to launch the Run box.
Step 2. Paste msconfig in the box and hit Enter.
Step 3. In Services, tick Hide all Microsoft services and click Disable all.
Step 4. Hit Apply and OK to execute this action.
Step 5. Right-click the taskbar to open Task Manager.
Step 6. In the Startup tab, disable all the startup programs.
Step 7. Reboot your device to apply these changes.
Solution 5: Clear the Caches
Another possibility is that cache files of the launcher get corrupted thus trying to clear the cache files might be a fix to Battlefield 2042 not loading.
Step 1. Open Steams and go to Settings.
Step 2. Click on the Clear Download Cache button.
Solution 6: Change Screen Resolution
Some games must operate under a high resolution hence you may face Battlefield 2042 black screen if you don't change your screen resolution.
Step 1. Open Windows Settings > System > Display.
Solution 7: Update the Latest Patch
Manufacturers often launch some patches to fix some bugs or errors for better gaming performance, so you need to keep the latest Battlefield 2042 update.