Battlefield 2042 Not Launching
Since the release of Battlefield 2042, many users find that the game not launching and you get no error message and have no idea about the causes of this issue. Congratulations! You've come to the right place. In this article, we will discuss Battlefield 2042 not launching in-depth and figure out some practical methods for you.
How to Fix Battlefield 2042 Not Launching Windows 10?
Fix 1: Update Your Graphics Driver
The outdated GPU driver might be a culprit of Battlefield 2042 crashing on PC, so updating your graphics driver is a good option.
Step 1. Type device manager in the search bar and tap on Enter to locate Device Manager.
Step 2. Click Display adapters and right-click on your graphics driver.
Step 3. Choose Update driver in the drop-down menu.
Step 4. Then click on Search automatically for updated driver software and follow the on-screen instructions to download and install the latest graphics driver.
Fix 2: Run Battlefield 2042 as Administrator
Running Battlefield 2042 requires enough permission hence you need to give it some privileges to fix Battlefield 2042 not opening.
Step 1. Find your Battlefield 2042 executable file and right-click on it.
Step 2. Click Properties > Compatibility.
Step 3. Check Run this program as an administrator and hit Enter.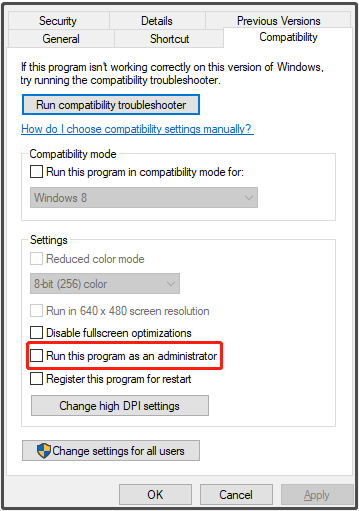 Step 4. Do the same steps to BF2042_launcher.
Fix 3: Turn off the Game Mode
Game Mode is a special feature in Windows 10 and Windows 11. Running Windows Game Mode means closing all the unnecessary software in the background. Although it sounds good, this feature only works for some people.
For other people whose software environment is not ideal, running this mode can cause a series of issues including Battlefield 2042 beta not launching, Battlefield 2042 black screen, Battlefield 2042 low FPS, Battlefield 2042 DirectX error, error code 15 7a and so on. Therefore, you had better disable this feature.
Step 1. Press Win + I simultaneously to open Windows Settings.
Step 2. Scroll down to find Gaming and click it.
Step 3. In the Game Mode tab, turn off the game mode.
Fix 4: Disable All Antivirus Software Temporarily
Antivirus software can block certain functions of some apps without your knowledge. If you running antivirus software in the background, it is possible to cause Battlefield 2042 not launching. As a result, disabling it before gaming might be a good choice.
Fix 5: Verify the Integrity of Game Files
Another possibility is that some game files are damaged or corrupted and you can verify the integrity of game files on Steam.
Step 1. Open Steam and go to Library.
Step 2. In the game list, try to find Battlefield 2042 and right-click on it.
Step 3. Choose Properties and hit VERIFY INTEGRITY OF GAME FILES under the LOCAL FILE section.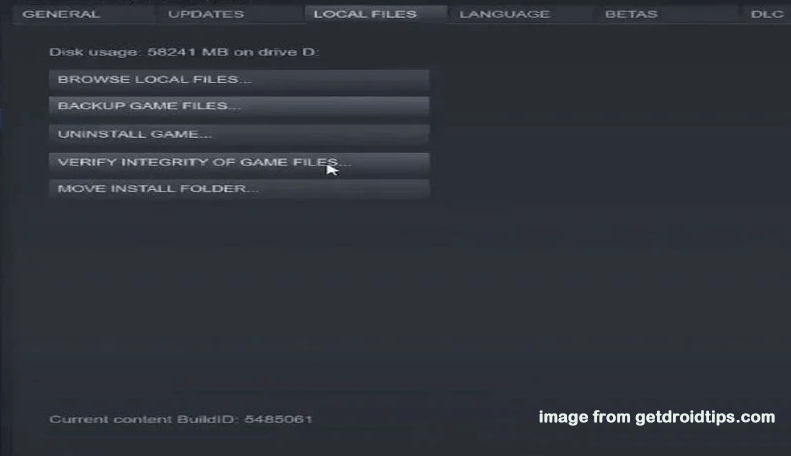 Fix 6: Turn Your GPU to a Normal Clock Speed
Overclocking your CPU may get better performance but it can also make your GPU or CPU unstable. If you are experiencing Battlefield 2042 not launching, it is highly recommended to disable overclocking.
Fix 7: Disable Overlay Software
Overlay software can create a conflict with some special systems, especially those run non-official Windows versions. Turning it off may probably avoid Battlefield 2042 won't launch.
Step 1. Press Win + R to open the run box.
Step 2. Type appwiz.cpl and hit Enter to open Programs and Features.
Step 3. Scroll down to find the overlay software and right-click on it to choose Uninstall.
Step 4. Follow the instructions on the screen and remember to reboot your device after the uninstallation process is done.