Laptop is favored by most people due to its convenience, so battery is one of the most important components in a laptop. People, especially the travellers and game lovers, will pay much attention to the battery life. Today, some of the laptops with the best battery life (the longest lasting batteries) will be introduced to you.
How Long Should a Laptop Last
As you know, battery is an essential part for a laptop. The battery life draws much attention of people when they try to buy a new laptop. People are wondering what the best battery life laptop is in 2021.
What Is Laptop Battery Life
In short, the laptop battery life refers to the amount of time your laptop could run on a single full charge. You can use the laptop for a certain period of time before it needs to be recharged. Well, the battery lifespan refers to the amount of time your battery could last before it needs to be replaced.
You should check the laptop battery health at fixed periods to determine whether you need a new battery or not.
The Average Battery Life of Laptop
The average battery life of a laptop is not accurate; it's a range from 2 ~ 3 hours to 7 ~ 8 hours (or even more). What are you doing on your laptop can make a big difference in the battery life. Also, the battery life will wear out easily over time.
Tip:
You can get a lot of useful tools from the
home page
, including data recovery tool (below is the download button of it), disk manager, system/data backup tool, video editor, screen recorder, and a few other utilities.
MiniTool Power Data Recovery TrialClick to Download100%Clean & Safe
What are the laptops with best battery life you can find in 2021? Please read the following content to find out (the laptops are displayed in random order).
#1. Dell Latitude 9510
Dell Latitude 9510 seems to be the laptop with best battery life: about 18 hours and 17 minutes (1097minutes).
The Dell Latitude 9510 is equipped with Dell Optimizer and the built-in AI to adjust to users' way of working. It can be configured as both a laptop and a 2-in-1. Dell Latitude 9510 is the smallest, lightest and most intelligent business laptop of Dell; it's 15 inch in size and only 1.4 kg (3.1 lb) in weight as a laptop or 1.5 kg (3.3 lb) as a 2-in-1.
Dell Latitude 9410 is also a good choice of best laptop battery life – about 16 hours and 54 minutes (1014 minutes).
#2. ASUS ExpertBook B9 B9450
The battery life of ASUS ExpertBook B9 is about 16 hours and 29 minutes (989 minutes).
As described on the ASUS website, the ASUS ExpertBook B9 is the world's lightest 14-inch laptop for business; it's a master of lightness and power. It's designed for long trips owing to the amazing up to one day battery life. Besides, your work efficiency can be ensured with the help of a full set of I/O ports, the dual-storage design, and the exclusive ASUS NumberPad.
Solved: Troubleshoot ASUS Laptop Won't Turn On Yourself!
#3. LG Gram 17
The battery life of LG Gram 17 is about 16 hours and 17 minutes (977 minutes).
The LG Gram 17 is an ultra-lightweight 17-inch laptop equipped with the 10th gen Intel Core (i7-1065G7) processor Ice Lake and Intel Iris Plus graphics. The processor base frequency is 1.30GHz, Turbo up to 3.90GHz. The LG Gram 17 does a great job in increasing the productivity by combining the impressive memory, the cutting-edge Intel processor, and the long battery life.
The Best Lightweight Laptops 2019: User Guide.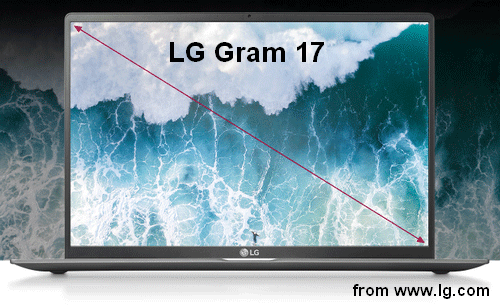 LG Gram 14 is another longest battery life laptop: 16 hours 3 minutes.
#4. Dell XPS 13 9300
The battery life of Dell XPS 13 9300 is up to 18 hours and 49 minutes (1129 minutes).
Dell XPS 13 9300 has a beautiful outlook: Platinum Silver exterior and Black interior. It uses the 10th gen Intel Core i7-1065G7 processor; the cache is 8MB and the frequency is up to 3.9 GHz. The display of Dell XPS 13 9300 is 13 inch and the weight is about 1.2kg (2.65lbs.) for non-touch laptop or 1.27kg (2.8 lbs.) for touch laptop.
Another two models of best battery life laptop designed by Dell are: Dell XPS 13 7390 2-in-1 (10 hourse and 7 minutes, 607 minutes) and Dell XPS 15 9500 (8 hours 14 minutes, 494 minutes).