Without an antivirus program protecting your computer, your computer may be easily attacked by viruses or malware. This post introduces some best free antivirus for Windows 11 or 10 computer for your reference.
5 Best Free Antivirus for Windows 11/10 Computer
Windows Defender Antivirus
We all know that Windows comes with a built-in free antivirus – Windows Defender. If you don't want to install any third-party free antivirus for Windows 11/10, you can stay with the Windows Defender.
Windows Defender is the anti-malware component of Microsoft Windows. After Windows 10 May 2020 Update, it is called Microsoft Defender. It can protect your device and data in real time with a full set of security features. It also provides firewall and network protection, reports your system performance, and more.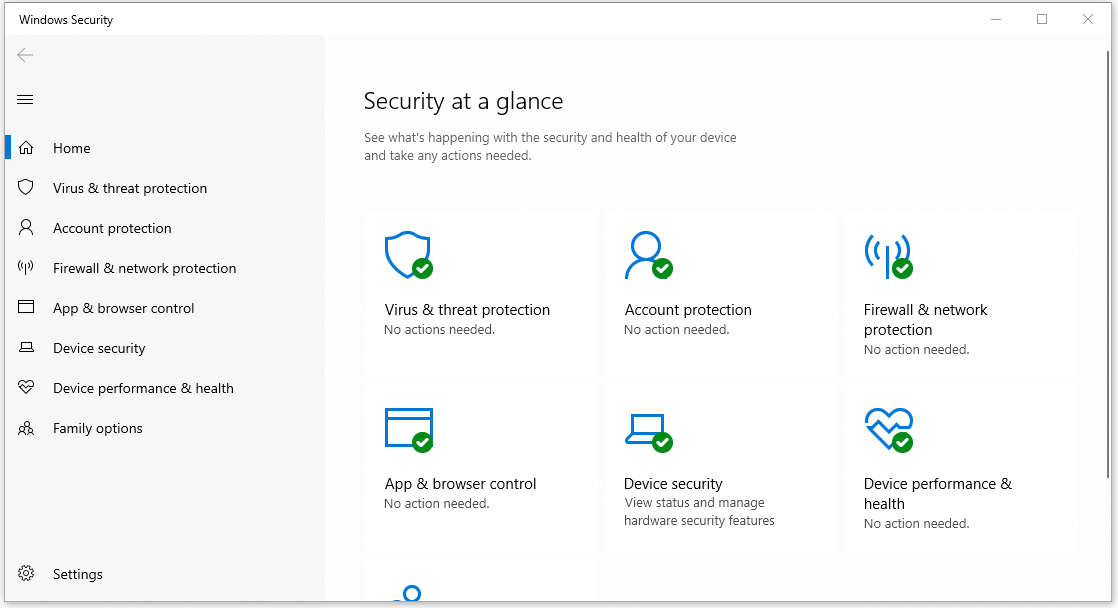 Related tutorials:
How to enable or disable Microsoft Defender in Windows 11?
Is Windows Defender enough for protecting computer security?
How to block a program with Windows Firewall in Windows 10?
Avast Free Antivirus
Avast Antivirus free edition provides essential protection for your Windows 10/11 computer. It offers 6 layers of security and a powerful virus scanner. You can use this free antivirus for Windows 11/10 to detect and block viruses, malware, spyware, ransomware, etc. to stop threats.
It lets you easily check the security of your whole computer from your passwords to your home network security. Though it doesn't check your applications for malware, it monitors their behaviors and reports abnormal performance.
Bitdefender Antivirus Free Edition
This free antivirus program for Windows 10/11 packs all the essential protection features every Windows computer needs. It offers real-time threat protection for your computer and uses behavioral detection to monitor your active apps. If it detects any suspicious things, it takes instant action to stop it. Its powerful scan engine detects and removes all malware and viruses from your computer.
McAfee Antivirus
To protect your computer from viruses or malware, you can also try McAfee antivirus software. It can block viruses, malware, ransomware, spyware, and more. It also offers other protection features like web protection, password manager, ID theft protection, etc.
Norton Antivirus
This all-in-one antivirus software for Windows 10/11 can protect your Windows computer from various kinds of threats. Its security protection technology is powered by AI and machine learning. It helps defend against viruses, worms, malware, ransomware, spyware, adware, phishing, Trojans, etc.
Best Free Data Recovery Program for Windows 11/10
If you lost some important files due to mistaken deletion, malware or virus infection, hard drive failure, computer problems, etc. you can use a professional data recovery program to recover lost files.
MiniTool Power Data Recovery is a free data recovery application for Windows 11/10. It lets you easily recover any deleted or lost files, photos, videos, etc. from Windows computers, memory/SD cards, USB flash drives, external hard drives, SSDs, etc. This program helps you tackle various data loss situations. Intuitive interface and simple operation.
MiniTool Power Data Recovery FreeClick to Download100%Clean & Safe