What is Nintendo Switch?
Nintendo Switch, designed by Nintendo, was actually released on March 3, 2017. This video game console becomes more and more popular these years. This hybrid video game console can be used either as a stationary or as a portable device. People enjoy playing games on it and manufacturers have designed and put more games on the Nintendo game store.
The Best Micro SD Cards for Nintendo Switch
Well, there's a problem emerging: the internal storage of Switch is not enough for storing new games. Sometimes, people are reluctant to delete the games they are playing from Nintendo Switch, so they have no way but to give up on the attracting new games. What a terrible experience!
You need an SD card of course when you are running out of internal storage space (the capacity of Standard Switch and Switch Lite is 32GB, but the real available space is 25GB). So the question is what's the best Micro SD card for Switch? If you also have the low internal space problem, you should read the following content in which some wonderful SD cards will be introduced. (Please let MiniTool help you when SD card recovery is needed.)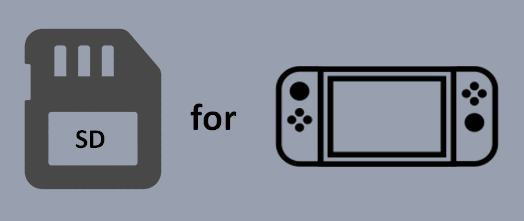 The Tutorial On SD Card Recovery For Windows 10 You Can't Miss.
Since the 32GB internal storage of Switch is easily filled up by the digital games, system updates, and screenshots, you'll need a large SD card to expand the storage. Choose a large Nintendo Switch SD card and put it into the microSD slot on Switch, problem solved!
How to choose the best SD Card for Nintendo Switch?
Considering people don't know the best SD card for Switch, I summarize some hot choices (the list is in no particular order).
The Most Official
Sandisk microSDXC UHS-3 memory card
As you know, the Nintendo-branded memory cards are a safe bet. Sandisk microSDXC can be your best choice if you have no special needs. The storage is up to 128GB, and the read speed is as fast as 100 MB/s. The Ultra High Speed is UHS-3 and you don't need to worry about the quality. You can enjoy a long warranty (lifetime or at least 30 years).
Best Overall
Samsung EVO+ microSDXC UHS-I memory card
This is a high-end memory card of Samsung, the famous electronics manufacturer. Though its price is relatively high, it wins the heart of the public due to the good combination of performance and storage capacity (256GB).
This is a wonderful choice of Nintendo Switch memory card, especially for users who want to download many games from Nintendo eShop. It helps to load games faster than most other cards.
Best for Storage
SanDisk 1TB Ultra microSDXC UHS-I memory card
The 1 TB capacity is very large for an SD card. This UHS-I SanDisk 1TB can store many games and files for you; besides, it can even store hours of full HD (1920×1080) videos. The fast speed allows you to send/move large files and photos very quickly: a transfer speed at 120 MB/s.
Best for Value
One: Kingston Canvas Select microSDXC UHS-I.
Kingston may be not so famous as Samsung and SanDisk, but it is also a very reputable brand. Kingston Canvas Select (up to 256GB) model costs a few pennies less per gigabyte than its SanDisk counterpart. It is certainly the best memory card for Nintendo Switch in terms of cost performance. The load time is a little bit lower, about 80 MB/s, but it can still meet the needs of most people. The Ultra High Speed is UHS-I and the warranty is also lifetime (or at least 30 years).
Two: SanDisk Ultra microSDXC UHS-I card.
If you plan to download a lot of digital games and need to save a lot of documents on the SD card, SanDisk Ultra 400GB model is your best choice for Switch (it can also be used on Android smartphones and tablets).
In addition to the big capacity, this Class 10 SanDisk SD card will also impress you on the read speed: it's up to100 MB/s. It's one of the safest Nintendo Switch Micro SD since it offers enough protection for your data.
Other Good Choices for Nintendo Switch SD Card
There are also other good choices (in random order):
Samsung EVO 128GB
Samsung EVO Select 64GB UHS-I/U3
Samsung EVO Plus 128GB microSDXC UHS-I
Samsung EVO Plus 512GB microSDXC card
SanDisk Extreme 128GB microSDXC
SanDisk Extreme PRO 64GB UHS-I/U3 microSDXC
SanDisk Ultra PLUS 256GB microSDXC UHS-I Memory Card
SanDisk 128GB UHS-I-Memory-Card – Mario Theme
Lexar Professional 1000x 32GB UHS-II/U3
PNY Elite 128 GB
Silicon Power 128GB microSDXC
Please select the best Micro SD card for Switch based on your actual needs!
By the way, if you have deleted SD card files by mistake or find the card corrupted, you should read the following page to know how to regain data.