What is the use of BitTorrent? Is it illegal to have BitTorrent? Is BitTorrent safe to download? How do you download BitTorrent on Windows? From this post, you can find answers to these questions. MiniTool will show you details on an overview of BitTorrent and BitTorrent download & install for Windows, Mac, & Android.
What Is BitTorrent?
BitTorrent is an internet transfer protocol for peer-to-peer (P2P) file sharing. Unlike like FTP (file transfer protocol) and HTTP (hypertext transfer protocol), BitTorrent is a distributed transfer protocol. That is, BitTorrent allows you to distribute files over the Internet in a decentralized manner. And large files like movies, TV shows, and books can be shared.
Its transmission rate is fasters and you can efficiently download files from the Internet. This protocol can help reduce the impact on the server and network when distributing large files. It enables you to join a "swarm" of hosts to upload & download from each other at the same time instead of downloading a file from a single source server.
Is It Illegal to Have BitTorrent?
BitTorrent is a great tool that allows you to download or upload content including movies, music files, and other files. This seems to be OK. But it is questionable whether such use is really legal. Essentially, BitTorrent itself isn't illegal. However, if you download unsanctioned copyrighted content without permission, this behavior is illegal. So, pay attention to this point.
Besides, here comes a question: is BitTorrent safe to download? Downloading suspicious files from unverified uploaders may not be safe. Even if some files look genuine, they may be unsafe since malware can infect your machine. So, scan for the downloaded files for malware using antivirus software like Windows Defender/Windows Security.
BitTorrent Download Mac, Windows, & Android
To send or receive files, you can download and install a BitTorrent client on your device. The client is a program that implements the BitTorrent protocol and it can be used on Windows, macOS, and Android. So, how to download BitTorrent freeware for PC and Android? It is easy to do this task.
See the guide on BitTorrent free download for Windows 11/10, Mac & Android:
Step 1: To download BitTorrent for Windows 10, go to the official website of BitTorrent - https://www.bittorrent.com/downloads/windows/ via a browser.
There are two editions for you to download – BitTorrent Web and BitTorrent Classic. The former is an easy-to-use online torrent downloader and player and the latter is the original desktop torrent client.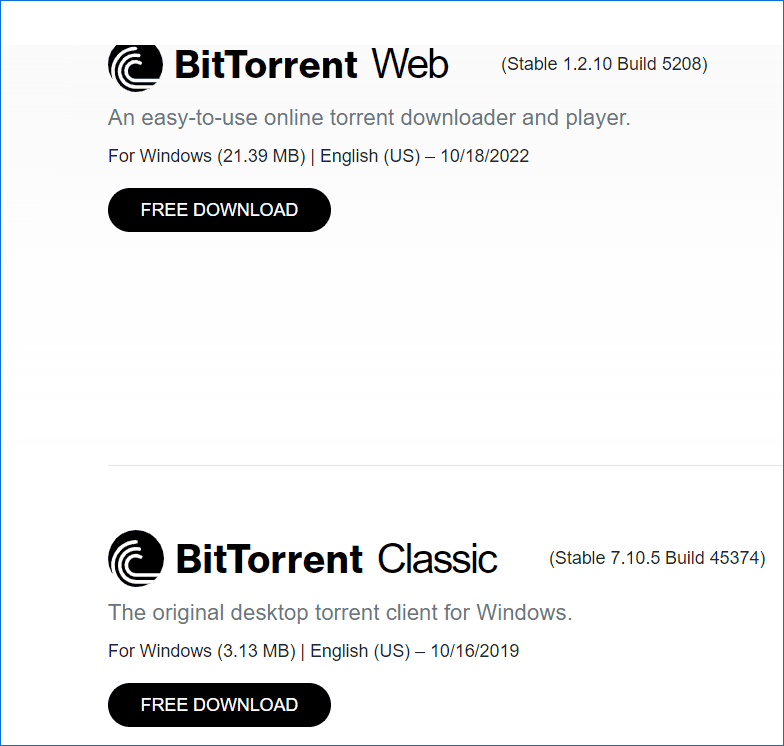 Step 2: Choose an edition you want to use and click FREE DOWNLOAD to a new page.
Step 3: Then, click the download icon to get the installer (a .exe file).
To download BitTorrent, go to https://www.bittorrent.com/downloads/mac/ and get a .dmg file. In terms of BitTorrent download for Android, open Google Play Store to free download BitTorrent Android.
BitTorrent Install Windows 10/11
After the BitTorrent download for PC, you need to install it. So, how to install BitTorrent in Windows 11/10? Here, we take BitTorrent Classic as an example.
Step 1: Double-click on the .exe file and click Next in the welcome interface.
Step 2: After seeing the warning, agree to the license agreement and privacy policy.
Step 3: Choose install options and configure some additional settings.
Step 4: The installer is installing BitTorrent. After a while, check the box of Launch BitTorrent and click Finish to open this app. Then, you can use BitTorrent.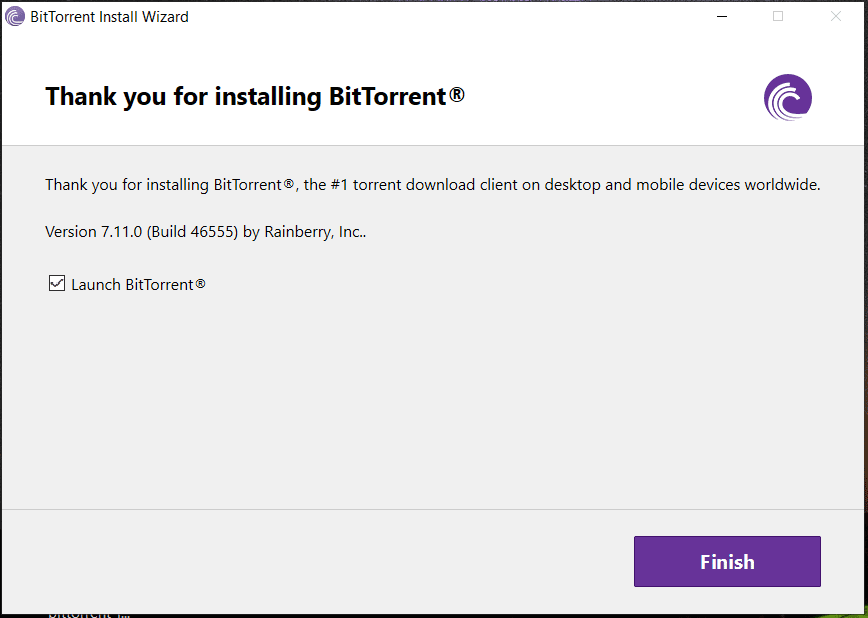 Related post: How to Open Torrent Files on Windows & Mac
Final Words
The basic information about BitTorrent is introduced here including BitTorrent download for Windows 11/10, Mac & Android. If you need it, just follow the given guide to install it for use.