Though a series of problems are found on different Windows systems, Microsoft has been working on finding solutions to fix the problem. Microsoft says it will never stop improving its products, and it has always done so. Many people complained the black screen trouble after they have upgraded to KB4503327; then, Microsoft has given its response.
It would be very depressing if you encountered a black screen on a Windows 10 system. Microsoft, though, has been working hard on improving its system and making things better, there are always small and serious problems.
Recently, a lot of Windows 10 users reported that they come across the black screen Windows 10 update issue after they have finished installing the new KB4503327 security upgrade. Microsoft Windows was quick to respond after knowing this. (Please note that you should get help from MiniTool Software in order to prevent data loss and other damage.)
The Fabulous Data Recovery Software For Windows 10 You Deserve!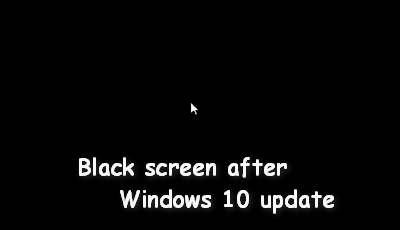 Microsoft Issues Warning to Black Screen Windows 10 Update
Microsoft issued a warning to its numerous users at once after knowing the black screen issue according to eagle eyes of Windows Latest.
My Computer Turns on but the Screen Is Black
In fact, the Windows 10 update screen black is caused by installing KB4503327, which is a new security upgrade. When you have finished installing the KB4503327 update and restarted your PC, you'll be faced with a completely black screen.
How to Deal with Windows Update Screen Black
What is the response from Microsoft? In fact, it says it's working on a resolution, but there is still no answer as to when the final fix will come out.
But Microsoft has given quick fix on settling down the problem for the moment.
Press the Ctrl + Alt + Delete buttons combination.
Click on the power button in the lower right corner of the black screen.
Select Restart from the list.
Till then, your PC should be restarted normally.
To tell the truth, the Ctrl + Alt + Delete combination is very useful when you need to get rid of all sorts of strange states on your PC.
There are also other solutions that could possibly help you solve the Windows 10 update problem: black screen.
Win + Ctrl + Shift + B buttons combination: by pressing the Win button, Ctrl button, Shift button, and B button, you are able to restart your PC's graphics drivers easily.
Shutdown your computer forcibly: you should press and hold the physical power button on your computer until it finally shuts down. Wait for a while and then power on your PC to see if the system boots successfully.
Check the battery power mode: make sure the keyboard and mouse are connected to your PC properly; make sure you didn't turn on the power-saving mode.
FYI: you can sometimes get a black screen and see the operating system not found error message. How to fix the problem at this time? Please read this article carefully:
Influences of the Black Screen Bug
According to Microsoft, the Windows 10 update screen black only has an impact on a small number of users. That explains why Microsoft decides to not stop the rollout of update KB4503327.
In fact, huge scariness will be generated when an ordinary user find their computer booted into a black screen. This, in the eyes of many people, should be the reason that drives Microsoft to stop the rollout of the new KB4503327 security upgrade.
Please click here to know how to troubleshoot black screen or blank screen errors.
Stay Calm & Protect Your Data
Even if you can't fix the black screen Windows 10 update, you should ensure the data security. Please get the MiniTool Power Data Recovery Bootable and use it to recover data from your PC that can't boot.
Hope you never meet the Windows update screen black problem!