Summary :
Why can't you turn on Bluetooth? What if Bluetooth won't turn on in Windows 10? To get the answers to these questions, refer to this post. MiniTool will describe the reasons for this issue and show you some useful solutions to fix the Bluetooth not turning on issue.
Bluetooth Won't Turn on Windows 10
In Windows 10, you can use Bluetooth to connect some devices to your PC. How to turn on Bluetooth on Windows 10? Just go to Settings > Devices > Bluetooth & other devices and switch the toggle of the Bluetooth to on. Then, you can connect any other devices with the PC via Bluetooth.
But Bluetooth is not always working and you may encounter many problems related to Bluetooth. One serious case is that Windows 10 can't turn on Bluetooth. The following are some examples of this issue:
Bluetooth missing toggle in Windows 10
Windows 10 device does not have Bluetooth
Then, you may ask: why can't I turn on my Bluetooth on Windows 10? This is mainly because of device compatibility, operating system, Bluetooth driver issues, incorrect settings, etc. Next, let's see how to fix this issue.
What to Do If You Can't Turn on Bluetooth Windows 10
Run the Troubleshooter
Windows 10 offers many troubleshooters to deal with some issues with Bluetooth, hardware and devices, keyboard, Internet connection, audio, etc. Once your PC goes some wrong, you can use a corresponding troubleshooter to perform a simple fix.
If Bluetooth won't turn on, you can also run the troubleshooter. Follow the steps below:
Step 1: Open Windows Settings by clicking Start > Settings.
Step 2: Click Update & Security and go to Troubleshoot.
Step 3: Locate Bluetooth and click Run the troubleshooter. Then, finish the fix by following the on-screen instructions.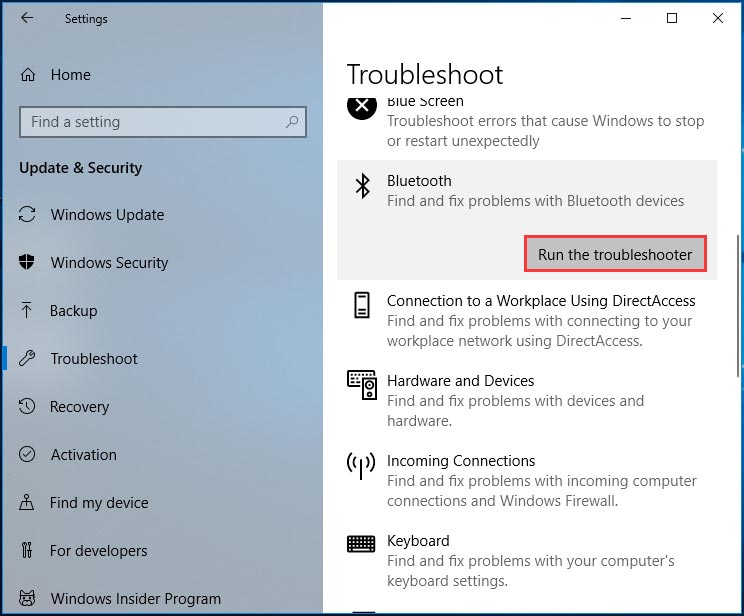 Step 4: Also, you can run the Hardware and Devices troubleshooter.
Check If the Bluetooth Service Is Running
If the Bluetooth service is not running, you can't turn on Bluetooth in Windows 10. Thus, you can have a check to see if it is working.
Step 1: Go to Search, type services.msc and click the result to open the Services window.
Step 2: Double-click Bluetooth Support Service, set the startup type to Automatic, and click Start.
Step 3: After saving the change, restart the PC and see if you can turn on Bluetooth.
Re-enable the Bluetooth Driver
If Windows 10 can't turn on Bluetooth, you can re-enable its driver in Device Manager to fix this issue.
Step 1: Press Win + X and choose Device Manager.
Step 2: Go to Bluetooth and right-click your Bluetooth driver to choose Disable device.
Step 3: Then, right-click the driver again to choose Enable device.
After that, go to turn on Bluetooth in Settings and see if the issue is solved.
Update the Bluetooth Driver
An outdated driver can lead to Bluetooth not turning on. To fix this problem, update the driver to the latest version.
To perform the Bluetooth driver update, you can also use Device Manager. Or you can download a driver from the manufacturer's website or use a third-party driver update tool. In our previous post, we show you detailed information - How to Install Bluetooth Driver Windows 10? 3 Ways for You!
Bottom Line
Bluetooth won't turn on in Windows 10? If you are encountering this issue, you can easily fix it after trying these methods. Just have a try!