Is Borderlands 3 going to be cross save between Xbox and PS4? Will Borderlands 3 be cross save? or is it already of cross-save? Solve your doubts by reading the following content from MiniTool.
About Game Cross Save
Cross saving a game refers to save the game files from one platform to another. For example, you usually play a game on PS4, yet you want to save its related files on your PC due to the small storage of your PlayStation, or you want to play the game on your computer in the future.
Therefore, game cross saving happens between any two of PS5, PlayStation 4, PlayStation Vita, PS3, PlayStation Portable, PS2, Xbox Series S, Xbox Series X, Xbox One S, Xbox One X, Xbox One, or Xbox 360, and PC.
Is Borderlands 3 Cross Save?
It depends. if you mean cross save of Borderlands 3 between 2 PlayStations or 2 Xbox consoles, the answer is yes and there are several ways just like introduced below. If you want to cross save between a game console (PlayStation or Xbox) and your PC, you can't for the game does not allow it. For Borderlands 3, there are different versions for different platforms on the Epic store.
Will Borderlands 3 be cross save completely? Maybe Yes in the future.
Tip: Cross platform saving is available in Borderlands 2 like Borderlands 2 cross save PC to PS4 or Xbox 360 to PC.
Borderlands 3 Cross Save Between the Same Console Family
Cross Save Borderlands 3 Between PlayStations
If you plan to cross-save Borderlands 3 between two PlayStation consoles, such as PS4 to next-gen PS5, you can achieve that in following four ways:
Method 1. Cross Save from PS4 to PS5
PS4 save files can only be transferred to PlayStation 5, but not the other way around. Just log in on your PlayStation 4 and upload your saves through the new "UPLOAD SAVE" option under Play of the Borderland 3 main menu. Then on PS5, you will find "DOWNLOAD SAVE" under Play. just click it to save the uploaded files from PS4. 
Tip: Only one of these saves will work at a time. If you upload another save, it will overwrite the previous saves.
Method 2. Cross Save Borderlands 3 by PS System
There is a built-in system on every PlayStation console. To transfer data from one PS console to another, you need to connect both consoles with the same LAN, make sure both systems are no older than version 4, enable bandwidth and sign into your PSN (PlayStation Network) account on both consoles. Then, select the data you want to transfer and carry out the task.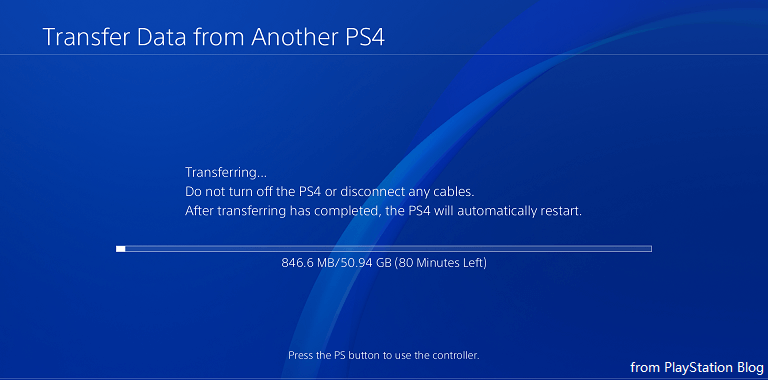 For more details, please visit the below article.
Method 3. Cross-Save Borderlands 3 Using Cloud Storage
PS provides cloud storage for its users, its also a transit for data cross saving. If you are a PS PLUS member, to cross-save Borderlands, first of all, sign in your PSN on the original PS console, go to Settings of the system software. Then, search for Application Data in Storage System. Find Saved Data in System Storage, select target files you plan to cross-save, and choose Upload to Online Storage.
Next, sign out and sign in your PSN in the destination console. Similarly, go to Settings > Application Data in Storage System > Saved Data in Online Storage, choose all data you uploaded just now and download them from the cloud to your target machine.
Method 4. Cross-Save Borderlands 3 with External Hard Drive
If you aren't a PS Plus member, you can make use of the "stupid" traditional way to transfer games from one PS platform to another. You can firstly back up your game data from the current platform to a USB flash drive through Settings > System > Back Up and Restore. Then, insert this USB to the destination machine and restore the data to it via the same feature.
Borderlands 3 Cross Save Between Xboxes
Xbox One save files will seamlessly transfer to next-gen Xbox Series X or Xbox Series S once you've set up and signed into the same Xbox Account. 
Borderlands 3 Save Files Cross Different Platforms
The above ways are applicable between any two PlayStation consoles or any two Xbox consoles. As for cross saving between different types of machines, for example, PS4 to PC, PC to Xbox, or PS4 to Xbox, there is no official solution. Maybe you can try the forth method for transferring data between two PlayStations. Or, you may try to search for a third-party program that can do such work. Good luck to you!
BL3 Cross-Play Between Steam and Epic on PC
Borderlands 3 has been available on STEAM since March 13, 2020. Thanks to the magic of PC Cross-Play powered by SHiFT, players are able to play other PC gamers even if they purchase them from Epic. More importantly, players can transfer saved data between the Steam and Epic PC platforms. Yet, they have to move their files manually.
Tip:
To avoid data loss, you are recommended to
create a backup or copy
of your save games before transferring with a professional and reliable data backup program like MiniTool ShadowMaker.
Also read: