What Is a CAB File?
What is a CAB file? CAB is a Windows Cabinet file with the .cab file extension. CAB files contain compressed data and are used for Windows software installations, such as system files, network components, and device drivers.
While Microsoft installations are in process, multiple files have been archived into one single file to reduce size. This kind of file format is compatible with different Windows installation engines.
For the next parts, you can learn this guide to open, install, extract, and covert a .cab file step by step.
How to Open a CAB File?
Since .cab file is compatible to Windows, you can open a CAB file by double-clicking on it. But if you want to open it on macOS or Linux, you can resort to some archive management software to open a CAB file, such as Winzip, 7-Zip, and The Unarchiver.
How to Extract a CAB File?
Sometimes, you can't directly install a .cab file because some developers will use CAB as a compressed folder to distribute specific content. So, you need to extract the file first.
Step 1: Open your File Explorer and locate and double-click on the .cab file.
Step 2: Select all the contents in it and right-click on them to choose Extract… from the menu.
Step 3: Select the destination for your files and click Extract to finish the work.
How to Install a CAB File?
How to install a CAB file? You can use Command Prompt to install a CAB file. Then here is the way.
Step 1: Input Command Prompt in Search and run it as an administrator.
Step 2: When the window pops up, please type this command and press Enter to install the CAB file.
DISM /Online /Add-Package /PackagePath:"<PATH>"
Please replace <PATH> with the file path.
Once you finish this job, the .cab file will start installing. When it finishes, you can close the window and restart your computer.
How to Convert a CAB File?
To convert a CAB file, you need the help of any CAB file converter programs or some online converters. For example, you can use IExpress Wizard in Windows to convert CAB to EXE.
To open IExpress Wizard, you can open the Run dialog box by pressing Win + R and type iexpress to enter. Then you can follow the instructions to do your work.
Can You Delete CAB Files?
The above contents have taught you many operations with the .cab file. So, since the format is used for Windows software installations, it, definitely, matters to some functions of the Windows.
However, some people find their Windows temp folder filling up with cab files. It might be tempting to delete CAB files from your computer when you see dozens or hundreds of them in one folder, occupying the storage.
In this way, can you delete the .cab files? and how?
It must be analyzed in different specific ways. For example, if the CAB files are related to some Windows features or play important roles in fixing a corrupted file, cursory deletion may cause severe problems for that.
Some .cab files belong to third-party programs and in most cases, you can safely delete them without affecting the Windows functions. But notice that the program related to the .cab file may stop working or lose some certain features and tasks.
If you find the .cab file in the location C:\Windows\Temp, it's completely safe to remove CAB files except when you are updating or installing software.
So how to delete the .cab files so that the "Windows temp folder filling up with cab files" issue can be resolved?
It is easy to delete the file. You can manually delete it by right-clicking on it to choose Delete.
If you can't delete it, try deleting the oldest LOG file and then remove every CAB file from C:\Windows\Temp\.
Before you do that, since the mistaken deletion of CAB file can make some serious issues, you'd better back up the file in advance. Use this free backup software – MiniTool ShadowMaker and back up your important files.
Download and install the program and a 30-day trial version is available.
MiniTool ShadowMaker TrialClick to Download100%Clean & Safe
1. Open the program and click Keep Trial.
2. In the Backup tab, go to SOURCE > Folders and Files, locate and choose the .cab file as the target. Then choose your backup destination.
3. Click Back Up Now to perform the process.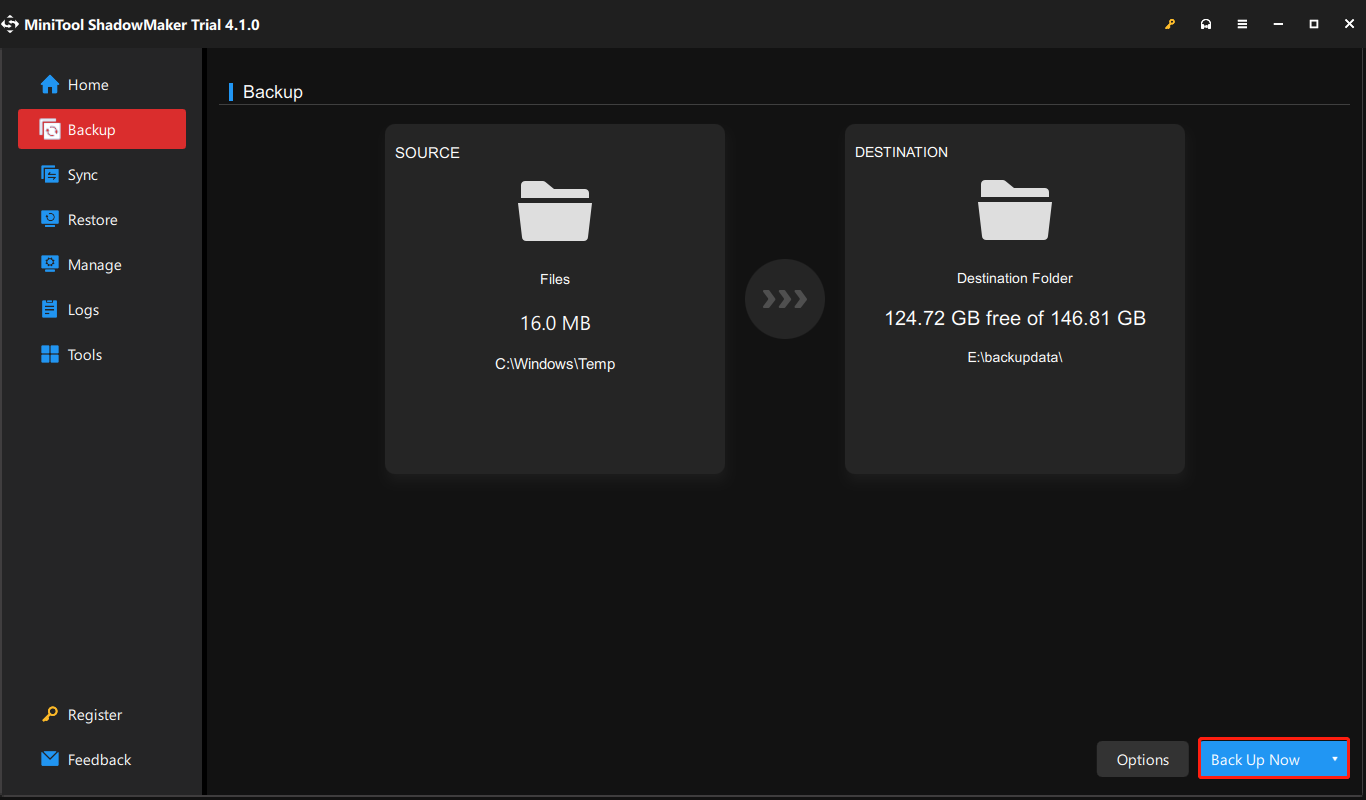 Bottom Line:
This article has given you a detailed information of CAB file. Hope this post is useful for you.