Summary
It is not applicable to open the desktop version of OneNote through the web version because it will produce the "Notebook doesn't exist or you don't have permission to open it" error and you can't log into OneDrive from OneNote. Read this post from MiniTool to get the methods.
Whenever this particular issue occurs, you are prompted to insert your credentials to log in to OneDrive. However, some people are reporting that their credentials are not accepted even though they are correct. Hitting the Sign-in button will simply make the login window disappear along with OneDrive.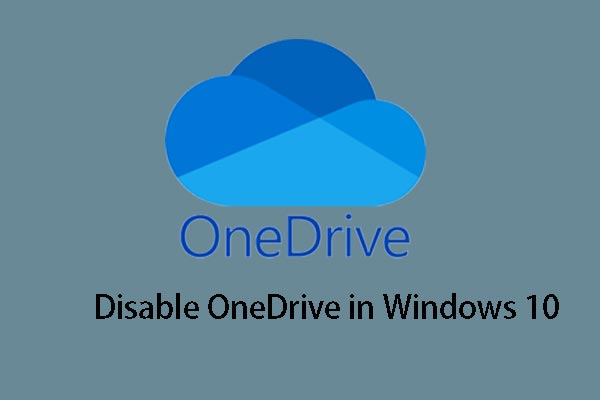 Disabling or removing OneDrive in Windows 10 would be an easy job. This post will tell you how to disable or remove OneDrive with a few steps.
How to Fix - Can't Log into OneDrive from OneNote?
If you lose the ability to log into OneDrive from OneNote, the methods below will most likely help.
Method 1: Update Internet Explorer to Version 11
As we all know, OneNote malfunctions many systems that don't have Internet Explorer 11 installed. Thus, you can resolve the issue by installing IE 11 on your systems. You can follow the steps below.
Note: Keep in mind that the latest Windows versions come with Internet Explorer 11 installed by default, but it's not applicable on Windows 7 and older.
Step 1: Go to Microsoft's official website.
Step 2: According to your language and operating system architecture, download the appropriate Internet Explorer 11 version.
Step 3: Then, open the installer and follow the prompts presented on the screen to complete the installation,
Step 4: Restart your PC.
Then you can check if the issue has been resolved. If the issue is still not fixed, move to Method 2.
Method 2: Reset the OneNote Application from Settings
The second method to fix the "can't log into OneDrive from OneNote" issue is resetting the OneNote application from Settings. But this method only can be applied to Windows 10. Here's how to reset the OneNote application on Windows 10:
Step 1: Press the Windows key + R key at the same time to open up the Run window. Then type ms-settings:appsfeatures and click OK.
Step 2: Navigate to OneNote under the Apps & features tab. Then click it and click Advanced options.
Step 3: Click the Reset button and wait for the data to be cleared.
Then you should open OneNote again and provide your user credentials again. After that, you should be able to sign into and access OneDrive without issues. If this method wasn't successful, move to Method 3.
Method 3: Use Registry Editor to Add a UseOnlineContent Value
The last method is to add a UseOnlineContent via Registry Editor. Here is the tutorial.
Step 1: Press the Windows + R keys to open the Run window. Type regedit and click OK to open Registry Editor.
Step 2: Navigate to the following path: HKEY_CURRENT_USER \ Software \ Microsoft \ Office \ 14.0 ( or 15.0 or 16.0) \ Common \ Internet.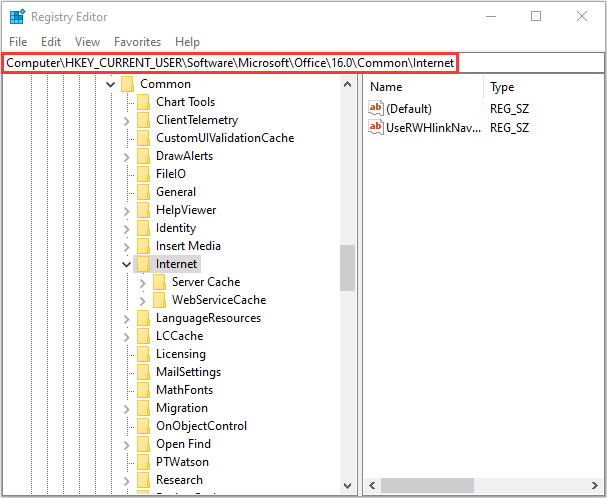 Tip: The office version (14.0 or 15.0 or 16.0) depends on your Office version. Version 16.0 corresponds to Office 1016, version 15.0 to Office 2013 and version 14.0 to Office 2010.
Step 3: Then right-click an empty space and select New > DWORD (32-bit) Value.
Step 4: Name the newly created DWORD (32-bit) Value UseOnlineContent and press Enter to save.
Step 5: Double-click UseOnlineContent to set the Base to Hexadecimal and the Value to 1. Then, click OK to save your changes.
Close Registry Editor and restart your computer to enforce the changes that you've just made.
Final Words
I have managed to identify a couple of fixes that can help you solve the "can't log into OneDrive from OneNote" issue. Please follow the potential fixes above in order until you come upon a method that fixes your issue.