Summary :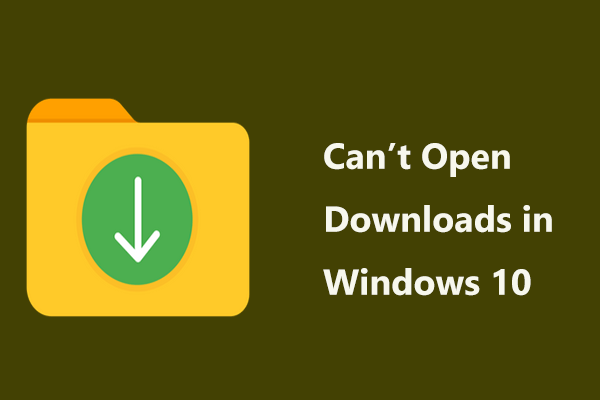 When downloading files from the Internet, these files are stored to the Downloads folder by default. However, this folder won't respond for a long time, even you can't open Downloads files. More seriously, File Explorer may stop working. Take it easy since MiniTool Solution will give you many methods and now let's go to see how to fix the unresponsive Downloads folder in Windows 10.
Solution 1: Run an SFC Scan
When you can't open Downloads folder, perhaps there are some corrupted system files. In Windows, the built-in tool – System File Checker, can be used to scan damaged system files and repair them. By performing the command sfc /scannow, you can easily solve the Downloads folder not responding issue.
Step 1: Input cmd in the search box of Windows 10 and right-click Command Prompt to run this tool with administrator privilege.
Step 2: Input sfc /scannow and press Enter. Wait a few minutes until the verification is complete.
Solution 2: Optimize the Downloads Folder for General Items
If you can't open Downloads in Windows 10, one of the reasons is Automatic Folder Type Discovery that optimizes directories for specific file types automatically. That is, when making a folder and adding items to it, Windows is able to set its type to music, media, pictures, etc. based on the type of items in that folder.
But for the Download folder, the file types are random. So, Folder Discovery may be a bug since it slows down the load time of the Downloads folder.
To fix the Download folder not responding issue, you can change the type of Downloads to General Items.
Step 1: In File Explorer of Windows 10, right-click on the Downloads folder and choose Properties.
Step 2: Go to the Customize tab and choose General items from the Optimize this folder for section.
Step 3: Also, check the Also apply this template to all subfolders option.
Step 4: Click Apply and then OK.
Solution 3: Change View Settings
Sometimes Downloads won't open or respond since the files include thumbnails that usually takes much time to load. To solve the issue, you can change its view settings: only show an icon instead of showing a thumbnail of your files.
Step 1: In File Explorer, click File > Change folder and search options.
Step 2: Under the View tab, choose the Always show icons, never thumbnails option.
Step 3: Click Apply and OK.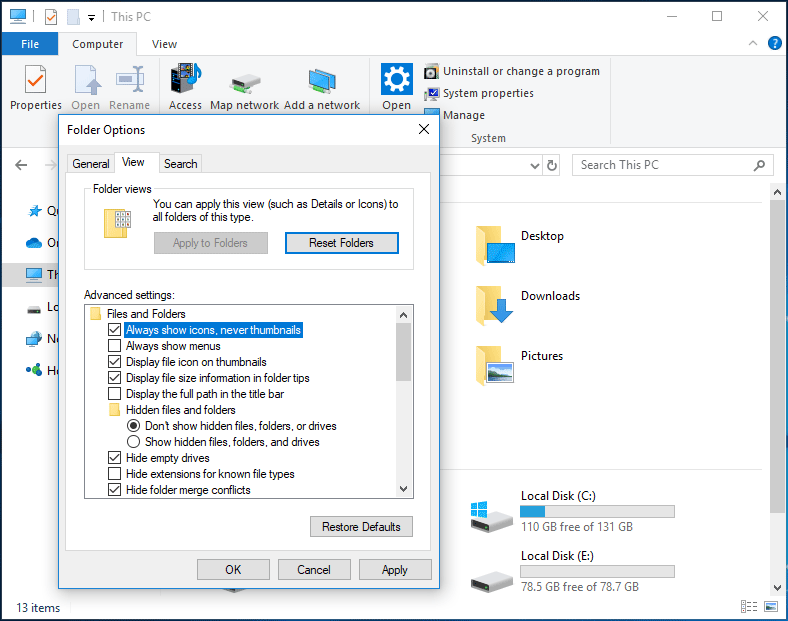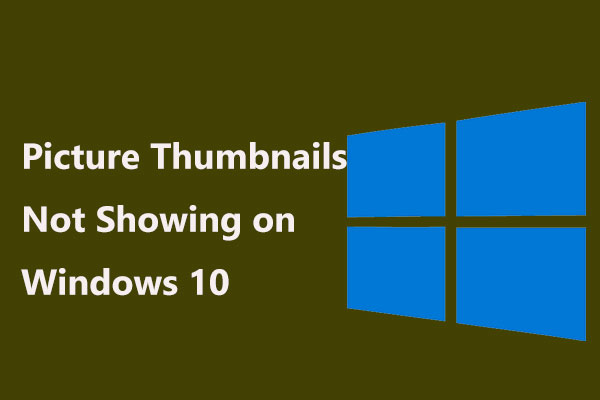 Are your picture thumbnails not showing in Windows 10 File Explorer? Take it easy and now we will show you how to fix this issue via 4 methods.
Solution 4: Recover Files from Inaccessible Folder
If none of the methods could help you to fix the Download folder not responding issue in Windows 10, but some important files are saved to that folder, what should you do? Just recover files from the inaccessible folder with the professional data recovery software – MiniTool Power Data Recovery.
Step 1: Launch this program to its main interface. Choose the C drive and click Scan.
Step 2: Wait a few minutes until the scan finishes.
Step 3: Find the Downloads folder, open it and see whether this software has scanned your needed files. If yes, check all the items and click Save to a safe location.
Bottom Line
Can't open Downloads in Windows 10? What should you do in the event of Downloads folder not responding? Try to fix it. Also, you can choose to restore files from this folder in case that all methods are not working.