If the Cast to Device feature in Windows 10 is not working, you may get frustrated since you are not allowed to stream any media content to other devices. Here come two questions from you: why is my computer not casting? How do I fix the issue? After reading this post from MiniTool, you clearly know the reasons and solutions to this problem.
Cast to Device Windows 10 Not Working
In Windows 10, there is a feature called Cast to Device that allows you to stream media content to your Miracast/DLNA devices directly, for example, smart TVs, multimedia hardware, etc. This weeds out troubles of manually transferring the video or picture and makes it easy to share any content you want.
The Cast to Device feature has been very popular in the market after other cast tools like Chromecast appear in the tech market.
However, this feature doesn't always work for you and some issues happen - for example, no cast devices found Windows 10, Cast to Device not responding, etc. These situations can happen if the network drivers are outdated or the network is not configured correctly. Fortunately, it is an easy problem to fix as long as you follow these methods below.
How to Fix Cast to Device Not Working Windows 10
Here are 4 methods for you to fix the non-working Cast to Device feature. Just try them one by one until you get rid of your issue.
Fix 1: Run Hardware and Devices Troubleshooter
Many users who encountered this problem used the Hardware and Devices Troubleshooter to solve the issue. If you have a need, you can also try this method. This can fix some hardware and device errors including device casting issues in Windows. Of course, this method may not fix Cast to Device not working for everyone but it is a worth try.
Step 1: Go to Start > Settings > Update & Security > Troubleshoot. Alternatively, you can input troubleshoot to the search box of Windows 10 and click Troubleshoot settings.
Step 2: In the Troubleshoot page, scroll down to find and click Hardware and Devices, and then click Run the troubleshooter.
Step 3: This troubleshooter will detect errors and fix them.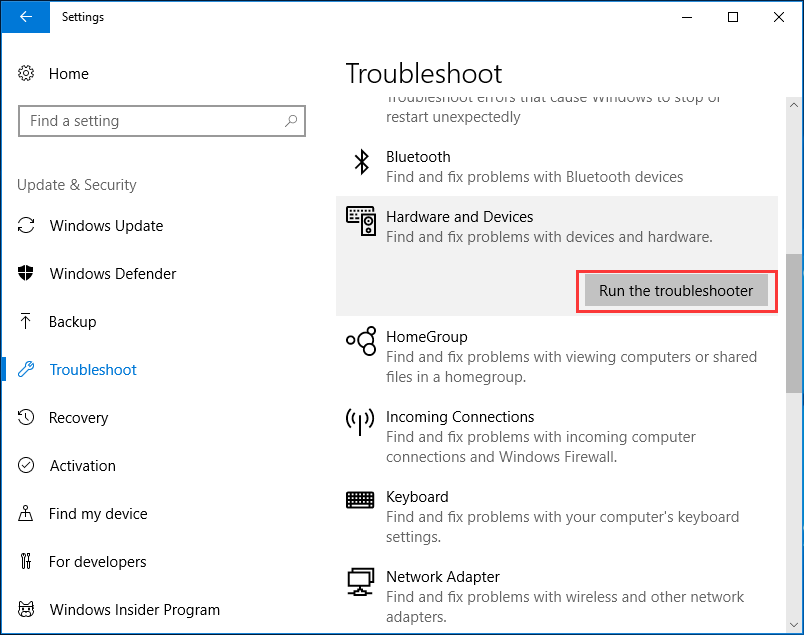 Fix 2: Turn Network Discovery on
It is necessary to turn your network discovery on if you want other devices to locate your PC and vice versa. Otherwise, you cannot locate other devices; as a result, the issue of Windows 10 Cast to Device no devices found appears.
The following is how to check if you enable the feature on your computer:
Step 1: Go to Start > Settings >Network & Internet > Status. Alternatively, you can type network to the search bar and click Network status to the following interface.
Step 2: Click Network and Sharing Center and Change advanced sharing settings.
Step 3: Make sure these items are checked – Turn on network discovery and Turn on file and printer sharing.
Step 4: Save all the changes and then see if Cast to Device can work well.
Fix 3: Reset Stream Permissions for Windows Media Player
According to users, resetting stream permissions in Windows Media Player can be helpful to fix the issue of Cast to Device Windows 10 not working. This can ensure the player to be configured for media streaming as required.
Step 1: Type Windows Media Player to the search box and click the result.
Step 2: Go to Stream > Allow Internet access to home media and confirm the selection.
Step 3: Go to Stream > Turn on media streaming and confirm your selection.
Step 4: After returning back to the main window, ensure the option - Automatically allow devices to play my media is ticked on.
Fix 4: Update Your Network Card Driver
Perhaps Cast to Device not working is caused by an old network card driver. Thus, you should make sure it is up-to-date so as to fix your problem.
Step 1: Press Win + X and click Device Manager.
Step 2: Expand Network adapters, right-click your driver and choose Update driver.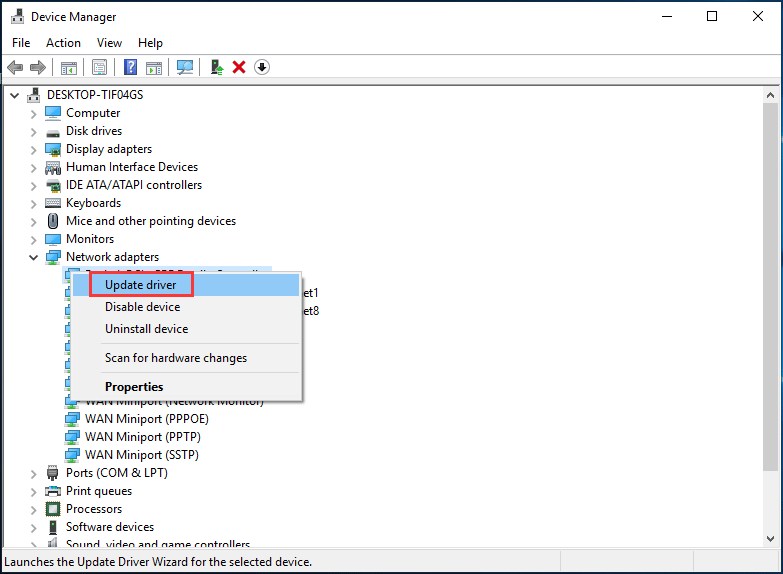 Step 3: Choose the automatic update method and Windows will download and install the latest driver for your network card.
Bottom Line
Is Cast to Device not working on your Windows 10 PC? Take it easy and this feature should work properly after you try these methods mentioned above. When you have any other solutions to the problem, we are appreciated if you leave them to the comment section below.