Mouse is a hand-held pointing device. According to Wikipedia, it detects two-dimensional motion relative to a surface. Indeed, the mouse is an important part of a desktop to help you tell computer what you want to do. Today, my focus will be put on how to change mouse settings on Windows 10 to get better performance.
Mouse is an important way of using computers, especially desktops. Thus, configuring the mouse in a proper way can make your work more productive.
The good news is that Windows offers you a range of customization options to help you change mouse settings on Windows 10 (and other operating systems). If you would like to know how to change mouse sensitivity Windows 10, please keep reading.
How to Adjust Mouse Settings on Windows 10
The following methods are suitable for most hardware. To change the settings of some more advanced mice and touchpads, you need to rely on the user manual of the specific pointing device.
How to Make The Most Of Your Mouse Middle Click Button On Windows?
Access Mouse Manager on Windows 10
Step one: open Settings app.
Press the start button on the keyboard.
Click on the Settings icon (you can also press start button + I button at the same time).
Step two: select Devices (Bluetooth, printers, mouse) in the Windows Settings window.
Step three: navigate to the Mouse option in the left side.
Step four: manage mouse button and scroll wheel.
You can decide which mouse button to act as the primary one.
You can decide the scroll way of the wheel: scroll through lines or entire screens.
You can also customize how many lines or screens it will scroll at once.
Step five: confirm whether you need to enable the Scroll inactive windows when I hover over them feature or not.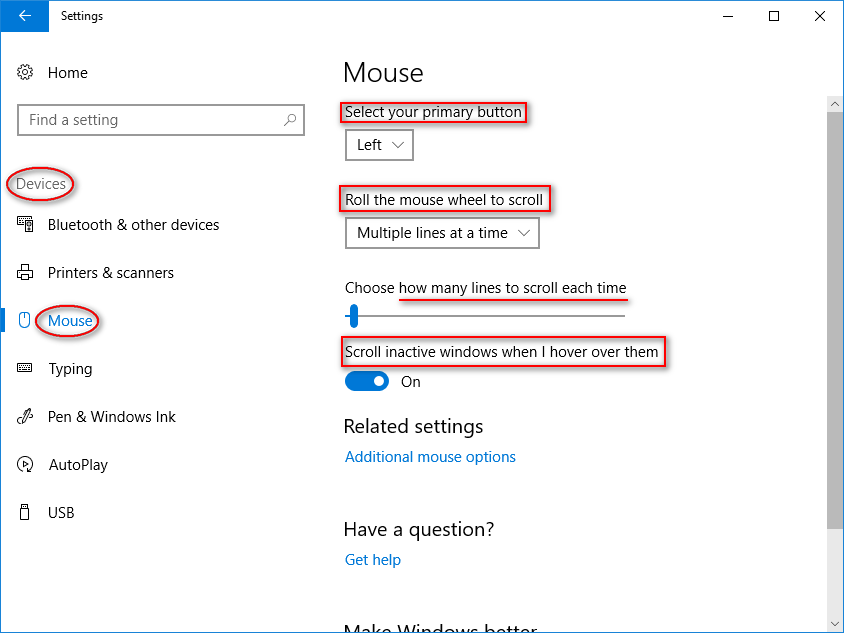 If above functions are not enough, you can click on the Additional mouse options to open Mouse Properties.
How to Change Mouse Sensitivity & Pointer Speed
According to Microsoft, the DPI is a standard used to measure the mouse sensitivity on Windows. You are able to adjust pointer speed and mouse sensitivity for precision tasks by changing the DPI.  To know how to pointer speed or how to change mouse DPI, you'd better open Control Panel and change corresponding settings.
How to Change Your Mouse DPI Windows 10
Step one: type control panel into the Cortana search box.
Step two: choose Control Panel (Desktop app) from Best match.
Step three: select Hardware and Sound if you view by Category.
Step four: click on the Mouse option under Devices and Printers.
Step five: modify the Buttons tab, which will be selected by default in the Mouse Properties window.
You can check the Switch primary and secondary buttons option to make the right mouse button the primary one (that's how to reassign mouse buttons on Windows 10).
You can also drag the button under Double-click speed are to choose a proper speed.
Besides, the Turn on ClickLock allows you to highlight/drag without holding down the mouse button.
Step six: shift to Pointer Options tab to change mouse sensitivity.
Obviously, you can drag the button under Select a pointer speed in Motion area to adjust the sensitivity of your mouse. This should be adjusted to better meet your habit.
Besides, you can check Automatically move pointer to the default button in a dialog box according to needs.
In addition, you can choose to Display pointer trails and determine the length of the trails.
Finally, decide whether to check Hide pointer while typing and Show location of pointer when I press the CTRL key or not.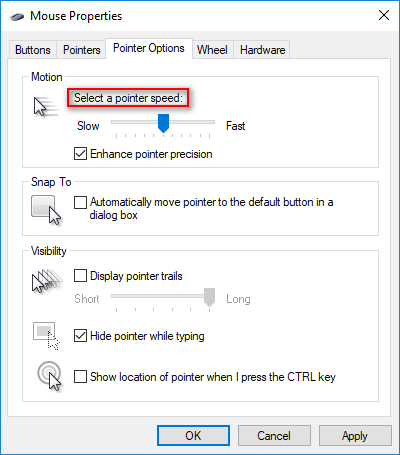 This is how to change mouse sensitivity Windows 10.
Important files get missing from a Windows 10 computer all of sudden? Please don't worry; they can be recovered by following the method mentioned here: