This essay composed by MiniTool team focuses on the time customization on the newest Windows 11 operating system, including display date and time as well as sleep time. Besides, it also mentions how to change display time formats.
Update: The official Windows 11 is already available since October 5, 2021. 
In general, the methods for altering time on Windows 11 are similar to that of Windows 10. There are as the below.
Solution 1. Change Date and Time in Windows 11 from the Taskbar
1. Right-click on the time and date widget on the taskbar (in the bottom right of your desktop) and choose Adjust date/time. You will be directed to Windows 11 Settings where you can set up your own time.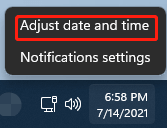 2. On the Date & time screen in Windows Settings, tog off Set time automatically.
3. Click the Change button under Set the date and time manually.
4. A small window will pop up. There, you are allowed to change the date and time on your computer.
5. Finally, click the Change button to save the changes.
On this Date & time screen, you can also further change the time and date display format. Just click the Date, time & regional formatting option under the Related settings, modify the region and regional format, as well as data formats in the next Region window.
Solution 2. How to Change Time on Windows 11 via Settings?
The above way is actually modifying time in system settings. Yet, you can directly open Windows Settings by going to Start > Settings. Then, select Time & Language and you will enter the default Date & time screen. Next, just follow the above guide to finish changing Windows 11 time.
Solution 3. Change Clock Time on Windows 11 through Control Panel
1. Search "control panel" in Windows Search and open Control Panel in the search result.
2. In Windows 11 Control Panel, click Clock and Region and select Date and Time.
3. Click on the Change date, time… button.
4. Specify the date and time you prefer.
5. Click OK to save the changes.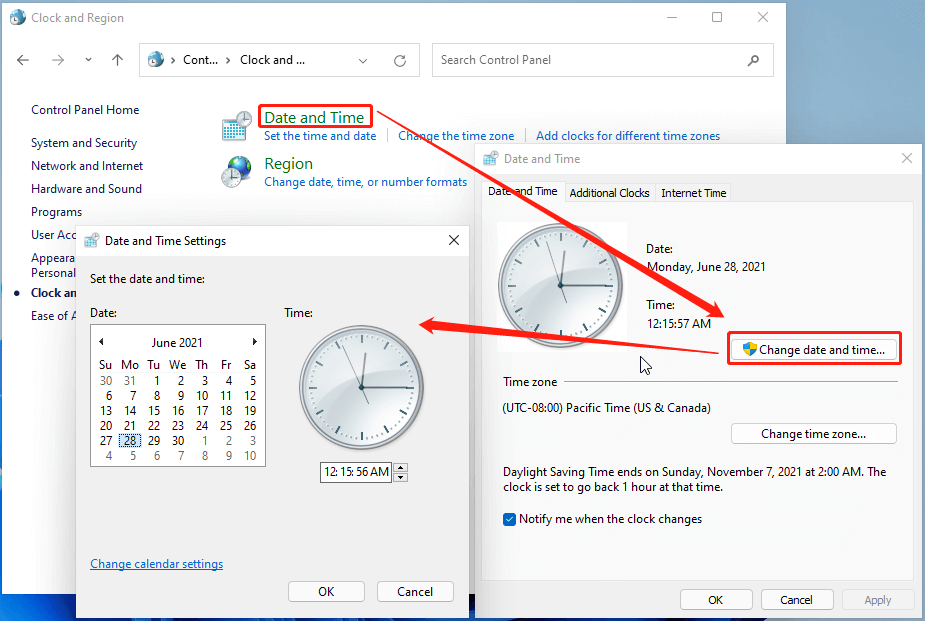 On the Date and Time Settings screen, there is a Change calendar settings option that enables you to change the language and date and time formats on your machine. Or, you can change those formats by clicking Region on the Clock and Region screen.
In the Date and Time window, under the Date and Time tab, you can also change your time zone as you like. Under the Additional Clocks tab, you are able to add additional clocks of other time zones to your current time. Under the Internet Time tab, you can change the Internet time server.
How to Change Sleep Time on Windows 11?
How to change the time for the screen to go black from afking Windows 11? Generally, you can alter when your computer display turns off and when your machine goes to sleep in system settings and Control Panel.
Go to Windows Settings > System.
Scroll down to find and click Power.
Unfold the Screen and sleep and specify how long the screen turns off or go to sleep without activity.