Does Bing use ChatGPT? What is new Bing? ChatGPT for Bing is a new support announced by Microsoft in challenge to Google. To know the new AI-powered Bing, you are in the right place. MiniTool will show you much information about this search engine and how to get new Bing with ChatGPT.
Recently, mounts of users all over the world are expressing a keen interest in ChatGPT which is a chatbot launched by OpenAI in November 2022. Although the core function of ChatGPT is to mimic a human conversationalist, it is versatile since it can answer test questions, write poetry and various papers, write and debug computer programs, simulate an entire chat room, etc.
In just two months of public release, ChatGPT is immensely popular. Many companies try to add ChatGPT to their products. According to Microsoft, ChatGPT for Bing is a new support.
What Is New Bing with ChatGPT Support
Microsoft announces the support to ChatGPT in its Bing search engine and Microsoft Edge. This offers a new experience for finding information online and browsing the web in an effort to better compete with Google. The integration of ChatGPT for Bing will be called the new Bing. With the AI-powered ChatGPT, the new Bing can answer some complicated search queries rather than just showing a list of links.
New Bing with ChatGPT support offers a large text box (replaces the previous blank search bar) that has a prompt "Ask me anything". In the text box, you can write your question including an amount of detailed information in 1000 characters. Then, the new Bing can do researches for you. To be specific, the AI can interpret it and make many searches based on your request. Then, it writes a summary after compiling the results.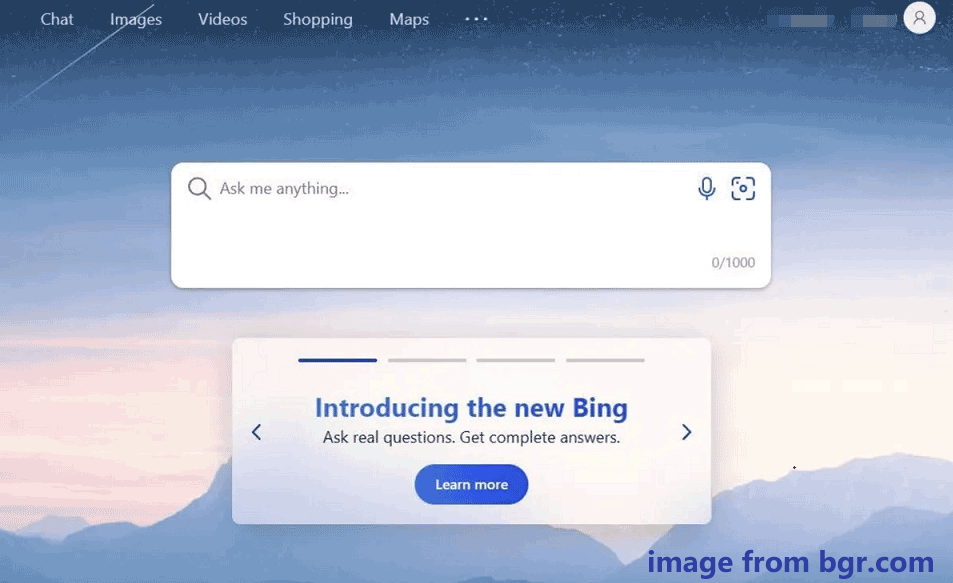 Besides, you can conversate with Bing like a chatbot. Bing can reply to your question and also ask you questions. Furthermore, you can query Bing for travel tips, shopping, recipes, etc. In terms of a travel tip, Bing can give you a rough itinerary and make plans for you.
To sum up, ChatGPT for Bing brings a brand-new experience and this is a new day for search.
How to Get New Bing with ChatGPT
Currently, the version of Bing with ChatGPT isn't released officially. When you open bing.com, you can see a search box and beautiful photo background, just as before. But it is available starting in a limited preview and you can do something to be the one who first experiences the enhanced features of this search engine.
So, how to access the new AI-powered Bing? Just join the waitlist. It is straightforward to add your name to Microsoft's waitlist.
Visit the website – https://www.bing.com/new.
Click the Join the waitlist button.
Sign into the website with your Microsoft account.
After a while, you can receive an email to tell you that you're on the waitlist for the new Bing! Once Microsoft is ready for you to try it, you will get an email.
If you want to access the new Bing faster, you need to do some things:
Click Access the new Bing faster button on the website – www.bing.com/new.
Set Microsoft defaults on your PC. It may be adding Microsoft Bing Search for Chrome. Just click the given link and do the operation by following the instructions on the screen.
Install the Microsoft Bing app on your Android device (via Google Play Store) or iOS device (via App Stores).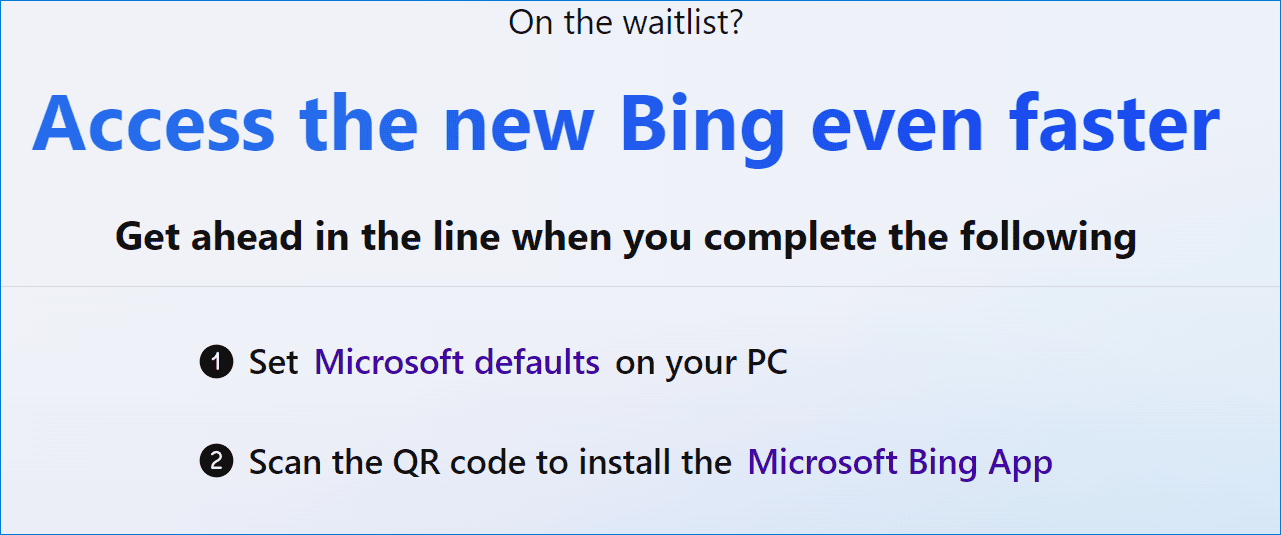 Tips:
Worry data loss on your Windows computer? You can take a prevention measure - using MiniTool ShadowMaker, a free backup tool, to create a backup for your crucial data.
MiniTool ShadowMaker TrialClick to Download100%Clean & Safe
Final Words
That is the basic information about ChatGPT for Bing. To get ChatGPT support in Bing or enjoy the new Bing, join the waitlist. Then, you can use the new AI-powered Bing after you get access permission.