On the internet, the Chromebook vs laptop vs tablet is a hot topic among users. Why? One of the most important reasons is that people don't know their differences and which one to choose. After reading this page, you'll figure out which one suits your needs the most.
Chromebook vs Laptop vs Tablet: Introduction
Let's first take a look at what Chromebook, laptop, and tablet are.
What Is a Chromebook
Chromebook is a new type of computer designed by Google to help users do things faster and easier. The biggest difference between Chromebook and other computers lies in the operating system: Chromebook run Chrome OS by default, instead of the Windows operating system or macOS.
Pros of Chromebook:
Smaller, lighter, and cheaper than laptops
Built-in full keyboard
What Is a Laptop
Laptop, also known as notebook, refers to a small, portable personal computer with a screen and alphanumeric keyboard. Laptop is smaller, more efficient, and nearly as powerful, as a desktop computer. Nowadays, laptop is a good choice at work, for playing games, web browsing, in education, for personal multimedia, and general home computer use.
Pros of laptop:
Fast processing speed
Better Multi-tasking performance
Friendly for graphic-intensive software
What Is a Tablet
Tablet is a wireless and highly portable personal computer whose primary interface is a touch screen. A tablet looks like a very large smartphone, but functions as a mobile computer. You can carry a tablet with just one of your hands and use it wherever you want.
Pros of tablet:
Easy to take out
Keyboard is not necessary
Chromebook vs Laptop
Chromebook is the two-in-one product first appeared in 2011. The function of Chromebook is similar to that of laptop, but they are very different from each other in the following aspects.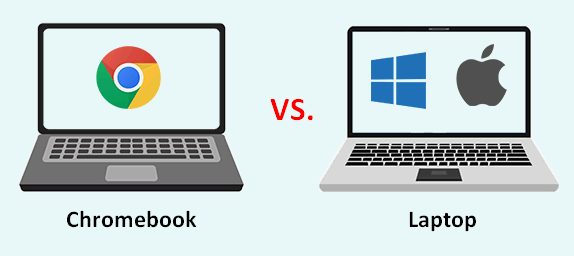 One: price.
Since the hardware requirements of Chrome OS are very low, a Chromebook is often lighter, smaller, and even cheaper than the normal laptops.
Two: operating system.
The biggest difference between a Chromebook and a laptop is the former runs Chrome operating system while the latter runs mainstream operating systems like Windows and Mac. The Chrome OS is minimalistic and web-browser-based, so it gives users a totally different experience.
Can Minecraft Run On A Chromebook? How To Install And Play It?
Three: software.
Chromebook is more like a laptop runs only Google's Chrome web browser. It can help users do quite a lot on the internet. However, it doesn't allow you to install software like Microsoft Office.
A Windows laptop or MacBook supports downloading as much software as you want, including the Chrome browser.
They are both good choices if you are looking for a computer for remote learning with Google Classroom.
Four: file storage.
Local storage is the basic and main method for saving files on a laptop (running Windows OS or macOS). However, the Chromebook relies more on cloud storage. Local storage is more limited and cloud storage is more convenient.
Five: internet connection.
All the work you can do on a Chromebook is based on the internet. If the internet connection is broken, the functions of Chromebook will be influenced a lot. However, the performance of laptops will be stable (won't be affected) whether the network connection is normal or not.
Chromebook vs Tablet
When it comes to Chromebook and tablet, which one should you choose (Chromebook or tablet)? Let's compare them in the following aspects briefly.
One: size.
The size of a Chromebook is basically the same as that of a portable computer (laptop), normally ranging from 11 and 13 inches. Well, the weight of a Chromebook is generally around 2.5 to 3 pounds.
In contrast, the size of a table can be as small as 7 inches, and the weight is less than 1 pound (about 0.7).
Two: display.
The displays of Chromebooks are usually not as good as those of tablets. The resolution of an 11-inch or larger Chromebook display is 1366 x 768p, while the displays of smaller tablets are less than 1080p.
Three: input method.
Chromebooks do offer touch screen, but it's only trackpad coming with the built-in keyboard (like traditional laptop). Tablet offers a real touchscreen for easy web browsing and touch-based games playing. However, the virtual keyboard may be one of the biggest headaches of using tablet.
Four: battery.
Both Chromebook and tablet are efficient enough for working and playing games. There's no big difference in the battery life of a Chromebook and a tablet.
Five: storage.
Chromebooks are generally runing on SSDs that offer fast speed but limited storage space, ranging from 16 ~ 64 GB. However, the storage capacity of tablets is ranging from 8 ~ 16 GB for the budget models.
That's all about the Chromebook vs laptop and Chromebook vs tablet we want to talk on this page. Please make a decision according to needs.