If you're running into problems on a Windows 11 computer, you can perform a clean boot to try to diagnose the issue. This page is very helpful for users who don't know what a clean boot is, the security of clean boot, and how to do a clean boot in the Windows 11 system. Please follow the guide carefully to avoid unnecessary troubles.
Users will think of performing a clean boot when encountering problems on a Windows device but don't know what is causing this. How to clean boot Windows 11? The following content covers the exact steps to clean boot in Windows 11 and shows you what to do after clean boot.
Microsoft Is Rolling Out Windows 11 KB4023057 Reliability Update.
Tip:
A lot of practical
MiniTool software
is provided for Windows 11/10/8/7 and Mac users to help them solve problems, better manage drives, improve performance, and do many other things. Please take a look at them and choose the ones you really need.
Use this to recover data lost in Windows 11:
MiniTool Power Data Recovery TrialClick to Download100%Clean & Safe
What Is Windows 11 Clean Boot
Please read this part carefully if you don't know exactly what does a clean boot mean and what does it do.
What Is a Clean Boot
A clean boot starts Windows with a minimal set of drivers and startup programs, so that you can determine whether a background program is interfering with your game or program.– according to Microsoft
What does a clean boot do? When you do a clean boot, only the essential files, programs, and services that are required by the Windows system will be loading; some apps may not work as you expected since the system is only started with a minimal set of drivers.
Windows 11 clean boot is one of the useful troubleshooting techniques used to help Windows 11 users identify the application or service that is causing an issue. Preforming a clean boot in Windows 11 is especially effective for identifying the software conflicts caused by non-Microsoft products.
Clean Boot vs Safe Mode
Clean boot and safe mode are both useful diagnostic modes in Windows. Many Windows users think clean boot is similar to starting system in safe mode, but they are actually two different things. There are 3 main differences between clean boot and safe mode.
Clean boot disables all third-party add-ons that load at startup usually, while safe mode disables all but the most basic operating system components.
During clean boot, you have more control over which services and programs run at startup; this helps you to isolate the cause of a problem.
You should start your system in safe mode when it has hardware, drivers, and software related issues. You should perform a clean boot when seeing error messages on the screen but don't know what cause it.
Perform a Clean Boot on Windows 11
How to clean boot Windows 11? First, you should check whether you're signed into Windows 11 as an administrator. If not, please log out and then sign in with an administrator account.
Step 1: Disable Startup Programs
Press Windows + S to open the search window.
Type Task Manager and press Enter to open it. Another way to open Task Manager directly is to press Ctrl + Shift + Esc.
Click More details at the bottom left if it's displayed in a simplified mode.
Shift to the Startup tab at the top.
Select a startup item and click Disable.
Repeat step 5 to disable all startup entries.
Close your Task Manager.
How To Troubleshoot Search Not Working On Windows 11 PC?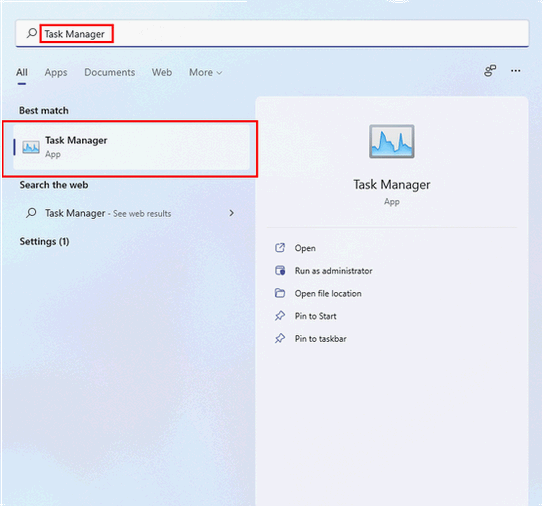 Step 2: Hide All Microsoft Services
Press Windows + S to open search feature or press Windows + R to open Run.
Type msconfig and press Enter.
Shift to the Services tab of the System Configuration window.
Check the Hide all Microsoft services option in the lower left corner.
Click Disable all in the lower right corner.
Click OK to confirm the changes.
Select Restart in the pop-up window to restart your computer to apply the changes.
Your Windows 11 PC will be started in a clean boot environment. Then, you should open Task Manager to re-enable startup programs again (choose only a few at a time) or open System Configuration to re-enable the startup services to find the cause or your issue.
Clean Boot FAQs
Does a clean boot erase everything?
No, the clean boot will not delete any of your files or apps; it's only a state of Windows to troubleshoot problems.
Is clean boot safe?
Of course it's safe. The clean boot only starts your Windows with minimum programs. When you reboot normally, all the startup programs will be launched again.
What to do after clean boot?
Remove/disable the problematic apps & services -> enable all startup programs and services -> restart your computer.