Summary :
When steam crashes, clearing the download cache is always considered a useful fix. However, do you know how to clear Steam cache and things need paying attention to before doing that? Just spend a few minutes on this guide of MiniTool Website, let's see how it works together!
Why Do You Need to Clear the Download Cache?
As known to all, Steam is one of the most popular game platforms all over the world and it allows people to discuss, play, and even create new online games.
However, like any other platform, Steam also has some bugs and glitches such as not showing me in-game, pending transaction, voice chat not working and so on. What's more, clearing cache on Steam can fix many troublesome issues like that.
You may also notice that the games on Steam are running slower and slower day by day. If you clear the download cache in time, you will run it faster.   
Some of you might ask if clearing Steam cache will delete your games. Of course not. It just removes unnecessary and unwanted junk files from your device to make the game run more smoothly, so you can rest assure on that.
What Should You Do Before Starting Clearing the Cache on Steam?
It is worth noting that all the mods for your games will also be deleted when you finish clearing the download cache because mods are part of the Steam download cache.
As a result, you had better move your mods to other places before you start to delete the cache. Or else you have to reinstall them again and that process will take too much time!
How to Clear Steam Cache on PC?
After you move your game mods to somewhere else, you can follow the steps below to clear Steam cache:
Step 1. Open the Steam client and input your Account name & Password.
Step 2. Go to the Steam menu on the top-right corner of the page.
Step 3. Choose the Settings option in the drop-down menu.
Step 4. Click on Downloads.
Step 5. Tap on the CLEAR DOWNLOAD CACHE button at the lower portion of the box.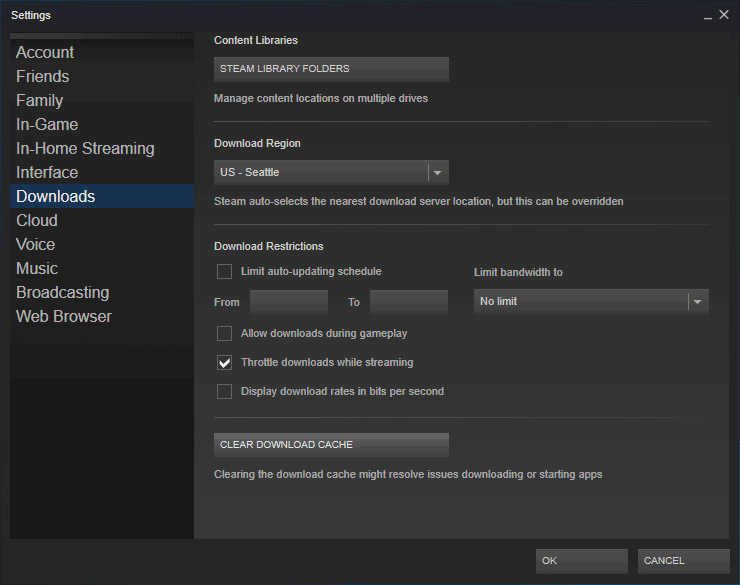 Step 6. Click OK to confirm this action.
Step 7. After clearing the cache on Steam successfully, the platform will log you out of your account automatically. You can log in to your account again to see whether games run faster or not.
You may also want to read other articles about Steam:
# How to Fix Steam Windows Compatibility Mode Error?
# Top 4 Solutions for Steam Error E502 L3 Windows 10
# How to Repair Steam? Here Are 3 Easy Solutions for You!
The End
As shown above, clearing the download cache on Steam is not difficult. Although it cannot fix every problem on Steam, it is a good option when there is something wrong with the Steam client. If you still wonder how to clear Steam download cache, please feel free to share your comments in the zone below.