This post offered by MiniTool unit has a full review on DVD clone/copy. From its meaning to its manual, nearly all related information has been included. Most importantly, this essay recommends several renowned apps for you to clone DVD.  
What Is DVD Clone?
DVD clone is to make a copy of DVD drives and disks. More exactly, it is a process of backing up the data on DVDs.
Though hard disk drives (HDDs), SSDs (solid-state drives), cloud drives, USB flash drives, etc. have risen and occupy a great part of the data storage market, optical storage media like DVDs and CDs are still popular for carrying movies, music, files, and so on for portable and offline data saving.
Therefore, you may need to clone from one DVD to another or clone DVD data and save it digitally on your hard drives. Yet, you are only allowed to copy DVD data for personal usage, and copy DVDs for commercial use is illegal in many countries, especially for copy-protected DVD contents.
About CloneDVD
CloneDVD is a proprietary DVD cloning software developed by Elaborate Bytes. It can be used to back up any DVD movie that is not copyright protected. CloneDVD can transcode a dual-layer DVD movie and make it fit onto a DVD-R, DVD+R, or DVD+R DL double-layer disc.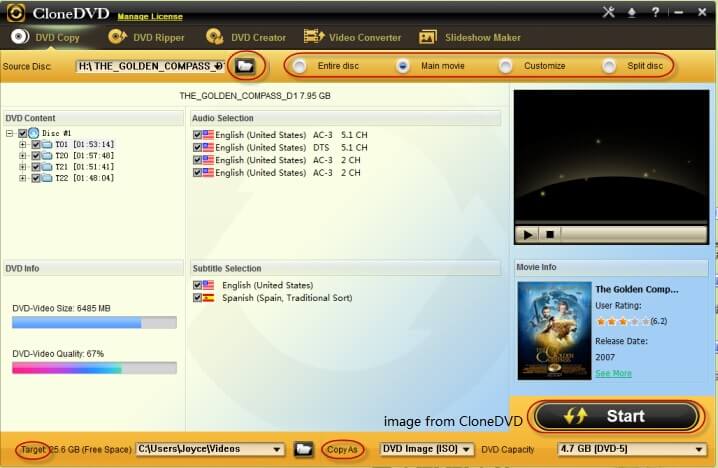 With CloneDVD, you can also strip audio stream, subtitles, and chapters by customization. For instance, you can edit or delete certain parts of a DVD like the bonus feature, commentary, main menu, or even certain scenes from the actual DVD. To fit the destination medium, you just need to move a quality bar or select a standard optical disc format.
On the other hand, you are able to save the contents of the DVD as an ISO image or as individual DVD files, for example, in a VIDEO_TS directory. Vice versa, CloneDVD can write a DVD from a directory of individual DVD files or an ISO image file.
Moreover, CloneDVD is able to process a directory of DVD files and convert it into an ISO image. Yet, it can't convert an ISO file directly into a directory of DVD files. However, you can mount the ISO image into a virtual drive with a disk image emulation program and then convert the virtual drive to DVD files by CloneDVD.
CloneDVD supports DVD recording speeds of up to 18x. It only supports Windows operating systems. 
Free DVD Clone Software – CloneDVD Alternatives
Besides CloneDVD, many programs can also clone from one DVD to another and they are free or free to try.
#1 WinX DVD Copy Pro Free Trial (Windows)
WinX DVD Copy Pro is an easy-to-use and fast DVD cloner for Windows 10/11, Windows 8.1/8, and Windows 7. It provides all 9 copy modes and a great way to back up your DVD library. WinX DVD Copy can copy directly from one DVD to another and create a 1:1 digital copy as ISO image or folder on a hard disk, cloud storage, NAS…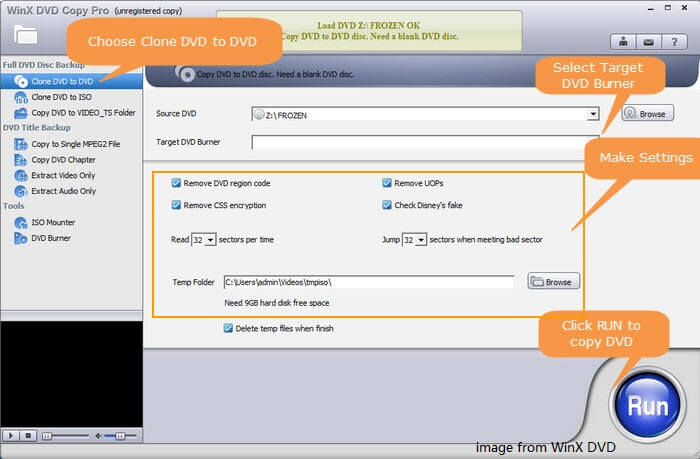 #2 DVDFab DVD Copy Full Trial (30-day) (Windows)
DVDFab can copy, rip, and create DVDs, Blu-rays, or UHDs. Powered by AI, it can also convert and enhance videos, and even remove Cinavia watermarks and DRM. With an intuitive modern UI, DVDFab DVD Copy is quick and easy-to-use.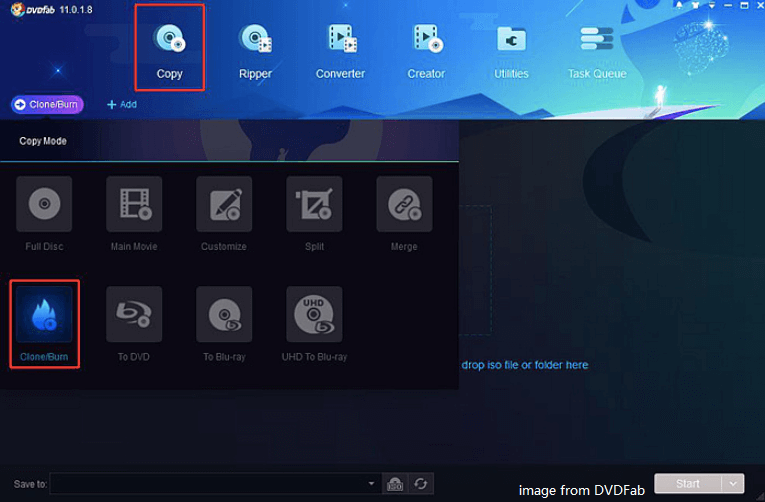 What's more, DVDFab can burn DVD into a blank disc, ISO, or folder of high quality without minimal loss. It supports 6 copy modes, DVD customizing, as well as multiple input and output formats.
#3 Windows Media Center
Windows Media Center (WMC) is a discontinued media player and digital video recorder developed by Microsoft. It can also burn music or movies into DVD/CD. WMC was first released on Windows XP Media Center Edition (MCE) in 2002; included in Home Premium and Ultimate editions of Windows Vista, and all editions of Windows 7 except Win 7 Start and Home Basic.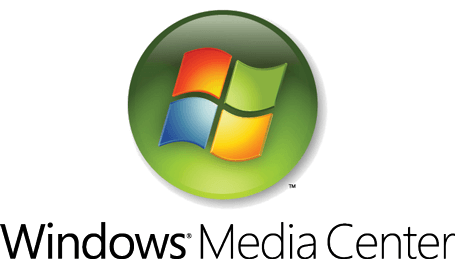 Windows Media Center was available on Windows 8 Pro and Windows 8.1 Pro as a paid add-on. It is discontinued in Windows 10/11, yet reportedly can be unofficially installed relying on a series of Command Prompt command orders.
How to Clone a DVD in Windows 10/11?
Why need to clone DVD? It is because that DVDs can be damaged, scratched, or stolen easily. Without a clone copy, you will lose all your DVD files.
Then, how to clone DVD? Of course, you have to rely on DVD Clone software. Here, it will take Wondershare DVD Cloner for example to show you how to copy a DVD.
Step 1. Download and install Wondershare DVD Creator on your computer. Also, insert both source and target DVDs into your machine. If you only have one DVD driver, don't worry, you can first insert the source DVD. When it finishes burning files in the following steps, you can eject it and insert your destination DVD.
Step 2. Open the application and click More DVD Tools on its main interface.
Step 3. Select DVD to DVD.
Step 4. Make your settings: original DVD, Target DVD, Disc Label, Output Type, Copy Mode, TV Standard, Aspect Ratio, Audio Track, as well as Subtitle.
Step 5. Finally, click Start to carry out the DVD clone task.
There are still many other DVD clone programs that cannot be introduced one by one here, such as AVS Free Disc Creator, BurnAware Free, IQmango DVD Ripper, Ashampoo Burning Studio Free, and WonderFox Free DVD Ripper Speedy.
Related articles: