Command Prompt Portable
Command Prompt is also known as cmd.exe or cmd. the OS/2, eComStation, ArcaOS, Microsoft Windows operating systems, and ReactOS operating systems use it as the default command-line interpreter.
The computer geeks, software engineers, or IT experts prefer to using Command Prompt to get deeper in to the computers or do some tasks that require administrative privileges. All in all, Command Prompt is a very useful tool. For Windows users, they can also download Command Prompt like Command Prompt Portable on your computer for further use.
Not like the Windows built-in Command Prompt, Command Prompt Portable can run from a cloud folder, an external drive, or a local folder without installing into Windows. That is, you can install it in a cloud folder or an external drive. It is a portable tool.
Where to download such a Command Prompt tool and how to perform a Command Prompt download (cmd download or command.exe download)? You can find the answer in the next part.
Command Prompt Download for Windows 10 32 bit/64 bit and Windows 11
Command Prompt Portable is available for downloading in the portableapps site. You can download it on your device using these steps:
Step 1: Go to the Command Prompt Download site from portableapp.
Step 2: Click the Download from PortableApps.com button to download this portable tool on your computer.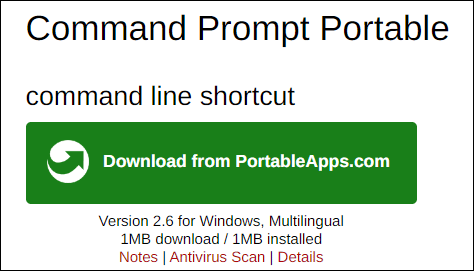 Step 3: Run the downloaded file and follow the on-screen guide to install Command Prompt Portable on your computer. If you want to use this tool in your cloud folder or external hard drive, you should not install it on your computer. You should install it on your cloud folder or the external hard drive.
Uninstall Command Prompt Portable
If Command Prompt Portable is not the tool you want to download and use, you can feel free to uninstall it. However, you are not allowed to use the universal methods to uninstall it from your computer because you can't find it in the installed apps list.
If you want to uninstall Command Prompt Portable, you can just delete the folder where the tool is installed. You can find the destination folder during the installation process. If you have missed the step to find the destination folder, you can right-click the shortcut of the app and select Open file location to directly open that destination folder. Then, you can just delete that folder, this will remove Command Prompt Portable from your device.
How to Rescue Your Lost and Deleted Files on Windows?
If some of your files are lost or deleted on your Windows computer, you can use a professional data recovery software like MiniTool Power Data Recovery to get them back.
You can use the trail edition of this software to scan the drive you want to recover data from and see if it can find your needed files. If you want to use this software to recover files, you need to use a full edition. You can get one from the MiniTool official site.
MiniTool Power Data Recovery TrialClick to Download100%Clean & Safe
Bottom Line
In this post, we just introduce the Command Prompt download issue. If you have this need, you can follow the guide in this post to download Command Prompt Portable on your device. Should you have other related problems, you can let us know in the comments.