You can save your important files to Google Drive to keep them safe. But Google Drive also has other useful features. If you want to convert a PDF file to a Google doc, you can try Google Docs. MiniTool Software will show you a full guide in this post.
Google Drive is an online file storage and synchronization service. But it has more features than you think. For example, you can use Google Docs to create and edit documents. Besides, you can even use Google Docs to convert PDF to Google doc. You can also convert a JPG, PNG, or GIF file that contains text content into a document.
Things You Need to Know Before Converting PDF/JPG/PNG/GIF to Google Docs
To guarantee that you can get a good conversion result, you need to pay attention to these things:
The text in the PDF or image file should be at least 10 pixels high.
The file must be oriented right-side-up. If not, you need to rotate it in advance.
The file that contains common fonts can get a better conversion result. The common fonts contain Arial and Times New Roman.
If you want to convert an image to a Google doc, the image should be sharp and evenly. If it is too dark or blurry, the conversion result will be not so good.
The size of the file should not exceed 2 MB.
If the PDF or image file is too complicated, Google Drive will take more time to complete the conversion. And the result maybe not so good. For example, if there are lists, tables, and footnotes in the file, they may not be converted well. You can correct them manually
How to Turn a PDF into a Google Doc?
1. Open Google Drive and sign in with your Google account.
2. Click the New button on the top-left corner and select File upload.
3. Select the PDF file from your computer to add it to your Google Drive. When the upload process ends, you need to click the cross icon to close the prompt.
4. Refresh the page and you can see the uploaded PDF file appears on the page.
5. Right-click the PDF file. Then, go to Open with > Google Docs to open PDF in Google Docs.
6. Google Docs will take some seconds to extract the text content in the PDF file. Then, you can see the result. If the content is complicated, you need to manually check the result and correct the mistakes.
7. When everything is done, you can save the document to your computer. You need to click File on the top toolbar and then go to Download > Microsoft Word (.docx). The downloaded file will be saved to the Downloads folder on your computer. You can open the file and directly use it. You can also transfer it to your Google Drive to save it as a Google document.
How to Turn an Image into a Google Doc?
The steps to turn an image into a Google doc are the same as converting PDF to Google doc. You need to first upload it to your Google Drive, open it with Google Docs, correct the mistake in the document, and then save it as .docx.
However, there is a difference: after you open the image using Google Docs, you can also see the image in the document. This is convenient for you to proofread. You can delete it if you don't want to use it.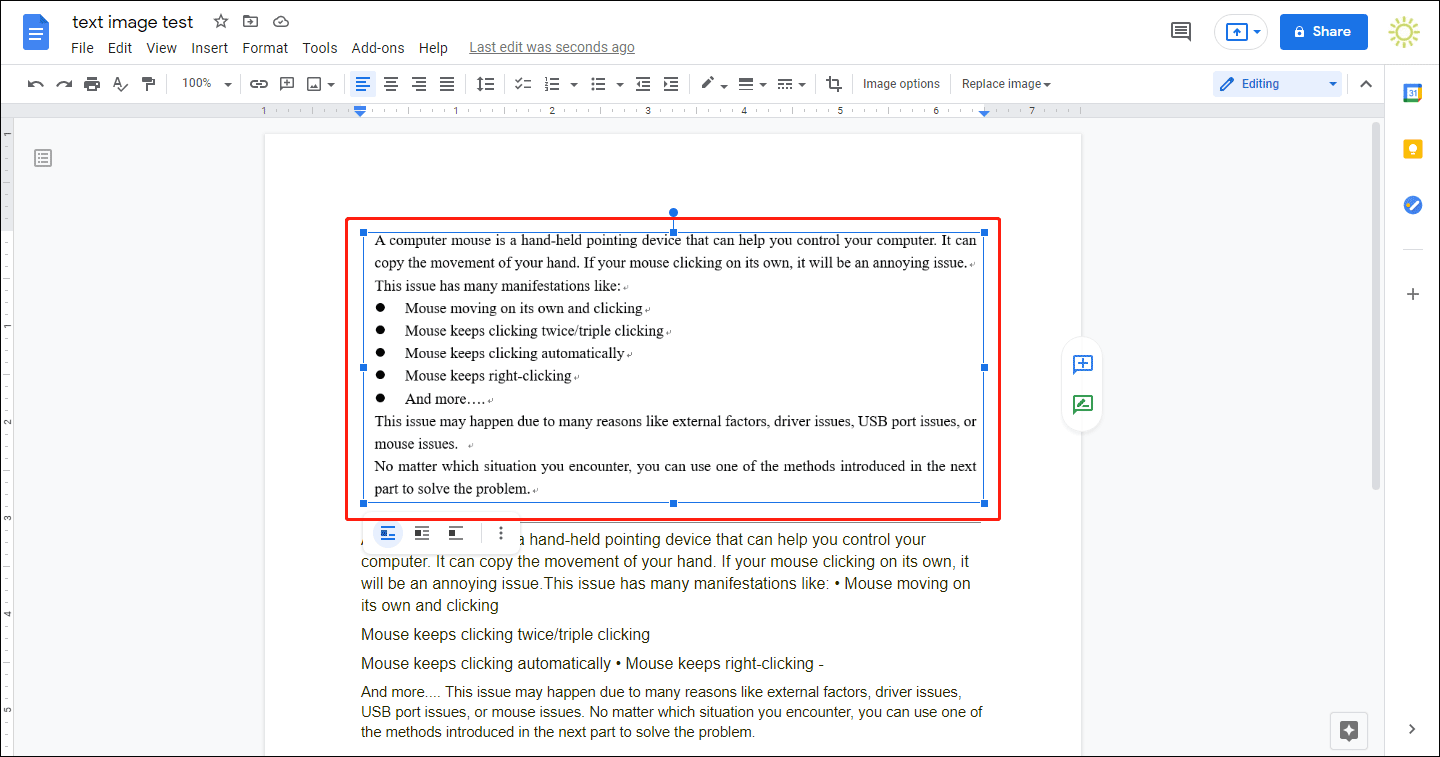 Bottom Line
After reading this post, you should know how to convert PDF to Google doc or turn an image file into a document using Google Docs. Should you have any other issues, you can let us know in the comments.