Is Cortana not working in Windows 11? This is a common problem that can happen on your PC. When saying "Hey Cortana", this voice assistant doesn't respond. How can you fix the Cortana issue in Windows 11? Go to find multiple solutions from this post on the MiniTool website.
Hey Cortana Not Working Windows 11
In Windows 11, Cortana is still part of this new operating system but Microsoft changes the way Cortana operates. It is no longer installed in the boot experience or default installation. When you start to install Windows 11, Cortana won't introduce itself. After the installation, you cannot see it in the Taskbar.
To activate Cortana, you need to speak the phrase "Hey Cortana", which requires you to sign in to the Cortana app firstly. Then, Cortana will respond and appear in a small pop-up window on the right side of the Taskbar. To know more information, refer to this post - How to Install/Disable/Uninstall/Reinstall Cortana Windows 11.
However, sometimes Cortana is not responding to "Hey Cortana". According to reports, many users are bothered by this issue. If you are also a victim, don't worry and you can fix the issue.
Fixes for Cortana Not Working in Windows 11
Change Your Region
According to users, this is a useful way and you can have a try by following the instructions below.
Step 1: Launch Windows 11 Settings via the Win + I keys.
Step 2: Go to the Time & language section and click Language & region.
Step 3: Under the Region section, change Country or region to United States.
Allow Cortana to Communicate Through Windows Firewall
If Cortana is forbidden to go through Windows Firewall, the issue of Hey Cortana not working Windows 11 will appear. To fix it, you should check the Firewall setting and allow it through Firewall.
Step 1: Press Win + S, type allow an app through Windows firewall, and click the result.
Step 2: In the pop-up window, click Change settings, and check the box of Cortana from the Allowed apps and features section.
Step 3: Click OK to save the change.
Turn on Microphone and Voice Activation Permissions
If Cortana isn't working in Windows 11, you should make sure the permissions of the microphone and voice are activated. Follow the wizards below now.
Microphone Activation
Step 1: Launch Cortana and click the three-dot menu to choose Settings.
Step 2: Click Microphone > Microphone Permissions.
Step 3: Turn on the setting for Let apps access your microphone.
Step 4: Make sure the toggle of Cortana is turned on.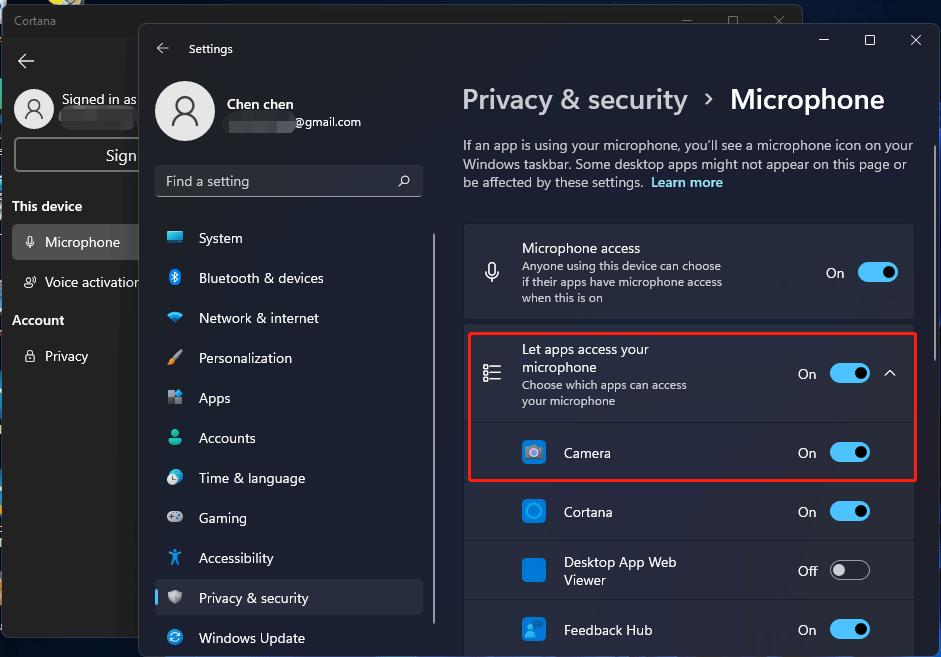 Voice Activation
Step 1: Open Cortana settings.
Step 2: Click Voice activation permissions and allow apps to use voice activation.
Step 3: Enable the option for Let Cortana respond to 'Cortana' keyword. Also, you can configure to use Cortana even when your device is locked.
After finishing all the operations, restart Windows 11 and see if the issue of Cortana not working is solved.
Update Windows
Sometimes the fixes can be found in Windows new updates. Usually, when there are some known issues, Microsoft releases bug patches and updates to fix them. Here, you can try to update Windows 11 to the latest version to see if the issue of Cortana not responding to "Hey Cortana" is removed.
Step 1: Go to Windows 11 Settings by pressing Win + I.
Step 2: Navigate to Windows Update and click Check for updates.
Step 3: If some available updates are checked, download and install them on your PC.
Uninstall Third-Party Antivirus Program
Sometimes third-party antivirus software can lead to Windows 11 Cortana not working. You can try to uninstall it to see if this can fix this issue via Control Panel > Uninstall a program.
These are common troubleshooting tips for you. If you are bothered by the Cortana issue in Windows 11, try these methods and you can easily solve it.