According to users' feedback, the recent Surface updates have caused a series of CPU throttling issues. In addition to Surface users, there are also a lot of Windows PC users saying they are bothered by CPU throttling problems. Therefore, I'll provide several useful methods to help you fix CPU throttling on Windows.
CPU Throttling Windows 10
What Does CPU Throttling Mean
CPU throttling, also called dynamic clock or dynamic frequency/voltage scaling, is a feature in Windows 10 computer. It's designed by Microsoft to optimize the power usage on all of your devices running on battery. Meanwhile, it's able to limit the resources for background processes by taking advantage of the power-saving function in modern processors.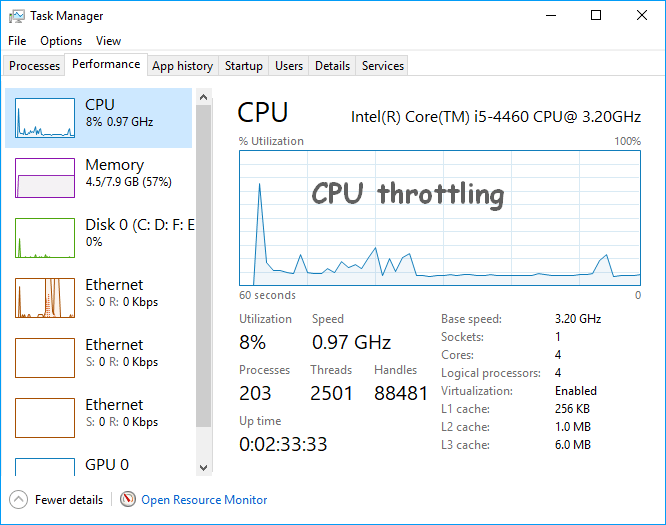 Patch The Intel CPU Bug In Windows 10/8.1/8/7/Server 2008 R2.
The CPU throttling feature helps to preserve power and reduce the heat that chip will generate. As a result, the battery life will be stretched and the CPU temperature will be lowered. What's more, the CPU throttling contributes to the decreasing of cooling cost and keeping the system quieter.
MiniTool provides multiple solutions to keep your disk data safe and optimize the system performance.
What Causes CPU Throttling
CPU throttling or CPU usage drops will take place as a security measure for any system when:
It runs the risk of being overheated.
It doesn't have an imperfect cooling system (isn't able to dissipate heat quickly enough).
The overclocking has not been done properly.
Definitely, the most direct and root cause is: the system fails to dissipate heat fast enough.
Whenever the CPU or GPU takes a lot of load, it will get hot and reach a point where the cooling solution in your system fails to cope with the heat generated. At this time, the thermal throttling will kick in.
How To Lower The GPU Temperature In Windows 10?
How to Fix CPU Throttling on Windows 10
The most obvious side effect of CPU throttling is: the clock frequency will be dropped to a lower value. Because of that, you won't be able to take full advantage of the available power of processor, so CPU throttling fix is in urgent need.
How do I stop CPU throttling?
Fix 1: Use Registry
Disabling power throttling seems to be easiest way to solve dynamic frequency scaling problem.
Here's how to do it in Registry Editor.
Open Run dialog box by pressing Start + R.
Type regedit into the text box and hit Enter.
Click Yes in the User Account Control window.
Expand HKEY_LOCAL_MACHINE, SYSTEM, CurrentControlSet, and Control in order.
Right click on the Power folder.
Choose New from the context menu and select Key from submenu.
Name the new key as PowerThrottling and hit Enter.
Right click on PowerThrottling.
Choose New from the context menu and select DWORD (32-bit) Value from submenu.
Name it as PowerThrottlingOff and hit Enter.
Double click on PowerThrottlingOff to edit.
Change the Value data from 0 to 1 and click OK.
Fix 2: Choose the Best Performance Option
Select Hardware and Sound.
Select Power Options.
Click Show additional plans.
Check High performance.
You should always keep power mode on best performance to prevent CPU throttling issue.
Fix 3: Change Power Plan Settings
Press Start + X.
Select Power Options from the list.
Find Related settings area in the right pane and click Additional power settings under it.
Click Change plan settings under the plan selected.
Click Change advanced power settings.
Find Processor power management and expand it.
Expand Minimum processor state and change the value to 100%.
Do the same for Maximum processor state.
Click Apply and then click OK.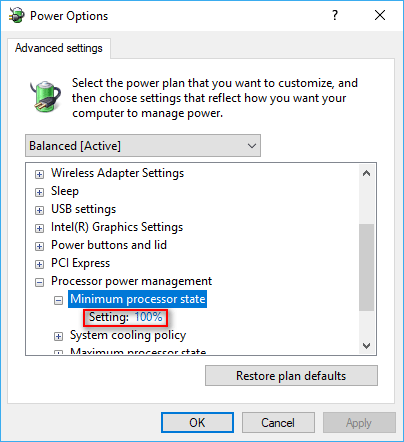 Another useful CPU throttling fix is to apply thermal paste.
Besides, you can also use the third-party software to keep your PC underclocking and undervolting so as to fix CPU throttling.