Many people want to uninstall the applications they don't need on Chromebook to get more space, increase running speed, or improve performance. But the question is how to delete an app on Chromenook? If you want to uninstall some applications on your Chrombook but don't know how to do, this page will be very helpful.
Users may want to uninstall apps on Chromebook sometimes due to different reasons.
The applications are not useful anymore.
The applications are taking up too much space.
The applications are causing Chromebook to run slow.
And so on.
Why Is My Chromebook So Slow? 9 Easy Ways To Speed It Up.
Whatever the reason, users will ask how to delete apps on Chromebook or how to uninstall apps on Chromebook. Later on this page, we'll show you how to remove app from Chromebook in detail. But before that, we'll introduce Chromebook briefly.
Tip:
If you have deleted the apps, files, and folders you need by mistake, you should get a powerful recovery tool to regain them at once. Please choose a recovery tool with high reputation and pay attention to the systems it can support; for instance, the one provided by
MiniTool
.
MiniTool Power Data Recovery TrialClick to Download100%Clean & Safe
About Chromebook
One of the most obvious features of a Chromebook is its simple design; it's easy to use but powerful in functions.
Chromebook includes an Everything button to help you find what you need fast.
The battery life of the Chromebook is long; it allows you to work and play for up to 12 hours on a single charge.
Chromebook leaves offline access to its users; they can access recent documents, spreadsheets, presentations, and even emails without a network connection.
The touchscreen is a wonderful design in Chromebooks and other laptops to let you swipe, tap and scroll the way just they want.
The automatic backup provided by Google Drive can always keep your Chromebook data safe. The changes you've made to Google Docs, Sheets, and Slides will be saved automatically as long as you're connected to the network. (How to view Google Drive files by size?)
Microsoft Office is compatible with Chromebook, so you can use Word, Excel, PowerPoint, and more apps easily.
Virtual Desks are available on Chromebook as separate workspaces, so you can deal with multiple tasks more easily.
The LTE connectivity makes you stay connected to the internet wherever you are.
The Instant Tethering lets you connected to your phone's Wi-Fi hotspot automatically.
Chromebook makes it easy for you to enjoy picture-in-picture viewing with popular video apps.
How to Delete Apps on Chromebook
There are basically 2 ways to deleted apps on Chromebook.
Uninstall Apps on Chromebook via Launcher
The Launcher can be regarded as the Start button on Chromebook. Here's how to open it how to delete an app on Chromebook:
Move your cursor to the lower left corner of the screen.
Click on the Launcher icon (represented by a small circle) and a panel will appear from the bottom.
Please click on the up arrow in the middle of the top to view all apps on your Chromebook.
Right click on the app you want to delete and select Uninstall.
Click Uninstall again in the pop-up window to confirm.
If you're deleting an app downloaded from Chrome Web Store, you won't see Uninstall after right clicking on it. Instead, you'll see Remove from Chrome; please select it and then click Remove to confirm.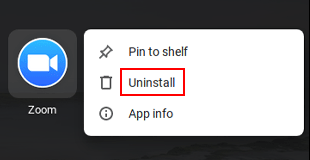 Uninstall Apps on Chromebook via Play Store
Play Store is a good tool to help you install and uninstall Android apps on Chromebook. How can you remove apps Chromebook using Play Store:
Launch Play Store on your Chromebook.
Click on the icon (represented by three vertical lines) in the upper left corner.
Select My apps & games.
Go to the Installed tab at the top.
Select the app you want to delete.
Click on the Uninstall button and then click OK to confirm.
What if you don't see the thing you're looking for in the apps list? You may just want to delete an extension, not an app. Here's how to disable/remove Chromebook extensions:
Click on the three vertical dots icon at the top right.
Navigate to More tools and select Extensions.
Browse the extensions and decide which ones to delete.
Toggle the switch of an extension to off or click on the Remove button to uninstall it.
Those are the main methods for removing apps from Chromebook.