What is Dell Command Update? How to download Dell Command Update for Windows 11/10? How to run Dell Command Update? Dell Command Update vs SupportAssist: what's the difference? To find answers to these questions, you can move to the next part and MiniTool will give a detailed guide here.
What Is Dell Command | Update Application for Windows 11/10
Dell Command | Update, also called DCU, is a Dell utility designed for Dell commercial client computers to automatically update the drivers, BIOS, and firmware. This stand-alone application simplifies the system software update experience.
It can keep your system up-to-date without knowing each software or driver that needs to be updated by automatically checking the system and comparing it to the available updates on Dell Support for the specific system.
Dell Command Update can be used on many Dell devices, including Latitude series, OptiPlex series, Precision series, XPS series, and more. This tool is compatible with multiple operating systems including Windows 11/10/8.1/8/7.
Dell Command Update Download Windows 10 and 11
How to download Dell Command Update for Windows 11/10 to use for system updates?
On the Dell website, you can get different versions of Dell Command Update. Currently, the available versions are Dell Command Update 4.5, 4.4, 4.3, 4.2.1, 4.2, 4.1, 4.0, 3.1.3, 3.1.2, 3.1.1, 3.1, 3.0 and 2.4.
Now, the Dell Command Update latest version is 4.5 which was released in March 2022. Dell offers two available downloads – universal Windows platform version for Windows 11 and Windows 10 (32 and 64 bit) and Windows 32/64-bit version for Windows 10 and 8.1.
If you are running Windows 11, click the first version to download. After getting the setup.exe file, double-click it and then click the INSTALL button to continue. Then, accept the license terms, decide whether to participate in the improvement program, and click Install to begin the installation.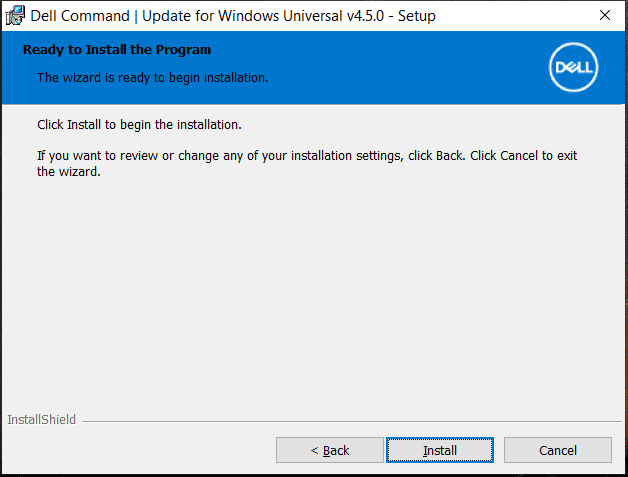 After finishing the installation, you can run this tool for driver, BIOS, and firmware update? Move to the next part.
How to Use Dell Command Update in Windows 11/10
Step 1: Search for Dell Command | Update in the search box and run it on your Windows 11/10 PC.
Step 2: Decide whether to automatically check for updates periodically to keep the system up to date.
Step 3: In the main interface of Dell Command Update, you can click CHECK to let this tool scan the system for the latest BIOS, driver, and firmware updates and then download & install them.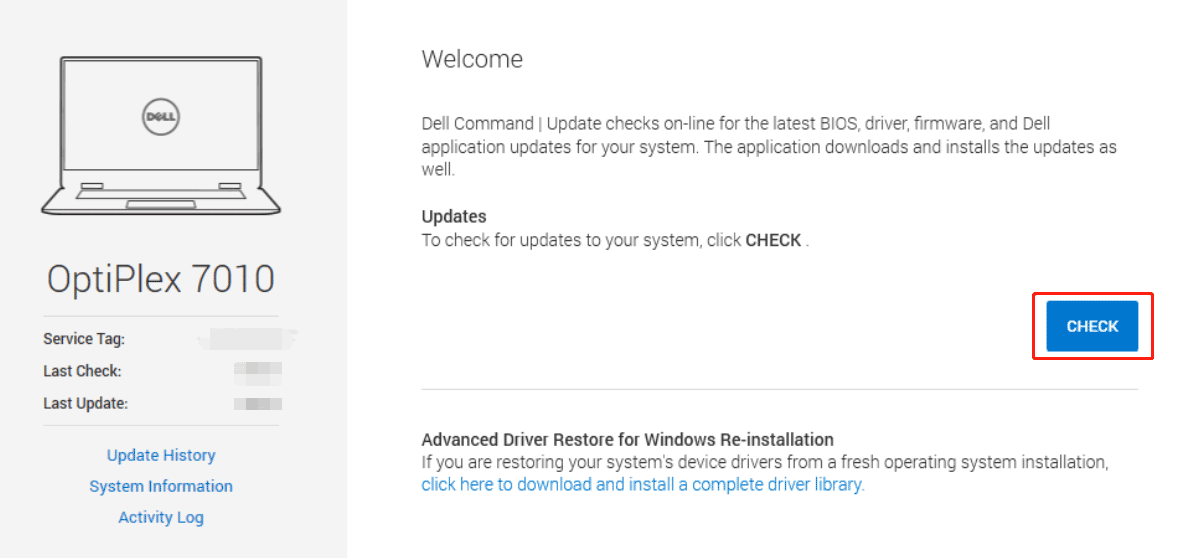 Tip: Before the check, you can click the gear icon to make some advanced settings, for example, configure automated checks & frequency, choose update types, and more.
Step 4: Choose the available updates you want to install and click INSTALL to start the installation.
Dell Command Update VS SupportAssist
To install the latest Dell drivers, in addition to Dell Command | Update for Windows 11/10, Dell offers another tool to you and it is Dell SupportAssist. Well then, what's the difference between these two applications?
They have different uses – Dell Command Update is used for driver, BIOS, and firmware updates while SupportAssist is designed to have a suite of functions, for example, detect and install up to date drivers, remove viruses & malware, optimize PC performance automatically, and proactively detect and resolve issues.
Currently, SupportAssist is installed on most Dell PCs with Windows 10 and it is also can be used on Windows 11. You need to manually download and install it on your PC if it is not preinstalled.
Windows 11 PC Backup Recommended
Windows issues always happen and sometimes the system cannot load. Besides, data loss is a common issue. Thus, you are recommended to back up your operating system and files on a regular basis. In terms of PC backup, using a professional Windows 11 backup software – MiniTool ShadowMaker is recommended since it allows you to back up system, files, folders, disks, and partitions. Incremental and differential backup are supported.