To let Dell D6000 Dock run properly, it is necessary to download and install Dell D6000 drivers. So, how to install drivers for Dell Universal Dock D6000 in Windows 10/11? It is easy and you can follow the detailed guide below given by MiniTool. Now, let's look through what you should do.
What Is Dell Universal Dock D6000?
Dell Universal Dock D6000 is a docking station that can be used to connect all your electronic devices to your laptop via a single cable. This cable supports USB 3.0 and USB Type-C.
That is, with this docking station, you can access all the peripherals including the keyboard, stereo speakers, mouse, large-screen monitors, external hard drive, etc. without plugging these devices into the laptop
In summary, you should do is to connect D6000 to your laptop and connect devices to this station. Dell Dock D6000 works with DisplayLink technology that can enable the docking features over USB.
To make sure this docking station works in a good state, it is necessary to download and install or update the DisplayLink driver for it. So, how to do that? Move to the next part to find details.
Related post: Hard Drive Docking Station – What Is It? How to Choose?
Download Dell D6000 Drivers & Install in Windows 10/11
How to install drivers for Dell Universal Dock D6000? It is easy and just follow these steps now:
Visit the page of Support for Dell Universal Dock D6000.
Click Drivers & Download. You can enter a driver name or keyword and choose a Windows operating system, download type, or category to find a driver for your Dell Universal Dock D6000. Dell D6000 drivers support Windows 11, 10, 8.1, 8, and 7.
It is recommended to download DisplayLink Dock Driver. Just click the Download button to get the exe file.
After that, double-click on this exe file, click Yes in the User Account Control dialog, and then click the INSTALL button to start the installation.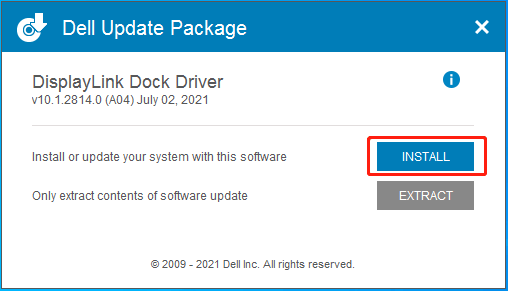 Install the Latest Dell D6000 Drivers via a Tool
In addition to downloading and installing the driver for Dell Universal Dock D6000, you can use a professional driver update tool to do this work. In terms of Dell, Dell Command Update and Dell SupportAssist can be good driver update software. You can run one of them to see if it can check for the available driver for the docking station. If yes, install it on your Windows 10/11 PC.
Update Dell D6000 Drivers via Device Manager
This is another way to download and install the latest driver for Dell Universal Dock D6000 and see how to do it in Windows 10/11:
Step 1: Right-click on the start icon and choose Device Manager.
Step 2: Expand Display adapters and right-click on Dell Universal Dock D6000 to choose Update driver.
Tips:
Sometimes this docking station displays as an unknown device with an exclamation mark.
Step 3: Click Search automatically for updated driver software. Windows will check for the latest version and then install it on your PC.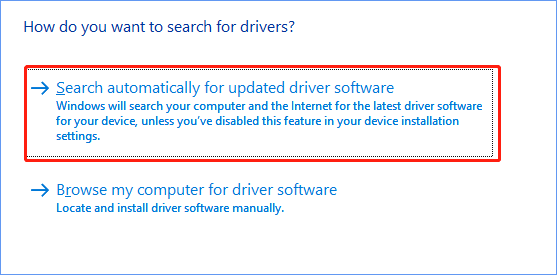 These are the common ways to download Dell D6000 drivers and install. Just try one way to get Dell Universal Dock D6000 drivers to ensure the docking station works well.