Desktop Window Manager is a very useful tool in all common Windows versions, including Windows Vista, Windows 7, Windows 8 and Windows 10; it is very crucial for the graphical user interface. However, it runs into issues like high CPU sometimes. Do you know how to solve this kind of problem?
Desktop Window Manager High CPU or Memory
What Is Desktop Window Manager
The Desktop Window Manager is a practical utility for rendering the visual effects on user interface like transparency and high resolution monitor support in Windows operating systems (Windows 10/8/7/Vista). It works by enabling the use of hardware acceleration and runs in the background as dwm.exe. Thus, a certain amount of processor will be consumed.
But you may not notice the running of Desktop Window Manager, let alone its high CPU usage, right? According to users' feedback, there's an annoying experience: Desktop Window Manager high CPU (or memory). Certainly, some resources are required to run dwm.exe in the background (about 2% to 3% of CPU and 50MB to 100 MB of memory; it varies from system to system). However, there are many reasons that will lead to high CPU usage; for instance, too many processes are opened.
Tip:
MiniTool
provides wonderful solutions for protecting your system & disk.
Desktop Window Manager High CPU Usage
Many people pointed out the dwm.exe high CPU issue: Desktop Window Manager has high RAM usage or is consuming high resources on PC. It will slow down the system or cause freezes/sudden crash. Therefore, you should read the following sections focusing on how to troubleshoot Desktop Window Manager high memory.

Tips:
Experience peak PC performance with MiniTool System Booster - Free up RAM for a smoother computing journey.
MiniTool System Booster TrialClick to Download100%Clean & Safe
How to Fix Desktop Window Manager High Memory Windows 10
Windows 10 Desktop Window Manager High CPU or Memory
The Desktop Window Manager running on PC is eating much of the CPU. How to check Desktop Window Manager High Memory Windows 10: open Task Manager -> find dwm.exe process -> check the CPU usage. Though Desktop Window Manager high CPU can be caused by various reasons, you still can fix it by changing wallpaper/theme, disabling screen saver, etc.
What are the main causes of Windows 10 Desktop Window Manager high CPU?
Too many processes are opened on your system.
The display driver is incompatible with your system.
There are some performance issues on Windows 10.
Some of your software or applications went wrong.
Fix Desktop Window Manager High CPU (DWM.exe)
How to fix Desktop Window Manager high CPU or high memory on Windows 10?
Change wallpaper/theme.
Disable screen saver.
Adjust for best performance.
Use performance troubleshooter.
Disable hardware acceleration.
Do a clean boot.
Update display drivers.
Update Windows 10.
Check for virus or malware.
Uninstall applications.
*1. Go to Change Wallpaper/Theme
One function of Desktop Window Manager is managing desktop utilization; so if the wallpaper or theme you're using currently is taking too many resources, you should change it.
Click on the Window logo button in the lower left corner of your Screen.
Choose Settings (looks like a gear) from the left sidebar of the menu.
Select Personalization from the window. (You can also replace above steps by right clicking on the blank area on desktop and choosing Personalize.)
Start changing Background picture, Colors, Lock screen background and Themes and see what happens.
*2. Disable the Screen Saver
Press Windows + S to open Windows Search.
Type lock screen settings and press Enter on the keyboard.
Look for the Screen saver settings option in the right panel and click on it.
Select None from the drop-down list of Screen saver.
Click on the OK button at the bottom.
*3. Check Adjust for Best Performance
Open Control Panel in Windows 10.
Select System and Security.
Type performance into the search box at the upper right.
Click the Adjust the appearance and performance of Windows link under System.
Check Adjust for best performance in Performance Options window.
Click on the OK button to confirm.
*4. Run the Performance Troubleshooter
Open Windows Search.
Type cmd into the textbox.
Right click on Command Prompt and choose Run as administrator.
Type msdt.exe /id PerformanceDiagnostic and press the Enter button.
Click Next in the Performance window to continue.
Wait for the troubleshooting process to finish.
*5. Disable Hardware Acceleration for Microsoft Office Products
Press Windows + R to open Run.
Type regedit and hit Enter.
Copy Computer\HKEY_CURRENT_USER\Software\Microsoft\Avalon.Graphics and paste it into the Registry Editor address bar. Then, press OK button to select the Avalon.Graphics key.
Right click on the blank space in the right pane and choose New -> DWORD (64-bit) Value/ DWORD (32-bit) Value (depending on your system).
Name the new value as DisableHWAcceleration.
Double click on DisableHWAcceleration and change the Value data to 1.
Click on the OK button to confirm. Now, close Registry Editor.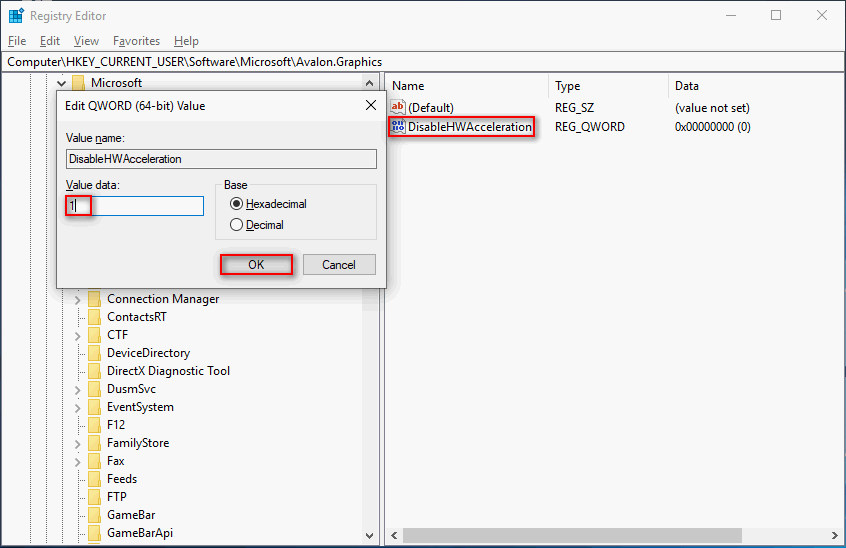 You should also disable hardware acceleration to fix Firefox not playing videos issue.
If above methods failed, you should also try to solve Desktop Window Manager high CPU by:
Performing a Clean Boot
Updating the display drivers
Updating Windows to the latest version
Scanning for virus or malware
Removing specific applications