Any hardware device you've connected to your computer could run into trouble. If you check the device status in Device Manager, you may find out the exact error codes and description. Code 31 – this device is not working properly is one of them.
MiniTool software is very useful in solving disk & system problems.
Code 31: This Device Is Not Working Properly
Windows Code 31
What is code 31? In fact, the Code 31 error is one of the several Device Manager error codes you may encounter on your Windows computer. It could occur on any hardware device when the corresponding drivers went wrong/were not installed properly, preventing Windows from loading the driver for the particular hardware device.
When you actually see error code 31 on devices like audio device, biometric device, and network adapter, please don't worry; you can fix it.
How To Fix Code 19: Windows Cannot Start This Hardware Device?
Error Message: Windows Cannot Load Drivers Code 31
When encountering Windows code 31, if you open the Device Manager and look at the Device status section under the General tab of device properties, you'll see the following error message:
This device is not working properly because Windows cannot load the drivers required for this device. (Code 31)
You'll see an error icon (generally a yellow exclamation mark sign) in front of the device that is not working properly in Device Manager. There are a lot of reasons (such as Windows update) that could lead to this Windows hardware error. But whatever the reason, you should follow the steps mentioned in the methods below to fix the problem yourself.
How to recover lost files after Windows update:
4 Methods for Fixing This Device Is Not Working Properly Code 31
PLEASE NOTE: though the following steps are demonstrated on Windows 10, the solutions also apply to Windows 8, Windows 7, Windows XP, Windows Vista, etc.
Method 1: Restart Your Computer
It's a common experience to run into different kinds of errors on a working computer. Some of them are caused by hardware failures, while most others are a result of software failure like incompatibility problems and temporary issues.
There's a chance your problem can be fixed automatically after you restart your computer manually. The easiest way to do a restart is:
Click on the Windows logo button located in the lower left corner of your PC screen. (You can also press the Windows button on your keyboard.)
Navigate to the Power option in the left sidebar (it is located at the bottom).
Click on it and choose Restart from the pop-up menu.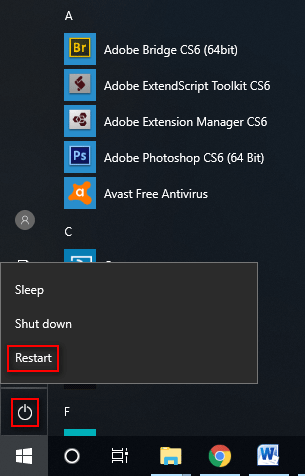 Method 2: Update the Drivers
Open Device Manager by right clicking on Windows button -> choosing Device Manager or right clicking on This PC -> choosing Manage -> selecting Device Manager.
Expand the options in the right pane to find out the problematic device.
Right click on the device with error code 31. Then, choose Update driver from the context menu.
Choose an answer for How do you want to search for drivers (Search automatically for updated driver software is recommended).
Wait for the update process to complete.
You can also update the driver manually by: visiting the website of manufacturer -> searching for & downloading the latest driver for the problematic device -> installing the drive properly on your computer.
Method 3: Uninstall the Device
Open Device Manager and find your device that system says this device is not working properly code 31.
Right click on it and choose Uninstall device.
Check Delete the driver software for this device option and click on the Uninstall button below.
Wait for a while until the operation is completed.
Restart your computer. Then, connect the device to your computer again and see what happens.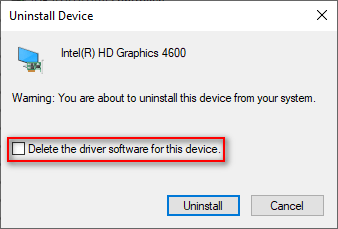 Method 4: Run the Troubleshooter
Click on the Windows button and choose Settings from the left sidebar.
Scroll down to select Update & Security.
Shift to Troubleshoot in the left pane.
Look for the corresponding device type and select it (for example, if the code 31 appears on an adapter device, you should select Network Adapter).
Click on the Run the troubleshooter button appeared after previous step.
Wait for the troubleshooting process to end.
If above methods failed, you can also try to restore your system to a previous point by using the System Restore feature.