If Discord stops working in game, what should you do? This is a common problem and you can actually fix it. In this post from MiniTool Solution, you can find some useful solutions. Just try them to easily get rid of your trouble.
Discord Not Working When in Game
Discord is an instant messaging and digital distribution platform that is designed for creating communities. That is, you can communicate with others via video calls, text messaging, voice calls, etc.
Discord is popular with game players since it offers many options for voice and video chat and comes with many handy features. However, it is not always working and you may often encounter some issues, for example, Discord not opening, Discord keeps cutting down, search not working, etc.
Besides, another issue that bothers you a lot is Discord stops working in game. In detail, some features include audio, Discord Overlay, microphone, and other important features don't work.
Related article: Discord Mic Not Working? Here Are Top 4 Solutions
The issue usually disappears after leaving the game. But it also appears again when you start the game. The main reasons for this issue are the lack of microphone permissions and administrator permissions, old drivers, etc.
In the next part, we will show you how to fix Discord not working in game.
How to Fix Discord Not Working When in Game
If Discord stops working in game, you can try these four solutions below. Now, let's see them.
Give Microphone Permissions to Discord
If you encounter the audio and microphone issue when opening a game, you should try this way to fix the problem. This may be because Discord lacks permissions to microphones.
Step 1: Click the Start button on the taskbar and choose Settings in Windows 10.
Step 2: Click Privacy and go to the Microphone tab.
Step 3: Go to the section of Allow access to the microphone on this device, click Change and turn the option on.
Step 4: Also, make sure the option of Allow apps to access your microphone is enabled.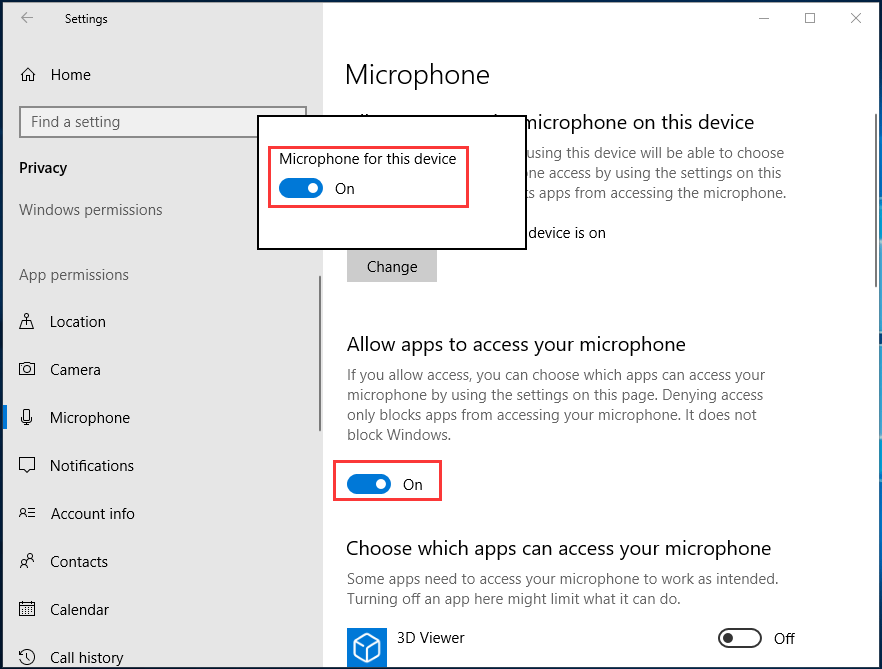 Step 5: Scroll down to the list of apps to find Discord and make sure the slider is On.
Disable Discord Overlay
Discord Overlay is the source of many problems. If Discord stops working in game, disabling it can resolve the issue. This has been proved to be helpful by many users.
Step 1: Launch Discord, go to User Settings, and choose Overlay.
Step 2: Turn off the option of Enable in-game overlay.
Run Discord as an Administrator
When Discord doesn't work in game, you can run Discord with administrator permissions to fix this issue.
Step 1: Go to the file location of Discord and right-click the Discord.exe file to choose Properties.
Step 2: Under the Compatibility tab, make sure the box of Run this program as an administrator is checked.
Step 3: Save the change.
Update Sound Drivers
If the above ways cannot work to fix Discord not working in game, you can try to update the sound drivers to the latest version.
To do this work, you can go to Device Manager, expand Sound, video and game controllers and right-click your sound driver to choose Update driver. Then, let Windows search for and install the driver automatically.
Also, you can download the latest version from the manufacturer's official website and install it on your computer.
Final Words
Discord stops working in game? Don't worry and you can easily fix the issue. In this post, some useful solutions are introduced to you, and just try them now.