How to Update AMD Drivers
If you are looking for new features and gaming performance improvements with your AMD Radeon graphics, you can update your AMD drivers on Windows 10. Updating the drivers also helps solve some driver issues.
Way 1. You can use Windows Device Manager to update AMD graphics drivers automatically. Check how to do it below.
Press Windows + X and select Device Manager to open Device Manager on Windows 10.
Expand Display adapters category in Device Manager. Here, you can see what kind of graphics you are using on your desktop or laptop.
Right-click your AMD Radeon graphics card and select Update driver.
Choose "Search automatically for updated driver software" option. Windows will start automatically checking, downloading, and installing the newer AMD graphics driver for your Windows 10 computer.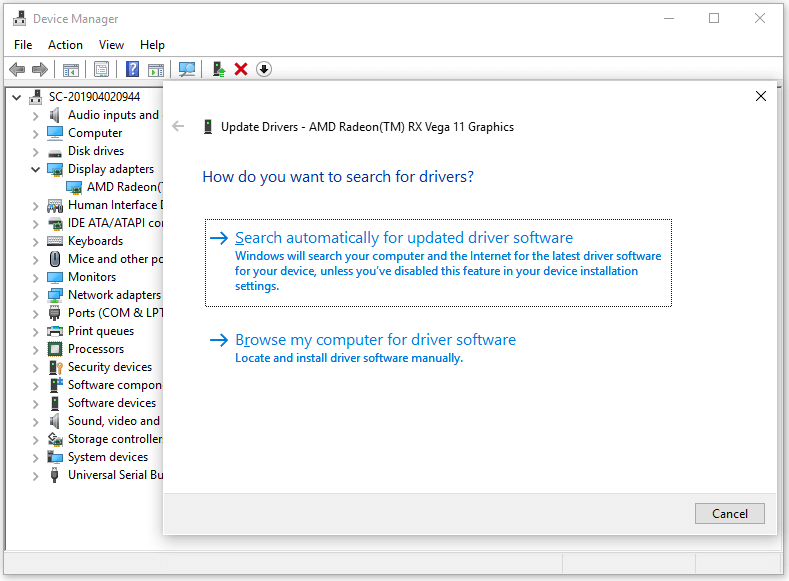 Way 2. Perform a Windows update. To install the available latest Windows updates may also update your AMD Radeon, graphics, chipset, GPU drivers. You can click Start, type check for updates, and click Check for updates system settings to open Windows Update screen. Click Check for updates button to automatically look for newer updates.
Tip: Some free driver updater software might also help with auto AMD drivers update.
How to Download AMD Drivers
Way 1. Download from AMD Drivers and Support website
Open your browser and go to https://www.amd.com/en/support.
Click the drop-down icon to search for your product. Alternatively, you can select your product from the list. Select your AMD product and select the driver model. Click Submit button to download the AMD driver to your PC.
When it completes downloading, you can click the installer file and follow the instructions to install the AMD driver on Windows 10.
Tip: If you don't know your AMD driver version, you can right-click Radeon Settings icon at the system tray and select Open Radeon Settings. Click System tab and click Software tab to check the detailed information about the installed AMD graphics driver. In this window, you can also see the versions of other installed AMD software components like AMD chipset drivers, etc.
Way 2. Use AMD Driver Auto-Detect Tool
AMD provides an AMD Driver Auto-detect Tool that can help automatically detect AMD Radeon graphics drivers, AMD Ryzen chipset drivers, etc. It can detect and display the latest compatible drivers available for the installed AMD products.
You can go to AMD Drivers and Support page and click Download Now button under Auto-Detect and Install Updates for Radeon Graphics and Ryzen Chipset Drivers for Windows to download AMD Driver Auto-detect Tool on your PC.
How to Uninstall AMD Drivers
To uninstall AMD drivers, you can also go to Windows Device Manager, right-click your AMD graphics card and select Uninstall device to delete the AMD graphics driver.
If you want to reinstall it, you can restart your computer and Windows will automatically reinstall the missing AMD driver.
Alternatively, you can also go to Device Manager, click Action -> Scan for hardware changes to automatically detect and install the missing driver.
How to Roll Back AMD Drivers
If the device fails after updating the driver and you want to roll back your AMD graphics driver to an old version, you can open Device Manager, right-click your AMD Radeon graphics and select Properties. Click Driver tab and click Roll Back Driver to roll back to the previously installed driver.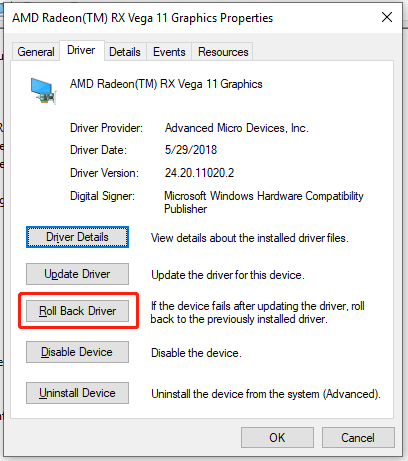 Some Free Software for Windows 10 Computer
MiniTool Software, a top software developer, provides users many useful computer software. You can find MiniTool Power Data Recovery, MiniTool Partition Wizard, MiniTool ShadowMaker, MiniTool MovieMaker, MiniTool Video Converter, etc. from its official website.