Windows 10 ISO file is actually a disc image that can be used to reinstall the current system or install a new system. MiniTool Solution is so considerate that it demonstrates two commonly used methods to help users download Windows 10 ISO easily. What's more, it provides several solutions to fix the problem when the ISO file won't download.
2 Methods for Windows 10 ISO Download
What is ISO? An ISO file (also called an ISO image or disc image) is an archive file containing an identical copy (or image) of data; it can be saved to an optical disc like CD and DVD. The ISO images are used widely for backing up optical disc.
In recent years, ISO images are mainly used to distribute large programs as well as operating systems. For instance, the Windows 10 ISO image is actually a downloadable operating system which can be used to reinstall or update system when necessary. Here, I'm going to talk about Windows 10 ISO download; how to download ISO for Windows 10 and how to troubleshoot when Windows 10 download fails.
Tip: The MiniTool data recovery software can help you recover data from both a running Windows 10 and a computer that won't boot.
MiniTool Power Data Recovery TrialClick to Download100%Clean & Safe
Download Windows 10 ISO with Media Creation Tool
Step 1: get the Media Creation Tool for Win 10 ISO download.
Look for the Create Windows 10 installation media section.
Click on the Download tool now button to get Media Creation Tool.

Step 2: Windows 10 ISO free download (Windows 10 1909 ISO or other versions).
Navigate to the location that saves the MediaCreationTool2004.exe.
Double click on the executable file to run Window 10 Setup wizard.
Click Accept and then wait when you see the Getting a few things ready window.
Check Create install media (USB flash drive, DVD, or ISO file) for another PC.
Click Next.
Choose a Language, Edition, and Architecture and click Next.
Choose which media to use and click Next.
Select the target drive or a storage path and click Next.
Wait until you see the prompt – Your USB flash drive is ready.
Click Finish.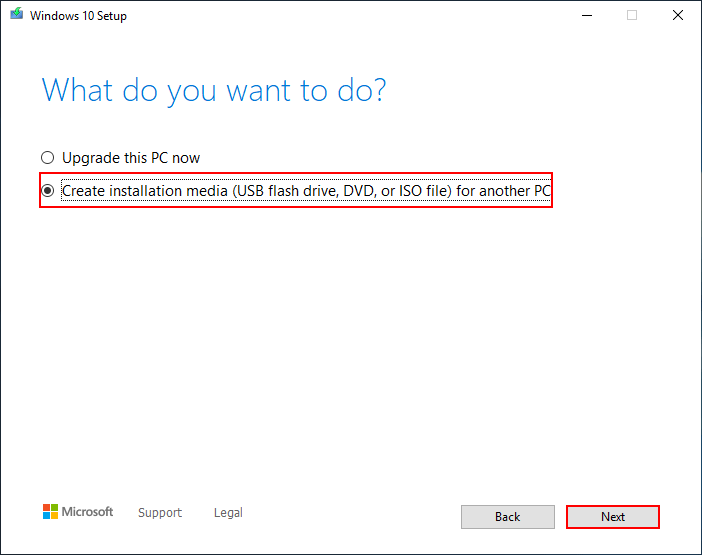 Both USB flash drive and DVD can be used as a Windows 10 install disc. How to download Windows 10 to USB? Please connect the USB device (at least 8GB) to PC and follow the guide mentioned above; remember to choose USB flash drive as the target media.
Extended reading:
Windows 10 ISO Download without the Media Creation Tool
Open Chrome and go to the Microsoft Windows download website.
Click on the three dots icon at top right -> navigate to More tools -> select Developer tools.
Click on the three dots icon in the pop-up window -> navigate to More tools -> select Network conditions.
Uncheck the Select automatically option after User agent -> select a user agent from the drop-down list (e.g. BlackBerry BB10).
Don't close the Developer tools pane and then refresh the download page.
Select an edition of the Windows 10 ISO that you need from the drop-down list of Select edition -> click Confirm.
Select the product language -> click Confirm.
Click 32-bit Download or 64-bit Download -> choose a storage location -> click Save.
Wait for the process to end. Then, close the Developer tools pane (the user agent will go back to normal automatically).
Windows 10 ISO Download Failed
The Windows 10 download fails sometimes; can you fix it? Of course, yes. You should try the methods below after Windows 10 ISO download failed.
Method 1: check the connection.
Flush the DNS.
Disable Proxy/VPN temporary.
Disable the Metered connection.
Restart PC and Wi-Fi router.
Use a LAN cable to replace Wi-Fi.
Then, try to download Windows 10 ISO again.
Method 2: run Disk Cleanup.
Press Windows + S.
Type disk cleanup.
Select Disk Cleanup from the result.
Select the drive you want to clean up and click OK.
Wait for calculating.
Check files you want to delete.
Click OK and wait.
If you want to get more space, please click on the Clean up system files button -> repeat step 4 ~ 7.
Disk Cleanup Cleans Downloads Folder In Windows 10 After Update.
Method 3: become a Windows insider.
There are more fixes waiting for you to discover.