This essay depicted by MiniTool Software Ltd mainly teaches you how to toggle on Edge Internet Explorer compatibility mode and apply it to target websites. Besides, it also shows you how to exit Edge run in IE mode.
Microsoft is going to discontinue Internet Explorer (IE) on June 15, 2022. So, it introduces "IE" or "compatibility" mode in its Edge explorer to help companies that require backward compatibility for their websites.
How to Enable IE Mode in Edge?
How to set IE mode in Edge? In order to turn on compatibility mode in Microsoft Edge, you need to change some settings.
1. Navigate to Settings and more (Alt + F) > Settings > Default browser.
2. In the Default browser page, under Internet Explorer compatibility section, click on the dropdown of Allow sites to be reloaded in Internet Explorer mode and select Allow.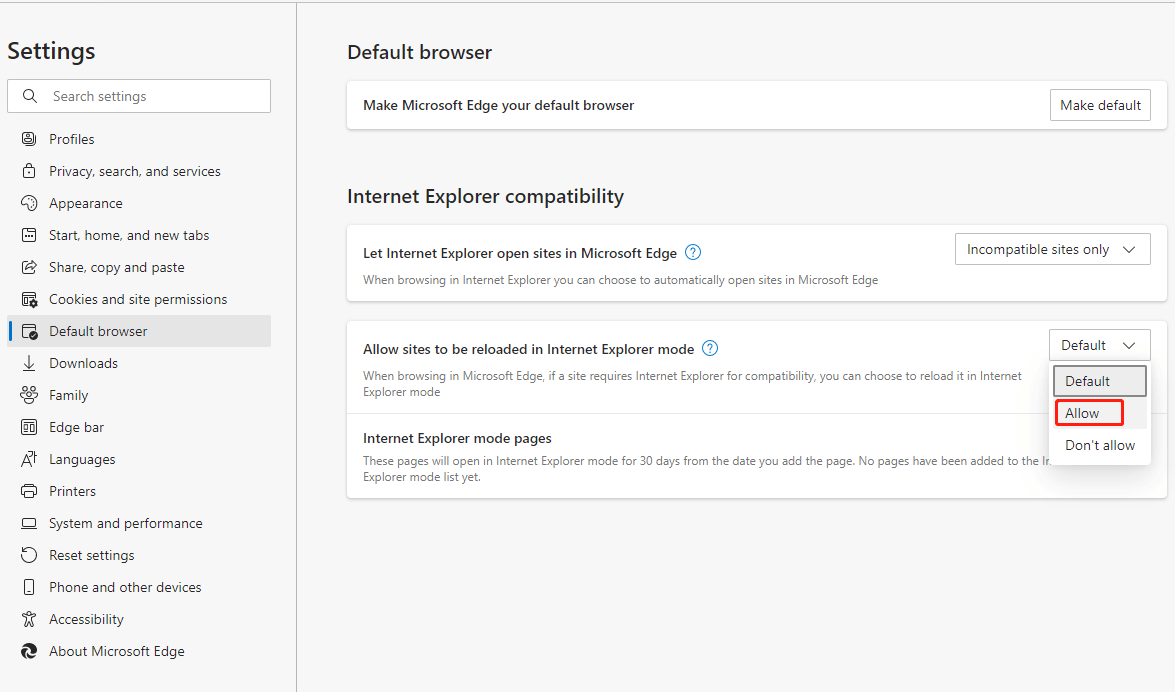 3. It will ask for a restart to save the changes. Just click on the Restart

Then, your Edge explorer will restart itself and open with the compatible IE mode enabled.
How to Use IE Mode in Edge?
When you have successfully enabled the compatibility mode in the Edge browser, you can quickly and easily open a website in this mode.
1. Open the target website in Microsoft Edge normally. Here, we take minitool.om for example.
2. Then, right-click on the tab of the website and choose Reload tab in Internet Explorer mode.
3. A small window will pop up asking for opening the target page in IE mode. Just click the Done button to confirm.
Finally, the target site will reload like what it looks like in the IE browser.
How to Always Open a Website in Edge IE Mode?
If you prefer IE style to Edge style, you can choose to always open websites in Edge IE compatibility mode. To achieve that, just switch on Open this page in Internet Explorer mode next time and click Done when it pops up for your confirmation of opening a website in IE mode.
Then, you can see the target site is listed under Internet Explorer mode pages on the default browser settings page.

If you do not want to always open a website with Microsoft Edge IE mode anymore, just click the recycle bin icon of the target site to remove it from the list.
How to Exit Microsoft Edge Internet Explorer Mode?
It is also easy to abandon Edge in IE mode. Just right-click on the tab of the target website and click Exit tab from Internet Explorer mode.
If you just reload the target site from normal Edge mode to IE mode on Edge and you see a banner on the top of your page like below, you can click the Leave button to exit Internet Explorer mode for Edge.
Tip: If Edge Internet Explorer mode missing, you can try to solve this problem by resetting your Edge app in Windows Settings.
Windows 11 Assistant Software Recommended
The new and powerful Windows 11 will bring you many benefits. At the same time, it will also bring you some unexpected damages such as data loss. Thus, it is strongly recommended that you back up your crucial files before or after upgrading to Win11 with a robust and reliable program like MiniTool ShadowMaker, which will assist you to protect your increasing data automatically on schedules!
MiniTool ShadowMaker TrialClick to Download100%Clean & Safe
Also read: