The physical keyboards are used widely by users to type information to interact with your computer. In addition to it, there are also virtual keyboards which allow you to input characters without a single physical key. This post provided by MiniTool Solution teaches you how to enable and use the Windows 10 on screen keyboard when necessary.
There are different kinds of keyboards designed for users to type information into the computer. The physical keyboard plugged into the PC externally is the one used most commonly. But if your external keyboard is broken or you don't want to use it to type, you should turn to virtual keyboard; it is actually a software component that allows you to input characters and words into the computer. There is also touch keyboard in Windows 10 used for typing on touch devices, or even typing with a mouse.
Tip: If you are worrying about the drive/data security on computer, please download the recovery tool below to be well prepared.
MiniTool Power Data Recovery TrialClick to Download100%Clean & Safe
How to Enable Windows 10 on Screen Keyboard
What I want to introduce is the on screen keyboard Windows 10 (other systems, like Windows 7 and Windows 8 also has this built-in Ease of Access tool). The On-Screen Keyboard (OSK) is provided by Microsoft to help users with typing when the physical keyboard is not working. If you don't know how to enable/access/use the Windows 10 on screen keyboard, please read the methods below. After that, I'll show you how to fix when this virtual keyboard Windows 10 is not working.

What are the functions of the function keys on the keyboard?
Option 1: Use on Screen Keyboard Shortcut
How to get on screen keyboard Windows 10? The easiest way is to use keyboard shortcut; please press Windows + Ctrl + O simultaneously to enable the on screen keyboard.
If you want to disable it, you can either click on the close button or press Windows + Ctrl + O again.
Option 2: Open OSK via Settings
Find a way to open Settings on your Windows 10 (for instance, press Windows + I).
Select Ease of Access from the list.
Scroll down in the left pane to locate Interaction and select Keyboard under it.
Toggle the switch under Use the On-Screen Keyboard to On.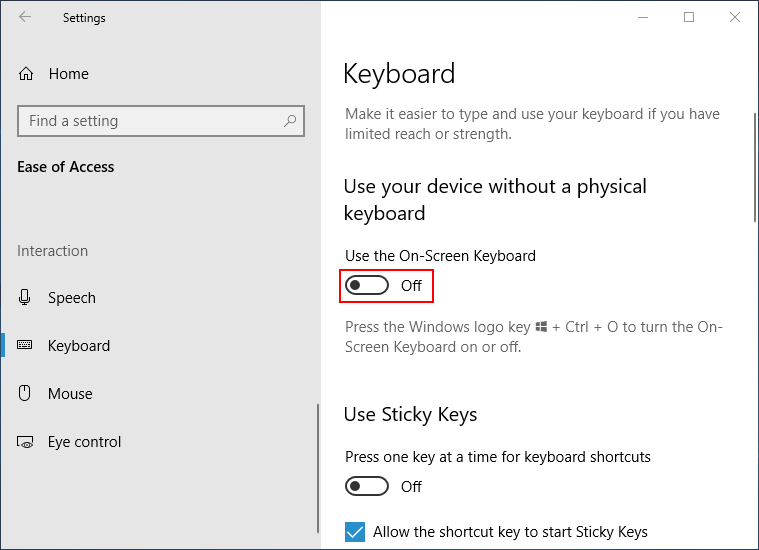 Option 3: Start OSK in Control Panel
Find a way to open the Control Panel on your PC.
Select Ease of Access.
Select Ease of Access Center.
Click on the Start On-Screen Keyboard option.
Close the Ease of Access Center if you want.
Option 4: Enable OSK from Start Menu
Click on the Start button (with Windows logo) in the lower left corner (you can also press the Windows key on keyboard).
Scroll down to find Windows Ease of Access folder.
Expand the folder and click On-Screen Keyboard.
Option 5: Open OSK through Windows Search
Open Windows search by pressing Windows + S.
Type osk into the text box.
Select On-Screen Keyboard under Best match or hit Enter directly.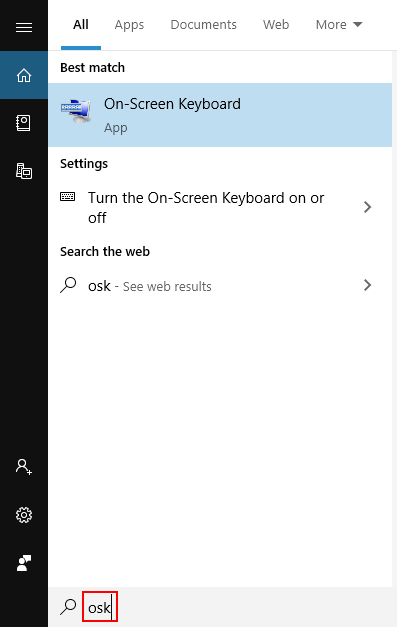 Option 6: Start OSK by Using Run
Press Windows + R to open Run.
Type osk into the textbox.
Click OK or press Enter.
Option 7: Enable OSK via Command Prompt Tool
Open Windows search.
Type cmd into the search box.
Select Command Prompt or hit Enter.
Type osk and hit Enter.
Close the CMD tool.
How To Recover Files Using CMD: Ultimate User Guide.
Option 8: Get OSK via Registry Editor
Open Run.
Type regedit and click OK.
Navigate to Computer\HKEY_LOCAL_MACHINE\SOFTWARE\Microsoft\Windows\CurrentVersion\Authentication\LogonUI.
Double click on ShowTabletKeyboard.
Change the Value data from 0 to 1 to enable Windows 10 on screen keyboard.
Click OK to confirm.
That's all about how to get on screen keyboard.
Fix Touch Keyboard Not Working
If you find the on screen keyboard on your Windows 10 is not working (not starting/appearing/typing), you should try the following methods.
Disable & re-enable OSK.
Change Typing settings.
Create a new user account.
Check the Touch Keyboard and Handwriting Panel service.
Etc.