Have you seen the event ID 1000 application error in the Event Viewer log when an app crashes in Windows 10/8/7? If yes, you come to the right place. Here are five methods that are offered by MiniTool you can try to fix the app error easily and effectively.
Event 1000, Application Error
Sometimes your Windows app crashes all of a sudden. When you go to the Event Viewer log, you can see one error code and the common one is the event 1000 application error. Let's see the following figure! You see the Event ID is 1000. This means you cannot launch this program properly or software may close unexpectedly.
The event ID 1000 app error may occur due to several reasons, including corrupted system files, badly installed .NET Framework, etc. Now, it is time to address the problem. All the solutions are applied to Windows 10/8/7.
How to Fix Event ID 1000 on Windows 10/8/7
Run a System File Checker Scan
Before you try anything else, you should first ensure your Windows is indeed complete and no discrepancies exist. In many cases, if Windows system files are missing or corrupted, your computer won't work as expected or runs into some unexpected errors like the Windows event ID 1000 error.
So you should run a System File Checker scan and see if this Windows utility scans and repairs any damaged file. Here is how to use the tool in Windows 10/8/7:
Input cmd in the search bar and right-click Command Prompt to run this tool with administrative rights.
Type sfc /scannow and press Enter.
The verification process will take some time and you should exist Command Prompt until it reaches 100%.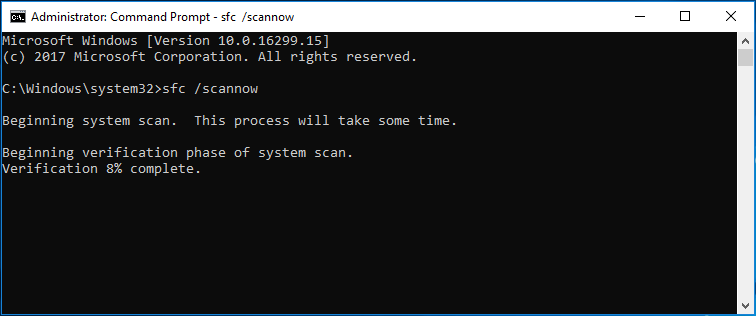 Tip:
Sometimes you may fail to run a
sfc scan
with an error message saying "Windows resource protection could not perform the requested operation" or "Windows resource protection could not start the repair service". To get the solutions, refer to this post -
Quickly Fix SFC Scannow Not Working (Focus on 2 Cases)
.
Reinstall the Program
If you get the event ID 1000 error, perhaps the program itself goes wrong. So you can try uninstalling and installing it again to troubleshoot your issue.
1. Open Control Panel in Windows 10/8/7 and list all the items by large icons.
2. Click the Programs and Features link to the app list.
3. Right-click on the problematic program and choose Uninstall to remove it.
4. Restart your PC, get the latest version of this program and install it on your computer again. Try opening it to see if the error appears.
Scan for Malware for Windows 10/8/7
Malicious software, spyware, viruses, and ransomware on your computer can also give rise to application error 1000. So, you can run antivirus or anti-malware program to scan your PC and remove viruses and malicious software.
Malwarebytes, McAfee, Norton, etc. can be a professional virus or malware removal. Just download one of them from its official website to have a scan.
Reinstall .NET Framework
For numerous programs, they need .NET Framework, otherwise, they cannot operate smoothly. If the Framework is badly installed or gets damaged, the event ID 1000 error may appear in the event logs.
1. Press Win + R to launch the Run tool.
2. Input appwiz.cpl and click OK.
3. Click Turn Windows features on or off.
4. Expand the contents of the .NET Framework and deselect all the entries.
5. Use a .NET Framework cleanup tool to remove this feature.
6. Restart your PC.
7. Get the latest version of the .NET Framework and install it to your computer again.
Update Windows
Windows operating systems may get into a bugged state and some services & modules don't work properly. To fix the event ID 1000 application error, you can try upgrading Windows to the latest build.
Take Windows 10 as an example:
Go to Start > Settings > Update & Security.
Click Check for updates.
Then, Windows will check for available updates and download them. After that, restart your PC to finish the installation.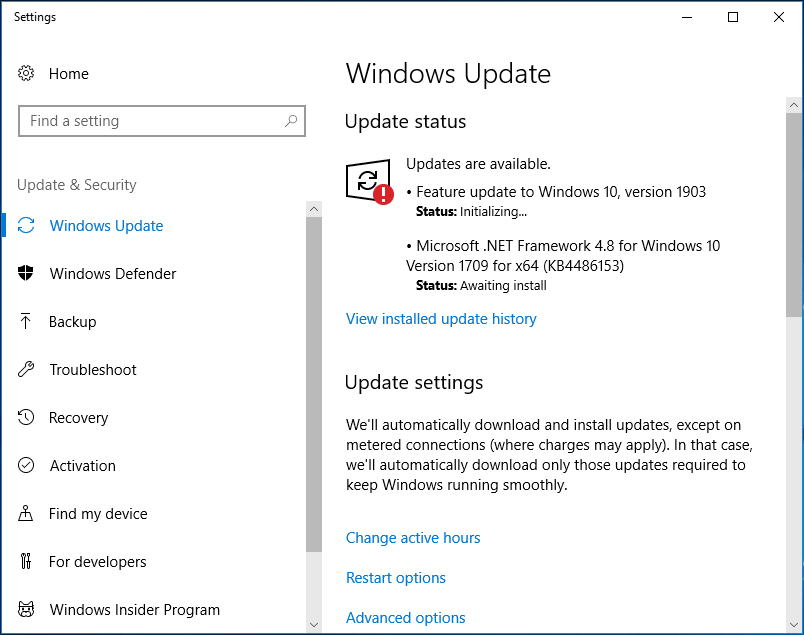 Perform a Clean Boot
Some services may conflict with some applications; as a result, event ID 1000 appears. To fix this issue, you can perform a Clean Boot.
Input msconfig to the Run dialog box and press Enter.
Click Selective Startup and uncheck Load startup items.
Under the Services tab, click the Hide all Microsoft services option and choose Disable all.
Click OK and restart your PC.
The End
Have you experienced the event ID 1000 application error when an application crash in Windows 10/8/7? Now, almost all the possible methods are here. Just try them to fix Windows event ID 1000 and let your program run properly.