Summary :
Facebook is a wonderful social networking platform with many features and services, so it appeals to large amount of users around the world. People are allowed to upload images, create profiles, and send messages to stay in touch with their friends, colleagues, and family members. However, users reported the hardware access error while they are trying to make a video call.
According to the statistics in the first quarter of 2020, there are over 2.6 billion active Facebook users monthly. Definitely, Facebook is one of the biggest social network platforms worldwide at present. You can learn what others are up to, read news, and keep in touch with your acquaintance easily with a Facebook account. What's more, the hardware support capabilities including camera and microphone in Windows 10 allow you to make video calls or record videos.
To keep good control of your Windows 10 system & data inside, you need MiniTool software.
Hardware Access Error Facebook
Facebook errors trouble many users and Hardware access error Facebook is reported when they try to make a video call.
For the past week, I've been getting this pop up when I want to make a Messenger video call. Been using this for over a year without a glitch. Both camera and mic work fine with Skype and Zoom but not with Messenger. Checked all settings in FB and Google Chrome to make sure mic and webcam are 'allowed'. Tried a couple of troubleshooting YouTube vids. Even did a whole recovery process, going through the pain of reinstalling apps...ugh..., with no results. The only thing I remember that may - or may not- be related is that I connected my laptop (where I use Messenger) to my Samsung bluetooth speaker. After that, Messenger video calls went kapout!!! Please HEEEEEEEELP!!!!

- according to MCLessard on the internet
You'll encounter the Facebook hardware access error while trying to make a video call in Google Chrome or Messenger.
An Error occurred when trying to get access to Camera and/or Microphone.
Hardware Access Error.
To make a call, you need to turn your camera and microphone on. This will let people see and hear you during the call.
You can turn these off later. Learn more
There's also a prompt in the upper right corner saying that:
You'll need to allow microphone and camera access for video chats.
Allow Camera and Microphone Access
Three main causes of this Facebook error are: not enough permissions, conflicting applications/devices, and outdated system drivers. How to fix the Hardware Access Error? Please keep reading, I will show you how to fix the problem in Chrome.
You may see the error message – you need permission to perform this action – when copy/move/rename/delete files & folder.
Reset Permissions
Navigate to the address bar of Chrome.
Click on the padlock icon in front of the URL.
Choose Site settings from the drop-down menu.
Look for the Permissions section and click on the Reset permissions button.
If this doesn't work, please use Facebook via another browser.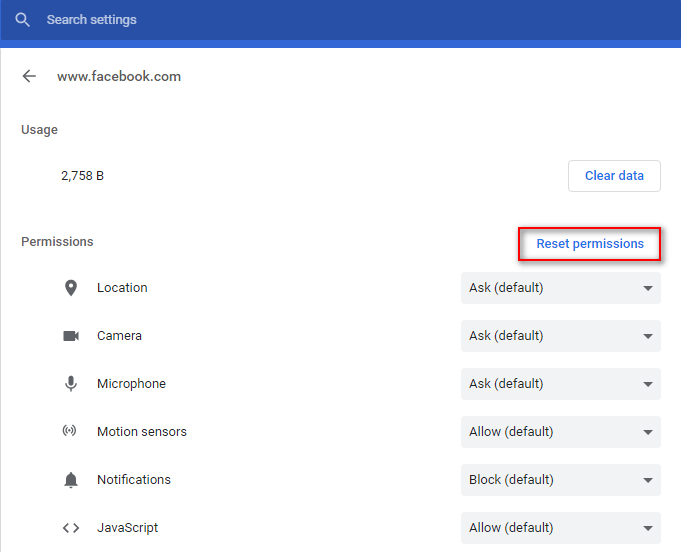 How To Recover Deleted History On Google Chrome - Ultimate Guide!
Allow Access to Camera & Microphone
Change camera privacy settings:
Press Windows + S to open Windows search.
Type camera privacy settings into the textbox.
Press Enter on your keyboard or choose Camera privacy settings from the result.
Look at the Allow access to the camera on this device section in the right pane.
Check the status of camera access.
If it says Camera access for this device is off, you should click on the Change button below.
Toggle the switch to On in the pop-up window.
Look at the Allow apps to access your camera section below.
Also, you need to toggle the switch to On.
Look at the Choose which apps can access your camera section.
Scroll down to find the app on which the error appears and toggle the switch to On.
Go to the Allow desktop apps to access your camera part and toggle the switch under it to On. (This step can be skipped if you can't find corresponding part).
Change microphone privacy settings:
Open Windows search box.
Type microphone privacy settings and hit Enter.
Look at the Allow access to the microphone on this device section in the right pane.
Click Change under Microphone access for this device is off.
Toggle the switch in the pop-up window to On.
Toggle the switch under Allow apps to access your microphone to On.
Go to Choose which apps can access your microphone and toggle the certain switch to On.
Move to the Allow desktop apps to access your microphone section and toggle the switch to On.
Other fixes you can try:
Update Windows system and the drivers to latest versions.
Reinstall/uninstall programs and devices that have conflict with Facebook.
Create an EnableFrameServerMode Key in Registry Editor.
Use Facebook Messenger instead.