Far Cry 6 crashing after upgrade, on startup or launch is a common issue, which makes you very annoyed. If you run into the crashing issue when playing this game on a PC, PS4/PS5, or Xbox One, what should you do? You can find many useful solutions from this post given by MiniTool Solution.
Far Cry 6 Crashing on Launch/Startup, after Upgrade or When Opening Map
Far Cry 6, a successor to 2018's Far Cry 5, developed by Ubisoft Toronto and published by Ubisoft, is an action-adventure first-person shooter game. It is popular with many players and it can be used on many platforms including PC, PS4/PS5, Xbox One, and more. Currently, it can only be bought from two digital distribution platforms – Ubisoft Connect and the Epic Games Store.
For games, game crashing, screen tearing, black screen, lag, and stuttering are very common. Far Cry 6 is not an exception but it is in relatively good condition. Still, many users complain about Far Cry 6 crashing for no reason. Specifically, Far Cray 6 keeps freezing/crashing on a PS5/PS4, Xbox One, or PC. When launching this game, when opening map or after upgrade, this game crashes.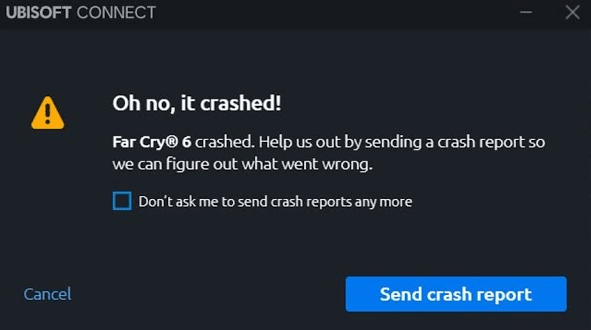 If you are having a crashing issue, don't worry and you can find some effective solutions from the following part. Depending on different game platforms, the methods are also different, and let's go to see how to fix Far Cry 6 crashing.
Fixes – Far Cry 6 Keeps Crashing Xbox One, PS4/5, PC
How to Fix Far Cry 6 Crashing on PC
Method 1: Verify Game Files
One of the common fixes is to verify the game files, which can repair corrupt files that lead to the crashing problem. The verification method varies from the different launchers.
Ubisoft Connect
Launch Ubisoft Connect on your PC.
Go to Games and click on Far Cry 6.
Click Properties from the left side and choose Verify files in the Local files section on the right side.
Epic Games
Launch this app and go to Library.
Put the mouse pointer on Far Cry 6 and click the Settings
Click Verify.
Method 2: Run as an Administrator
If you cannot run this game properly, perhaps it lacks administrative privilege. To make sure this won't lead to Far Cry 6 crashing, run this game and the game launcher as an administrator.
Step 1: Right-click on the game and choose Properties.
Step 2: Go to the Compatibility tab and check the box of Run this program as an administrator.
Step 3: Click Apply > OK.
Do the same thing for your game launcher – Ubisoft Connect and Epic Games.
Method 3: Turn off Ubisoft Connect Overlay
This is proved to be helpful to fix Far Cry 6 crashing. Just launch this game launcher, go to Settings, click General, and uncheck the box of Enable in-game overlay for supported games. Also, you can untick Display FPS counter in game.
Method 4: Upgrade Your GPU Driver
A faulty or outdated GPU driver can be the reason for Far Cry 6 crashing on startup/launch, after upgrade, or when opening map. While playing this game, you may get constant game crashes. To fix the issue, upgrade your graphics card driver to the latest version. To do this work, you can follow the methods in this post – How to Update Graphics Card Drivers (NVIDIA/AMD/Intel).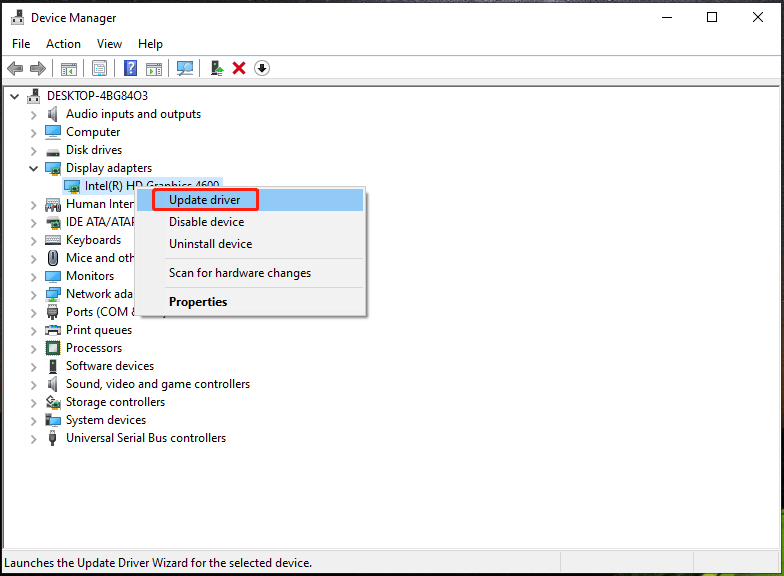 Method 5: Reinstall the Game
According to users, reinstalling Far Cry 6 is a useful solution and you can also have a try if it still crashes after trying these methods above. Just go to Control Panel and click Uninstall a program. Then, right-click this game and choose Uninstall. Alternatively, you can uninstall this game via the game launcher. Next, go to download this game and reinstall it on your PC.
In addition, there are some other troubleshooting tips you can try, for example, set an FPS limit, update DirectX, disable overlay apps, perform a clean boot, disable unnecessary background tasks, and more. To know details about these tips, you can search for them on the Internet.
Related article: A Simple Guide to Fix Far Cry 5 Crashing on PC
How to Fix Far Cry 6 Crashing PS4/PS5 or Xbox One
If Far Cry 6 keeps freezing or crashing on other platforms like PS4/PS5 or Xbox One, how can you fix the issue? See these fixes below.
Make sure there is a good Internet connection to run Far Cry 6
Put your game console in a cool place to avoid overheating or system crashing
Check for Far Cry 6 and system updates since old game patch versions can have compatibility issues or multiple bugs
Hard reset the game console
Clear Far Cry 6 game data on PS4/PS5 or Xbox One
For the detailed information about each fix, the steps are easy. If you don't know them, you can find details online.
Final Words
After reading this post, you know how to fix Far Cry 6 crashing on PC, Xbox One, or PS4/PS5. Just try the ways above to easily get rid of the trouble. Hope this article can help you.