This article outlined by MiniTool directly teaches you how to see old Facebook posts, how to remove old Facebook posts, and how to hide old posts on Facebook. And, there are at least two methods for each topic, so you can choose one that you prefer!
Generally, you can find your old posts on Facebook by scrolling down on your profile page. To find other people's old posts, just go to their profile page and scroll down in the left section. Yet, how to quickly find the specific old Facebook posts? Please refer to the solutions below.
How to Find Old Posts on Facebook from Timeline?
To find Facebook old posts, you can rely on its timeline.
1. Go to https://www.facebook.com/ or open your Facebook app.
2. Sign in to your Facebook account and go to your profile page.
3. Click on the More (three dots) option next to the Edit profile button and select Search Profile.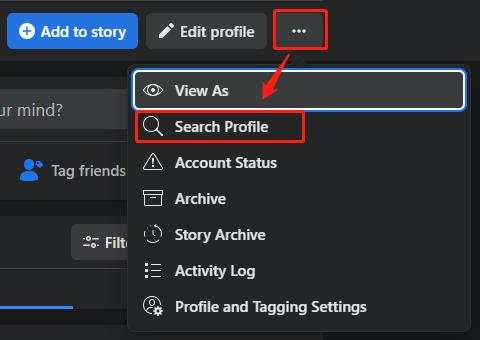 4. In the new popup, type the keyword of the old posts you want to find into the search column and press the Enter key on your keyboard.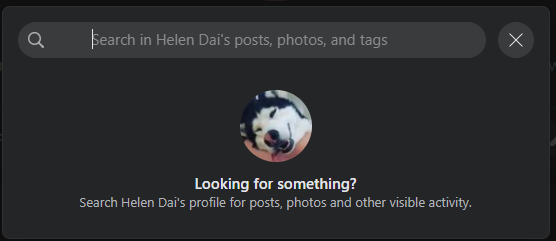 This will only search your old Facebook posts, photos, tags, and other visible activity. In the search result, you can filter the old posts by you've seen posts, recent posts, tagged location, and date posted. For filtering old posts by posted date, you can select the matching posts of a certain year.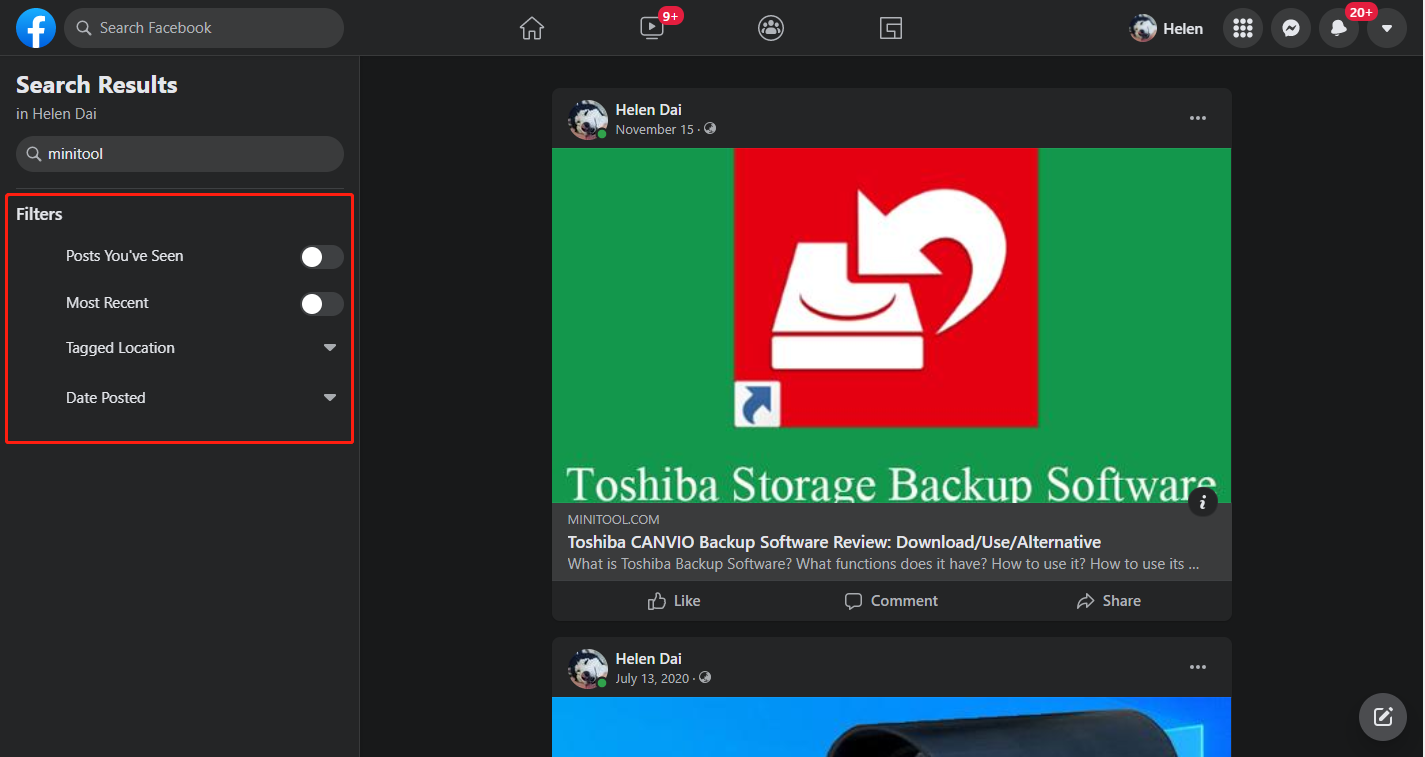 You can also have a brief view of all your old posts by clicking More > Activity Log and selecting Your Posts in the left panel.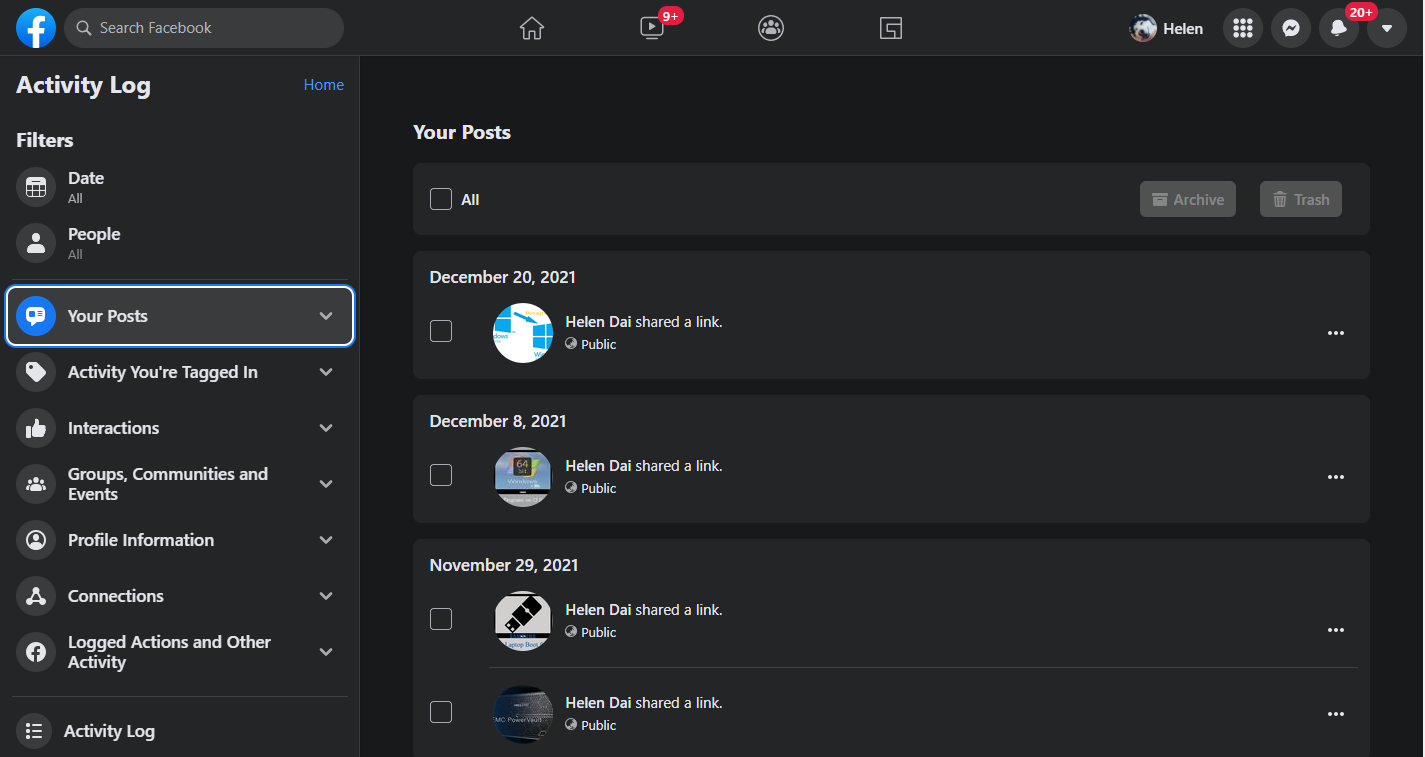 How to Find an Old Post on Facebook?
There is another way that can help you find your old posts.
1. On your profile page, click on the Filters button at the top of your timeline.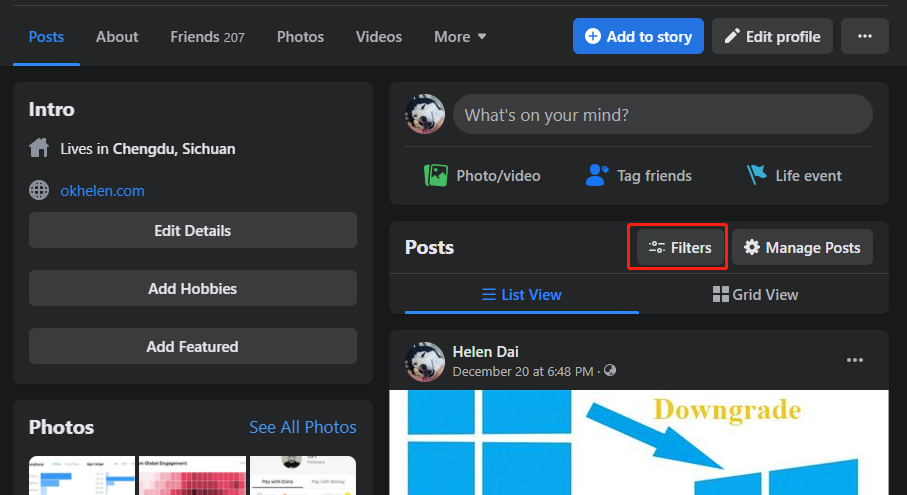 2. In the popup, you can select out your old posts by year; posted by anyone, by you, or by others; all the posts, public posts, posts only seen by your friends, or posts only seen by you; or only posts tagged by you.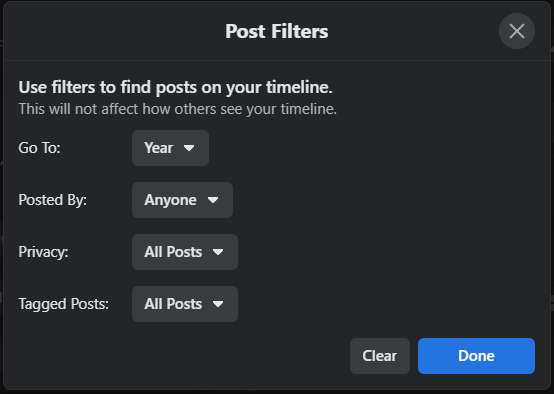 3. Finally, click Done.
Tip: If you click the Clear button, it will delete the old posts on Facebook filtered out.
How to Find Someone's Old Posts on Facebook?
The following steps help you find not only your old posts but also old posts from others.
Go to https://www.facebook.com/ and sign in to your Facebook account.
Input the keywords of the old posts that you would like to find into the search bar on the top of the page.
Hit Enter on your keyboard and it will list all the matching results including posts, people, photos, videos, marketplace, pages, places, groups, and events.
Select Posts on the left menu of the search result page and you will see all the old posts related to your search topic.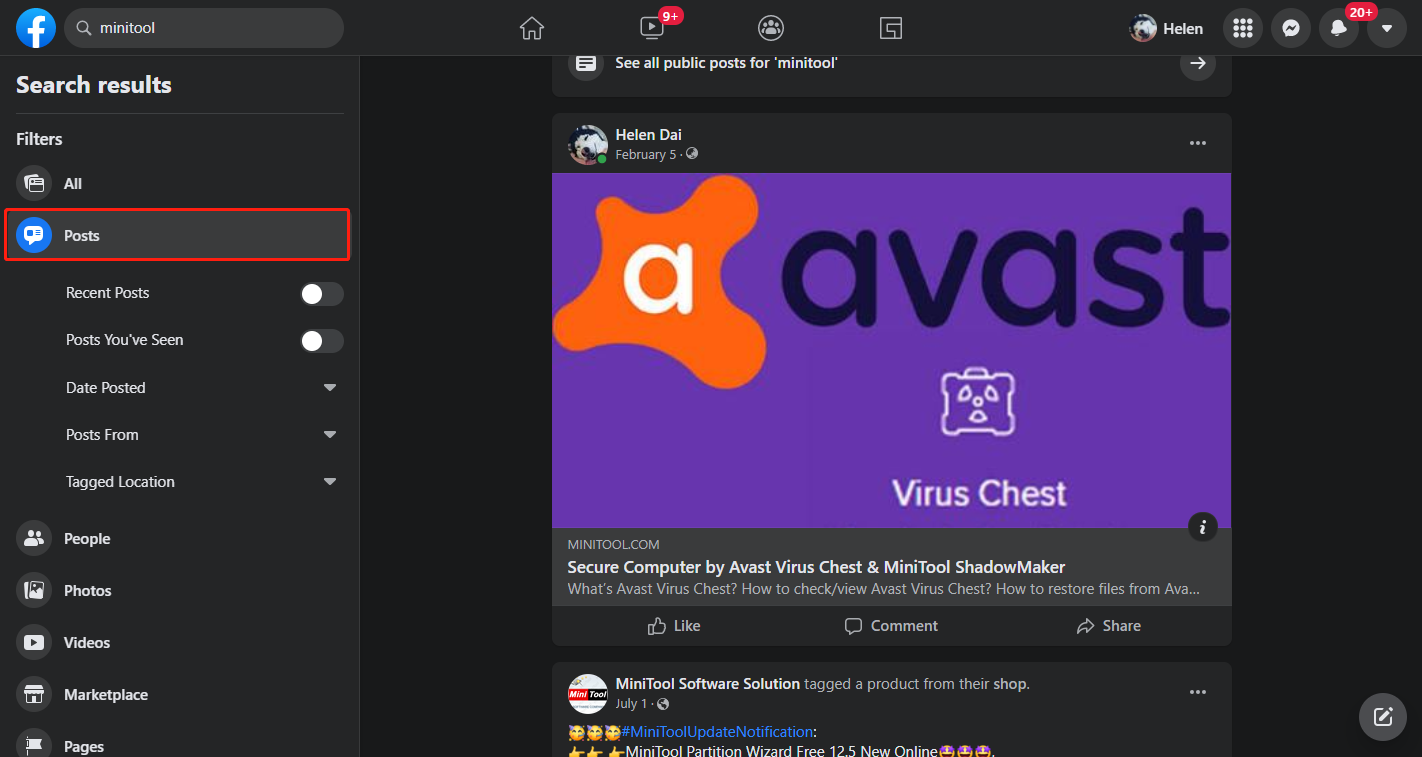 You can filter those results by recent posts, posts you've seen, posted date, poster, as well as tagged location. As for filtering results by its posters, you can choose to see the posts posted by yourself, your friends, your groups and pages, or the public. In this way, you can find someone's old posts on Facebook.
How to Delete Old Facebook Posts in Mass?
In general, there are two methods to remove multiple old Facebook posts.
#1 How to Delete All Old Facebook Posts in One Time?
Navigate to the Activity Log page on Facebook follow the steps in the above content and select Your Posts. Wait until it is fully loaded. Scroll down to the end of your timeline in the right area to load all your posts. Finally, go back to the top, tick the checkbox before All, and clear the Trash button on the right side.
#2 How to Delete Old Facebook Posts in Bulk?
To delete more than one old post on Facebook, just follow the guide below.
1. On your profile page, click on the Manage posts button at the start of your timeline.
2. In the new window, you will see all your old posts ordered by time and grouped by month.
3. You can select specific old posts by checking the checkbox on the top-right of each post. Or, if you decide to delete all the posts within a specific month, just click on the Select All option for the month.
4. Finally, click the Clear button to delete all the posts you choose.
How to Hide Old Posts Facebook?
There is more than one way to hide old Facebook posts!
Way 1. Hide a Specific Old Post from Facebook Timeline
In your timeline, find the old post that you want to hide from others, click on the tree-dot icon and select Edit audience. Then, in the popup, select the audience for this post, all your friends, some of your friends, or only yourself.
Way 2. Hide All Old Posts from Privacy Settings
You can hide your past posts in batch from your privacy settings.
1. Click Account (the inverted triangle in the top right of the page) and select Settings & privacy > Settings.
2. In the Settings page, select Privacy in the left menu.
3. In the right section, in the Your Activity section, click on the Limit Past Posts option.
4. Next, click on the new Limit Past Posts.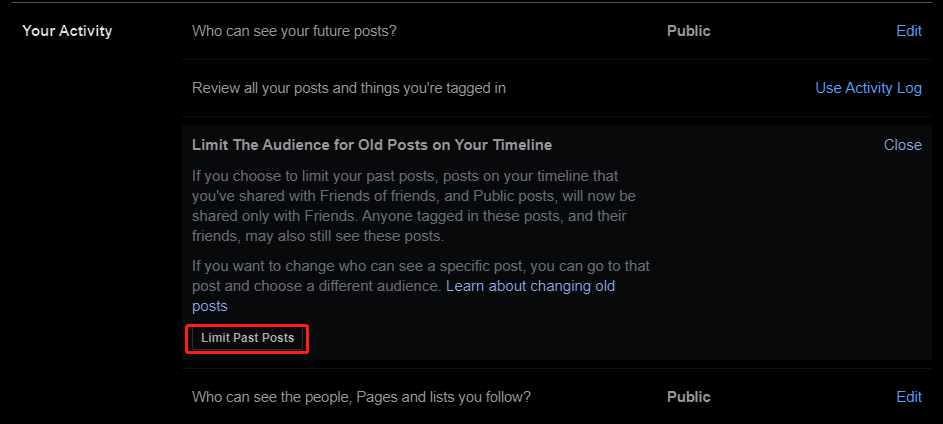 5. Confirm the operation by clicking on the Limit Past Posts button. 

Now, hope you have learned how to find, delete, or hide old posts on Facebook!
Also read: