On Windows 11, you can use the new File LockSmith feature to see which progress is using the file you want to delete or transfer. This MiniTool post shows you how to see what's using this file on Windows 11 via this new feature.
What Is Using This File?
When you want to delete a file on Windows 10/11, you may receive an error message saying File In Use / Folder In Use, the action can't be completed because the folder or a file in it is open in another program. But you are sure you have closed that file and you don't know which program is still using that file.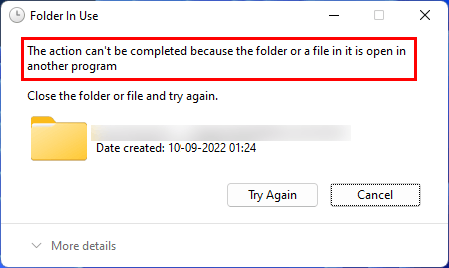 Now, Windows 11 gets a new feature via Microsoft's PowerToys. This new feature is called File LockSmith.
What Is File Locksmith?
File LockSmith is a Windows shell extension that allows you to check which files are in use and by which processes. By doing this, you can find the program that is preventing you from deleting or moving the file and end the task in Task Manager. In detail, you can use PowerToys File Locksmith to scan all running processes and check which files they are using.
How to Find out Which Process Is Using This File on Windows 11 Using File LockSmith?
The File LockSmith feature is still in test. It is included in Microsoft's PowerToys. You need to download and install the latest version of PowerToys on your device. Then, you can experience the File Locksmith feature.
Move 1: Download and Install PowerToys
Step 1: Go to the release page for PowerToys.
Step 2: The newest version is released on the top. You need to scroll down to the Assets section. Select a proper .exe file to download. If you are using a Windows 11 arm-based PC, you need to click the PowerToysSetup-0.**.*-arm64.exe download link. If not, you need to select PowerToysSetup-0.**.*-x64.exe instead to download PowerToys on your device.
Step 3: After downloading the PowerToys setup file, you can open it and install PowerToys on your device.
Move 2: Check What's Using This File
When the installation ends, the File LockSmith feature will be available in File Explorer. You can right-click a file in File Explorer and select Show more options, then you can see the What's using this file option from the context menu.
Click What's using this file? and the File Locksmith window will pop up. On that window, you can see which program is using that file. If you want to end the task, you can click the End task button. This function works like End task in Task Manager.
Other Ways to See What Is Using the File on Windows 11
If your computer doesn't support this feature, you can use another way to see which program is using the file. For example, you can use Resource Monitor or Windows Command Prompt or PowerShell.
You can find these two methods in this post: How to Know Which Process Is Using a File on Windows 11?
How to Recover Accidentally Deleted Data on Windows 11?
If you accidentally delete your files and want to get them back, you can try MiniTool Power Data Recovery. This is a professional data recovery software that can work on all versions of Windows.
As long as your deleted files are not overwritten by new data, you can try this software to get them back.
Bottom Line
This is the information about the new File Locksmith feature on Windows 11. With this feature, you can find out which program is using the file you want to remove. Should you have other related issues, you can let us know in the comments.