Google Chrome and Firefox are two popular browsers used by many people nowadays. Firefox vs Chrome, which browser to choose for internet browsing?
This post gives a side-by-side comparison of Firefox and Chrome browsers. Chrome vs Firefox, is Firefox better than Chrome or not? Check the detailed analysis below.
Firefox vs Chrome – Design and Interface
Mozilla Firefox and Google Chrome have a similar design, both simple, clean, and tidy. Both browsers let you easily manage tabs, bookmarks, and search things online. Firefox has some key differences when compared to Google Chrome.
Firefox has a larger Back button.
Firefox browser has a horizontal scrolling feature. When you zoom out the screen of a web page, you can navigate the full page by dragging the horizontal scrolling bar. On the other hand, Google Chrome doesn't have this feature. If you zoom the webpage and exceed the edge of the screen, you have to zoom in the page to view the entire webpage.
However, most people find it more comfortable to interact with Chrome browser. Google Chrome has a larger market share than Firefox at present.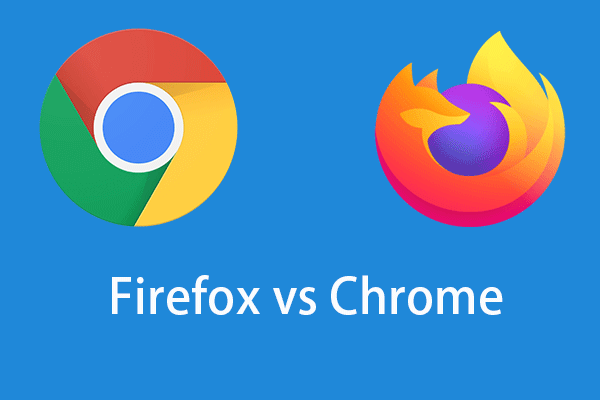 Chrome vs Firefox – RAM Usage, Speed and Performance
Google Chrome uses much RAM when running. If you open many tabs, it will consume huge system RAM, and Chrome may load slowly or even freeze. In this aspect, Firefox performs better in RAM consumption and load management.
In general, both Firefox and Chrome deliver good web browsing speed and performance. Firefox provides a faster response for multi-task.
Firefox vs Google Chrome – Privacy and Security
When browsing online, privacy and security protection is another concern. Firefox provides good security protection. Google Chrome has all the encryption tech of Firefox. Besides, Chrome is frequently updated by Google to make sure users have safe and secure browsing on the internet.
What's more, Google Chrome's insecure connection waring feature pops up when users try to open a connection that is not secure. Therefore, in regards to security, Google Chrome can do a better job.
Chrome vs Firefox – Add-ons and Extensions
We can install many useful extensions to Chrome or Firefox browser to make web browsing easier and improve the browser experience. Firefox and Google Chrome both have extension stores.
Mozilla Firefox reviews the extensions carefully before it adds them to its add-ons store. On the contrary, it's easier to add an application to the Chrome extension store.
As for the extension support, Chrome and Firefox both offer tons of extensions in their extension stores, but Chrome offers more functionality than Firefox.
To Sum Up
Firefox vs Chrome, which is the best browser in 2023? It's hard to say. You can choose either one based on your preference. Both of them can provide you good online browsing experience.
MiniTool Software, a top software developer, has released several popular programs. To recover deleted or lost files from computer and external drives like USB, its free data recovery tool MiniTool Power Data Recovery does this task with ease.