Why can't I sign into my Google Account?
If you are unable to sign into your Google Account, you can check the possible causes for this issue and how to fix can't sign into Google Account error.
Tip 1. Clear the Chrome Browser Caches
After you open Chrome browser, you can press Ctrl + Shift + Delete hotkey to open Clear browsing data window.
Next you can click Advanced Select All time in Time range.
Check Cached images and files, Cookies and other site data
Click Clear data button to clear Chrome browser caches.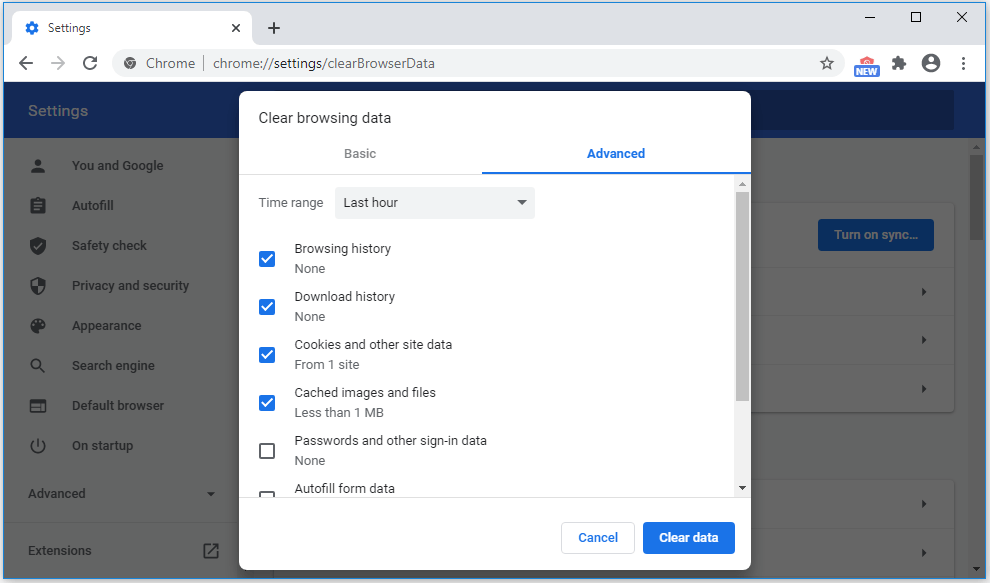 Tip 2. Reset Chrome Browser Settings
In Chrome browser, you can click the three-dot icon at the upper-right corner to open Google browser settings window.
Next you can click Advanced and click Reset and clean up in the left pane.
Click Restore settings to their original defaults option to reset Chrome settings. After that, you can if you can sign into your Google Account.
Tip 3. Refresh, Update, or Reinstall Google Chrome
If you know your username and password, but you can't sign in to your Google Account, you can refresh the Google Chrome browser and try to log in again.
You can also update Chrome to the latest version or reinstall Chrome browser to have a try again.
However, if you get an error message when trying to log in, e.g. username or password is wrong, invalid or unrecognized, you should check your typo.
If you still can't sign into your Google Account or your account is hacked, then you can try to recover your Google account.
Tip 4. Recover Your Google Account
After you try the measures above, you are still unable to sign in to your Google Account, then you can follow the steps below to recover your account.
Go to Google Account recovery page in Chrome.
Enter your registered email or phone number, and click Next.
Follow the instructions to verify the account is yours.
Set a new password for your Google Account. You can create a strong password.
For more causes and solutions for "can't sign into Google Account" issue, you can check Google Account Help Center.
Bottom Line
If you can't sign into your Google Account, you can follow the tips above to try to fix this issue. If nothing helps, you may contact Google support.
MiniTool software provides many free tools for users. It has a free data recovery software named MiniTool Power Data Recovery. This tool can help you recover any deleted/lost files from PC, HDD, SSD, SD card, USB.
Another free disk partition manager named MiniTool Partition Wizard allows you to easily manage your hard drives, e.g. create/delete/extend/resize/format/wipe partitions, convert disk file system format, check and fix disk errors, and more.
To back up and restore Windows system, MiniTool ShadowMaker offers simple solutions.
To convert video or audio format for free, MiniTool Video Converter can easily do it.