According to users' feedback, the Chrome screen flickering occurs constantly when they are using the Chrome browser. What happened? How this issue is caused? And does is possible to fix the screen flickering on Windows 10 or other Windows systems? In the following content, I will answer these questions for you.
Developed by Google, Google Chrome is a cross-platform web browser. A large number of people all over the world like to use Google Chrome for searching information. Yet, like another other web browsers, Chrome is not perfect; issues happen now and then to affect the using of Google Chrome.
Find your browsing history in Google Chrome lost? Want to get it back? Please read this page carefully:
Google Chrome Screen Flickering on Windows
Recently, Chrome Screen Flickering issue is reported by most users. The issue must be fixed properly in order to gain better user experience. That's why I'm writing this; to teach you how to fix the problem when screen flickering in Chrome.
It is a fact that several users reported the screen flickering after they have upgraded to a recent Windows 10 build. What surprises them is that the problem only appeared in the Google Chrome after the update. Therefore, Windows update could be one of the most important reasons causing Chrome flickering/flashing. Other possible causes are: improper settings of Windows background and color, display drivers conflicts, etc.
Please be advised that you may also discover Google Chrome flickering Windows 7.
Sometimes, you'll find some files get lost from your computer after the Windows Update. At this time, you will be eager to find them back. This post tells you how to do:
Chrome Starts to Flicker/Flash When Opening
When you open Google Chrome on your computer for browsing a web page, you may find it become abnormal suddenly: flicker or flash. You can try to move the mouse over the scrollbars; it may stop and let you back at the top of the page. The situation becomes even more serious when you are playing videos on websites like YouTube.
How to Fix Screen Flickering Windows 10
It's reasonable you'll get panic when finding computer screen flickering after opening Google Chrome. You may have tried clearing cache and cookies of Chrome, resetting the settings of Chrome, using Chrome in Incognito mode, and even reinstalling this web browser. But the results are disappointing, right? Several ways to settle down the annoying flickering issue will be introduced one by one.
Change Background and Color
Open the Windows Settings app by pressing start + I buttons or other ways you like.
Find Personalization and click on it.
The Background option will be selected on the left side panel.
Find Background section on the right side panel.
Select Solid color from the drop-down menu under it.
Shift to Colors option on the left side panel.
Check Automatically pick an accent color from my background.
Close the Settings app and relaunch Google Chrome to have a try.
Update Graphics Drivers
Right click on the start button.
Choose Device Manager from the context menu.
Find Display adapters and expand it to see the graphics card details.
Right click on your graphics card and choose Update driver.
Choose Search automatically for updated driver software from the pop-up window.
Let Windows finish the rest work for you.
Please note that if you have more than one graphics card, you should repeat step 4 and step 5 to update drivers of them all.
Disable Smooth Scrolling
Open Google Chrome on your computer.
Type chrome://flags into the address bar and press Enter.
Scroll down to find the Smooth Scrolling flag (you can also press Ctrl + F and input Smooth Scrolling to find it directly).
Select Disabled from the drop-down menu of Smooth Scrolling.
The message Your changes will take effect the next time you relaunch Google Chrome will appear at the bottom.
Click on the RELAUNCH NOW button at the bottom right corner to see whether the flickering issue can be fixed.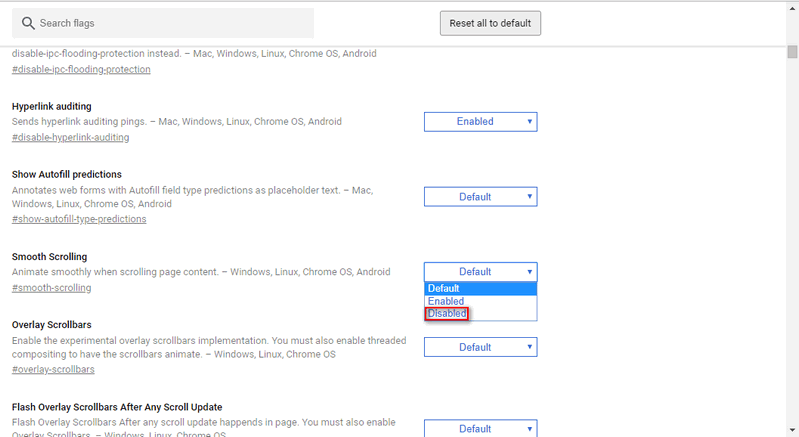 Turn Off Use Hardware Acceleration When Available
Open Google Chrome.
Click on the Customize and control Google Chrome at the upper right corner.
Choose Settings from the submenu.
Scroll down to the bottom and click Advanced.
Scroll down to find System section.
Turn off the toggle switch for Use hardware acceleration when available.
Click on the Relaunch button appeared just now to see whether Chrome screen flickering is solved.