Many users of Facebook said they can't receive notifications suddenly and don't know why. It's a terrible experience to lose Facebook notifications on computer and mobile devices. No update about your activity will be sent to you, so you can't use Facebook as a normal user. MiniTool Solution summarizes some useful solutions to help you troubleshoot Facebook notifications not working.
Facebook is a world-wide popular social media and social networking service that helps you keep contact and share information with your family members, friends, and classmates online in a very simple way. All the updates about your activity on Facebook will be sent via notifications: red alert notifications, email notifications, push notifications, etc.
Well, some users put forward a problem while they are using Facebook: Facebook notifications not working; they are not getting notifications on Facebook anymore. Missing out on Facebook notifications can be a very unpleasant experience. But you don't need to worry too much when that happens since there are several ways for you to troubleshoot Facebook no notifications on different devices.
Hardware Access Error Facebook: Can't Access Camera Or Microphone.
Two first things to try no matter what device you use Facebook on are restarting the device and updating Facebook to the latest version. If this didn't work, you should follow the methods below for fixing Facebook notifications not working.
Not Getting Facebook Notifications on Computer
If you're using Facebook on computer and can't receive new notifications, you should go to check whether the computer allows you to get notifications and whether the notifications feature is turned on in Facebook settings.
Tip: You'd better install a powerful data recovery tool on your computer to prevent important files from getting lost permanently. Please start to perform the data recovery process whenever your useful files are missing from PC.
MiniTool Power Data Recovery TrialClick to Download100%Clean & Safe
Check Computer Settings
Open Windows Settings by pressing Windows + I or using other ways.
Select System from the list.
Shit to Notifications & actions in the left pane.
Look at the Notifications section in the right pane.
Turn on the feature called Get notifications from apps and other senders.
Scroll down to check Show notifications on the lock screen and other options according to needs.
Check Facebook Settings
Open Facebook and log in with your account.
Click on the upside-down triangle at top right.
Select Settings & Privacy.
Select Settings.
Choose Notifications.
Decide what types of notifications you want to receive.
Facebook Notifications Not Loading Chrome
There are many Google Chrome Facebook problems you may meet: Facebook won't load on Chrome, Facebook games not loading in Chrome, not getting Facebook notifications, etc. Here, I'll focus on telling you how to fix the last issue.
Allow Facebook Notifications
Open Chrome.
Click on the Customize and control Google Chrome button at the top right.
Select Settings.
Click Privacy and security from the left pane.
Click Site Settings.
Scroll down to click Notifications under Permissions.
Check whether the https://www.facebook.com is included in the Block site list.
If yes, click on the three vertical dots button and select Allow.
How To Turn Off Google Chrome Notifications Windows 10?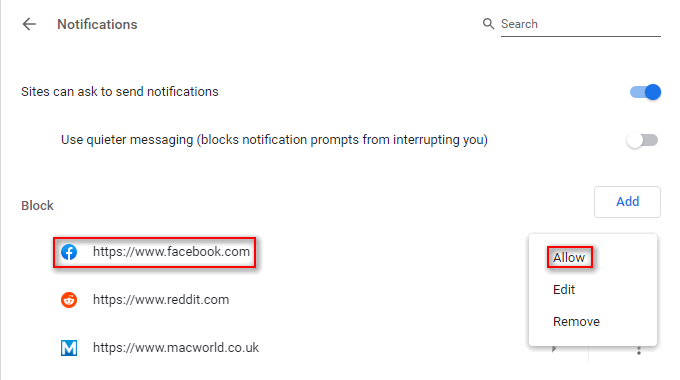 Log Out & Log In
Click on the upside-down triangle at top right.
Select Log Out.
Wait for a few seconds.
Type the correct Email/Phone Number and Password.
Click on the Log In button below.
Clear Cookies & Cache
Click on the Customize and control Google Chrome button at the top right.
Select Settings.
Type browsing data into the top search box.
Click Clear browsing data.
Shift to Advanced tab and select All time as the Time range.
Check Cookies and other site data and Cached images and files.
Click Clear data and wait.
How to recover history deleted by mistake on Chrome?
Besides, you should try to fix the problem by disabling/removing Chrome extensions. If all methods failed, you should try to open Facebook in another browser.
You should try these methods when finding your Facebook notifications not working Chrome. The solutions to fix Facebook notifications not showing issue in other browsers like Firefox and Edge are similar.
Facebook Notifications Not Working iPhone, iPad, Android Phone
On iPhone, iPad and iPod, turn on Allow Notifications for Facebook in Settings.
On Android phone, turn on Enable auto sync.
Turn off the do not disturb mode.
Check the notifications settings of Facebook.
Log out and then log in again.
Update the system.
Update the Facebook app.
Uninstall and reinstall Facebook app.
Reset your phone's settings.
If all methods failed, please contact the Facebook help & support to report a problem.