Summary :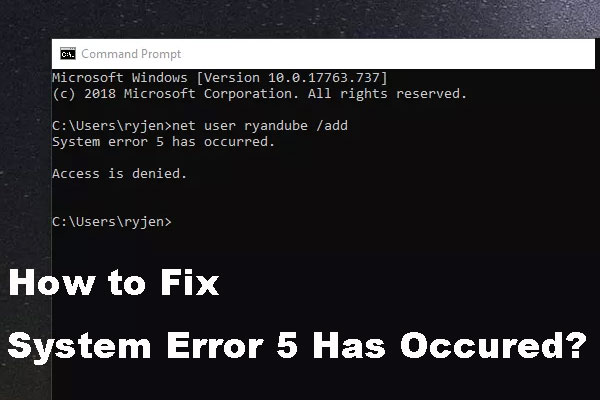 You may encounter system error 5 has occurred when using the Windows Command Prompt. This is not a very common error. But, it will prevent you from using Command prompt successfully. It is not a difficult problem. You can just know how to get rid of command prompt system error 5 quickly from this MiniTool post.
Are You Bothered by System Error 5?
At times, you need to run a command using Command Prompt on your Windows computer to fix some issues. However, you perhaps receive a message saying system error 5 has occurred.
When seeing this error, most of you should be confused because you don't know why this issue happens and how to get rid of it. Now, in this post, we will show you some useful information.
Reasons for System Error 5 Has Occurred
The command prompt system error 5 always happens when you need to run Command Prompt as Administrator but you don't do this. So, Command Prompt gives you a warning.
You rarely encounter this error because most of the command lines don't need to use the administrative right. When you see this error, you should not worry about it since it is very easy to solve this issue on Windows 10, Windows 8/8.1, and Windows 7.
How to Fix Command Prompt System Error 5?
Now, you know that you receive the system error 5 has occurred message because you don't run Command Prompt as Administrator. So, the way to get rid of system error 5 is to run Command Prompt as Administrator.
It is very easy to do this job. Here is a step-by-step guide:
1. Right-click on Start and go to Search.
2. Type cmd to the search box.
3. Right-click on the first search result and select Run as administrator.
4. If the User Access Control feature is enabled on your Windows, you will see it pops out with a message saying: Do you want to allow this app to make changes to your device? You need to click Yes to allow running Command Prompt.
5. Then, Command Prompt will be open with Administrator right. This time, you can type the command line to see whether the system error 5 is disappeared.
When using Windows Command Prompt, you may encounter some other kinds of issue like CHKDSK is not available for RAW drives. You can also search for your issue in the MiniTool official site to see whether you can find solutions.
How to Disable User Account Control?
You may think the User Account Control prompt is annoying. You can disable it to make your world quiet.
If you don't know how to do this work, you can follow these steps:
Right-click Start and then go to Search.
Type UAC into the search box.
Select the first search result.
You will access the User Account Control Settings Here, you need to move the slider down to Never notify.
Click OK to keep the change.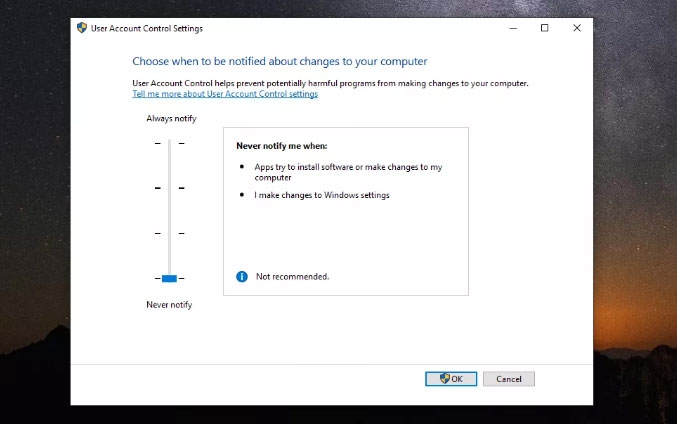 After this setting, you will not see the pop-up warning when you open Command Prompt to make some changes to your system.
However, unless you are absolutely certain, it is not suggested disabling UAC on your computer because it can effectively prevent you from doing something harmful changes to your computer.