If you are using Windows 10 on your computer, you may find a feature called Focus assist. If you don't want to be bothered by notifications while using Windows 10, you can use this feature to reduce distractions. In this post from MiniTool, let's see some information about this feature.
What Is Focus Assist Windows 10
Many of you may spend 3-6 hours on computer screens each day. Most of the time, you focus on social media where the constant stream of distractions across your devices makes it difficult to concentrate. To help you stay in the zone, Microsoft introduces Focus assist to you, starting with Windows 10 April 2018 Update. This feature was previously known as Quiet Hours.
Windows 10 Focus Assist is quite similar to a feature of a smartphone – Do not disturb. When you need to focus on your work or you want to avoid interruptions during playing an exciting game or a presentation, you can use this feature to minimize or completely stop notifications from apps, contacts, emails, messages, etc.
For many of you, you need to adjust the default settings a bit. In the following part, let's see a guide on how to access Focus assist and adjust its configuration settings so that it can run the way you want.
How to Enable or Disable Focus Assist Windows 10
There are three ways for you to enable or turn off Focus assist in Windows 10 – using Action Center (2 options) and using Windows Settings.
Use Action Center
Step 1: Click the Action Center icon from the taskbar notification area and you can see Focus assist. If you can't see it, expand all the tiles.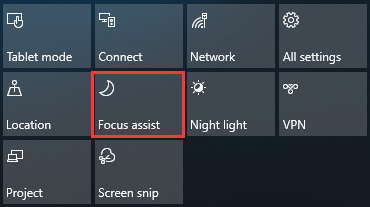 Step 2: When you click this section, it enables Priority only which means Windows will show only selected notifications from the priority list.
If you click the tile again, you see Alarms only which means Windows hides all notifications except for alarms.
If you click the section again, Focus assist is turned off.
Besides, you can also right-click the Action Center button to enable or disable or configure the settings.

Use Windows Settings
How to turn off Focus assist Windows 10 or enable this feature via Settings? Steps are these:
Step 1: Click Start > Settings > System.
Step 2: In the new window, click Focus assist and then you can choose one of these three options – Off, Priority only and Alarms only.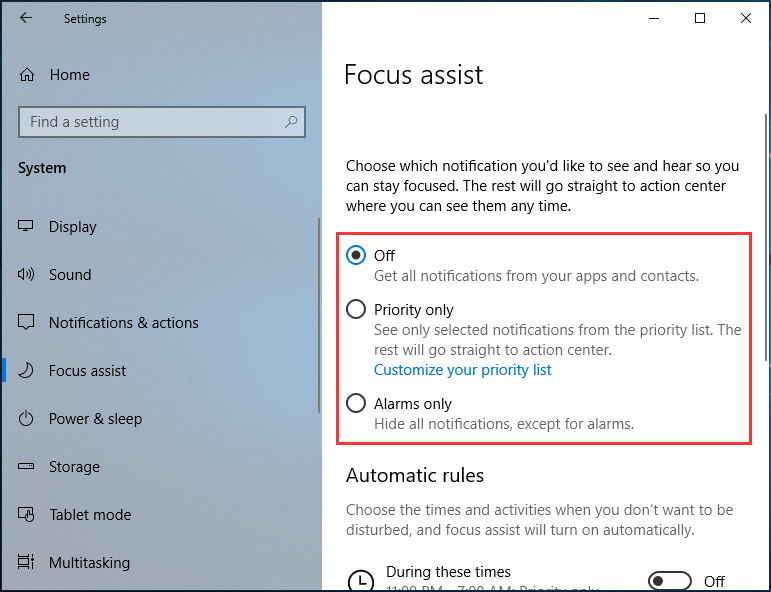 How to Set up Priority of Focus Assist Windows 10
In Settings, you can see the link Customize your priority list under the Priority only mode. When clicking it, you can decide which notifications are allowed.
In Calls, texts, and reminders, you can allow Windows to show incoming calls including VoIP and show reminders, regardless of app used.
In People, you can choose whether notifications from pinned contacts on taskbar should be shown or not. To allow a particular contact to show notifications, use Add contacts. In Apps, you can add desired apps to get notifications from them.
After completing the setting configurations, only the calls, apps, and people you have configured will show notifications.
Automatic Rules in Focus Assist Windows 10
In the Automatic rules section, you can see three options, as shown below. Now, let's see them in detail.
During these times
After clicking this section, you can choose when you want Focus assist to turn on. During the specific time range, you can let this feature automatically enabled. In Repeats, you can set the schedule to Daily, Weekdays or Weekends.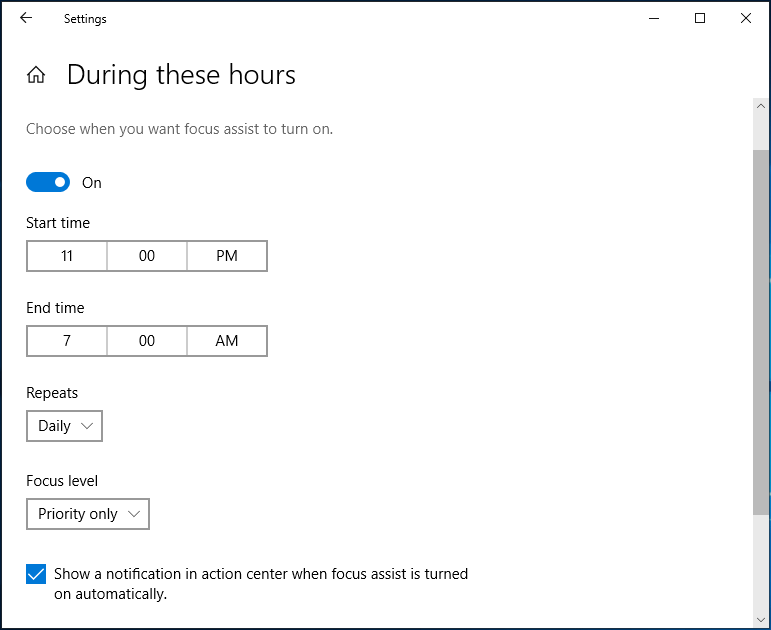 When I'm duplicating my display
This feature is enabled by default to stop notifications when you are duplicating your display to an external monitor. If you are giving a presentation, you should use it.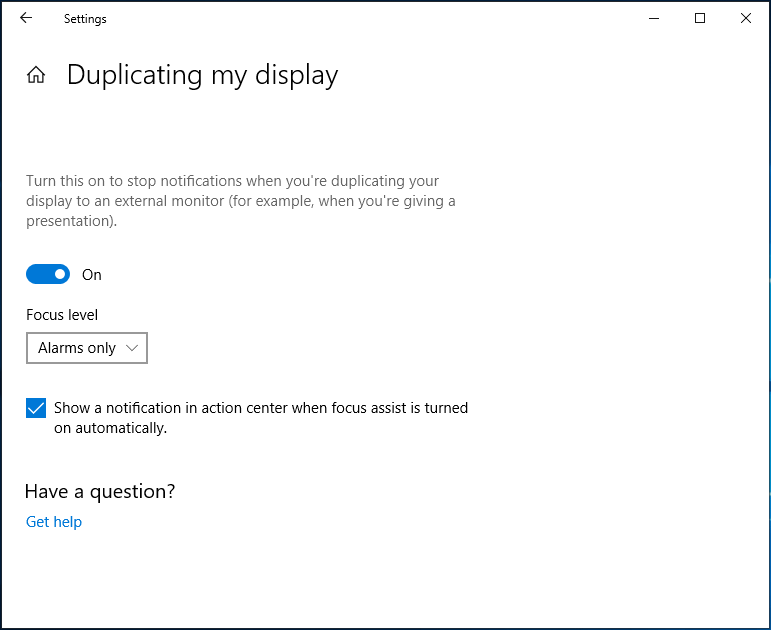 When I'm playing a game
You should turn this on to hide notifications when you are playing a full-screen game to avoid interruption.
Final Words
Now we have shown you Windows 10 Focus assist in detail. Just enable or disable and customize it based on your actual needs. Hope this guide is useful for you.